6 Things You Probably Didn't Know About Patron Tequila
An inside look at how the world's biggest premium tequila brand is made at their Mexican distillery.
Patron
Nestled in the rolling foothills of the Jalisco Highlands, in a verdant valley of Atotonilco el Alto, an expansive hacienda rises from the red clay earth. The sprawling estate has been dubbed the Hacienda Patrón, and behind its stone gate lies a gorgeous colonial mansion, distillery, lush gardens, chapel, kitchens, tasting rooms and a 20-room guesthouse presently under construction.
Built in 2002, this agave holy ground is where every bottle of Patrón has been made since. Similar to the supercar maker Bugatti's Chateau St. Jean in Alsace, France, the Hacienda Patrón was built to not only embody the spirit of the brand, but also to project its luxurious heritage unto the world.
Unless you live under a rock, you've long ago discarded the fallacy that tequila is simply a Weapon Of Mass Intoxication. A philistine's tool to slingshot from sober to blissfully blasted in seconds flat. And Patrón–the second biggest brand behind Jose Cuervo–was most likely the first premium tequila to illuminate you to the magical healing powers of Weber Blue Agave.
But now as more high-end artisanal brands flood the shelves, cocktail menus and speakeasy bar-tops of America, Patrón is determined to underscore why it's perennially the best-selling premium tequila in America. In other words, they don't want you to simply heed slick marketing, they're out to prove their mettle.
After ten hours touring the facility, downing a yeomen's portion of agave spirits and witnessing the deep inner workings of the distillery, here are 6 things that make Patrón worthy of its apex placement.
1. It's all about the agave
To get the best tequila, you need the best juice. And to get the best juice, you need the best piñas (the heart of the agave plant). So how do you get the best piñas, you ask? Why, you pay for it obviously. Patrón offers the highest price for agave on the market, which allows them to cherry pick the best plants in the world.
They're also the only tequila company that sets a price floor for agave. This minimum price is above breaking point, so growers know that no matter what the year and harvest they will make a profit; they will survive. This loyalty engenders loyalty: only eight families provide 80-95% of the plants used in production.
Patrón does not own their own agave fields, arguing this freedom allows them to select the best agaves instead of having to use their own, regardless of bad weather or crops. The results speak for themselves: the higher the sugar content the better the agave, and while the average piña has 22% sugar, Patron boasts 26%.
2. Their tequila-making process blends the best of old and new
You know those black-and-white photos you see of old school distilleries, and inevitably there's a donkey pulling a giant stone wheel? That's called a Tahona, and what it does is crush the cooked agave to extract the mosto, or juice. Most tequila makers don't use this ancient process anymore because it is very slow: it requires about 3 hours to crush 7 tons of agave fiber. You need about six times as much equipment, manpower etc. when compared to the next best method, the Roller Mill.
At the Hacienda Patrón the donkeys have been replaced with zero emission electric motors, but the process is the same — as are the wheels, hand-chiseled from 4-ton blocks of volcanic stone. And you can't just buy one at Wal-Mart; you have to wait till a supplier finds a sufficiently big block of stone, and then he sculpts it by hand. Considering these Tahonas only last about two years, that's a significant investment.
But the laborious process is worth the trouble. The mosto develops more flavor when it's fermented with the fiber, avoiding evaporation and gaining a more herbaceous flavor. It's noteworthy then that Patrón is the largest Tahona tequila producer in the world, with up to ten wheels working at any given time. That's more Tahona wheels than the next five distilleries combined.
The Tahona method is not always the answer to great tequila. The fermented mosto is richer in baked agave taste and smell when it's done this way, but the resulting juice can be a bit overpowering to some. So Patrón also employs quicker Roller Mills that jettison the fiber waste as they crush the piñas.
As the Roller Mills produce a more citrus fruit note, the trick is in blending Tahona with Roller milled juice. And that exact formula is the work of one man.
3. They employ the world's first tequila inspector
Do you know who David Stewart is? You should. He's The Balvenie's master distiller, and he's not only the longest tenured distiller in Scotland (54 years and counting), but he's arguably the man most responsible for the Dufftown single-malt distillery's booming growth. Well, Patrón has the tequila version: Francisco Alcaraz.
Alcaraz was the first tequila inspector in the world in the 1960s, even before Appellation control became a thing. He visited different distilleries to determine who was actually making tequila, and how much, for taxing purposes. So he witnessed firsthand how producers did what they did, absorbing the best methods along the way.
Now the master distiller has overseen every bottle of Patrón ever made. It is he who selects how to blend the barrels together to create the perfect profiles, as well as how much Tahona juice to mix with Roller-made juice. He even designed the copper stills lining the back of the distillery. Alcaraz is, in other words, the tequila alchemist. He's so important to the brand they immortalized him with a statue in the Hacienda's central courtyard, piña in hand.
4. They obsess over the wide variety of wooden barrels used to make tequila 
As with all spirits, what gives aged tequilas (Reposado, Añejo and Extra Añejo) their flavor is the type of wood in which they're aged. While most tequila distilleries only use American White Oak — previously used to age bourbon — Patrón elects to use a variety of woods to lend their tequilas a panoply of subtle flavors. 
Alcaraz then takes these different strains — aging in over 11,000 barrels — and expertly blends them to create a greater variety of flavors. Think of a painting: an artist with a dozen colors to paint with has the potential of creating a much more vivid opus than if he only had a couple hues to work with. The same goes for tequila.
Beyond the American Oak, Patrón ages their spirits in two types of French Oak (Limousin and Allier), as well as new Hungarian Oak. This variety is unmatched in the tequila game. And unlike some competitors, Patrón vows they never use artificial caramel color to richen a barrel's hue.
5. They've become masters of mass production
As tequila sales have skyrocketed, so too has Patrón's (exports of 100% agave tequila have quadrupled in the last 10 years, from 2 million cases in 2005 to over 8 million by 2015). As good as growth is, however, it can put serious stress on a brand — especially one who uses ancient and time-consuming techniques to make their product. 
Despite the explosive growth, Patrón has managed their expansion not by automation (as with a lot of other brands whose quality has fallen), but by simply replicating their process on a bigger scale. Since the brand's inception in 1989, the recipe and small batch process have never changed. 
In other words, instead of using quicker-working stainless steel autoclaves to substitute for clay ovens, they just built more ovens (high-pressure autoclaves cook the piñas in 24 hours, while Patrón's clay ovens require 79 hours per batch). And more fermenters, and more copper stills, etc. Patrón now has virtually 12 distilleries under one roof.
6. Their tequila-making process has become increasingly environmentally sustainable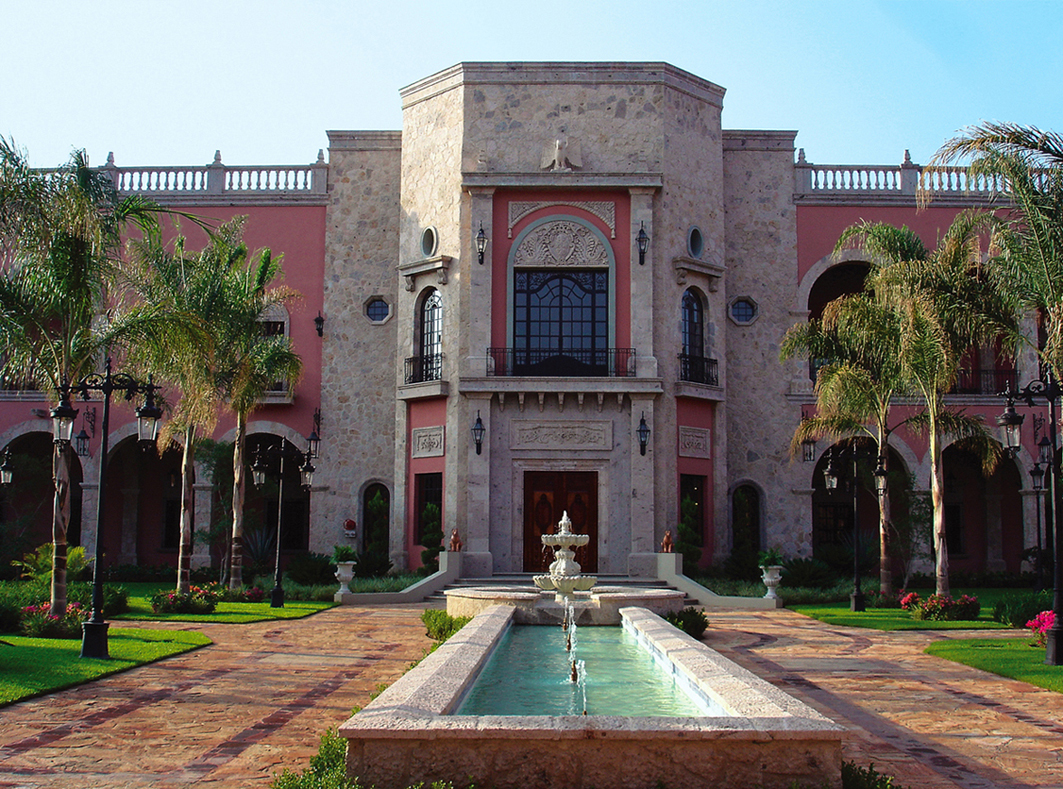 The last stop on the Hacienda tour might have been one of the most surprising. In one corner of the compound, under a vast roof, big mountains of fibery agave waste lined up in neat rows. Turns out, Patrón doesn't simply throw away all of the by-product agave it squeezes the juice from (called "bagasse") as so many competitors do. 
Instead, they compost 100% of it here. The resulting natural fertilizer is then used in the Hacienda's own organic vegetable garden, where it provides food for Hacienda staff. It is also given free to the nearby village, where locals use it in their home gardens and parks.
Also, via reverse osmosis Patrón recovers up to 70% of the wastewater created by the tequila distillation. Although not drinkable, it is pure enough to clean the facility and be used in the Hacienda's cooling towers. These are just two of the reasons why Mexico's federal water authority has awarded Patrón as an environmental leader in the tequila industry. 
Does that automatically make it a better tequila? Not exactly, but maybe it'll ease the existential regret from some of your other tequila-informed decisions.