6 Killer White Wines You Might Actually Want to Drink
Don't fear the clear.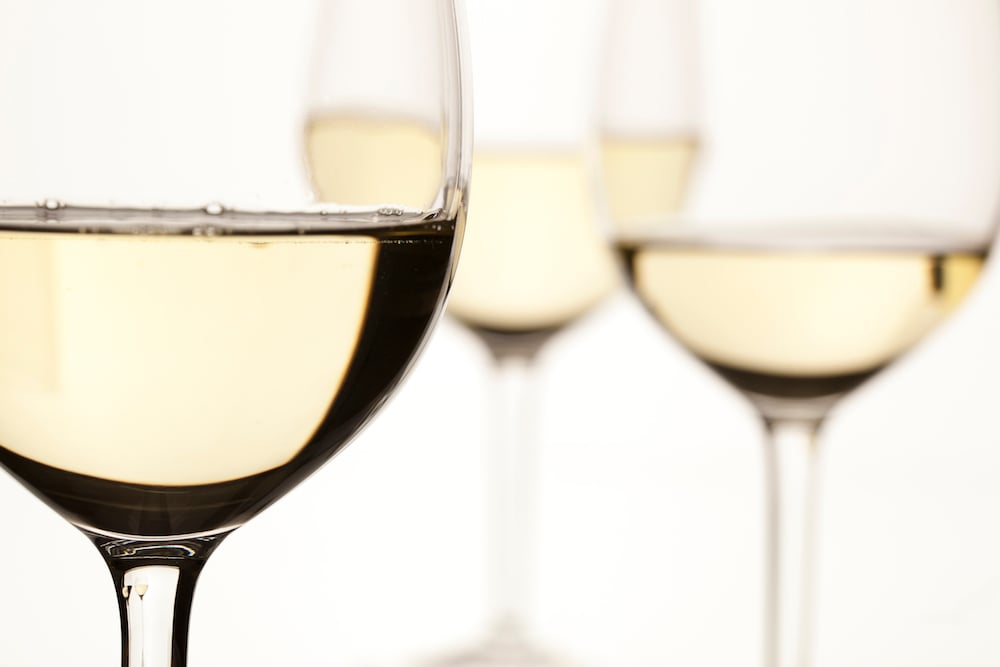 I grew up in the Philadelphia suburbs as an
Eagles fan, part of that notorious hardscrabble,
bleeding-green fan base whose behavior sometimes
borders on hooliganism. While Eagles
fanatics hate every other team's fans, there was
a special disdain for supporters of the California
teams, such as the San Francisco 49ers.
From a young age, I was keenly aware that laid-back
49ers fans were to be called "chardonnay
sippers," the word chardonnay spat like a curse.
The implication was clear: "Real men" do
not drink white wine.
Of course, as I grew up and began to prefer
wine to PBR and found myself more often
at bars with extensive wine lists than at raucous
tailgates, my appreciation of white wine grew
dramatically. Times have changed, and plenty
of guys now drink Riesling and albariño and,
yes, chardonnay from places like Chablis or
Montrachet. Yet there is a significant portion of
men who are still resistant to white wines. I've
had friends who work in finance suggest that it
would be career suicide to even broach the idea
of ordering a white wine at a business dinner.
 
This is a shame. After all, some of the
greatest, most sought-after wines in the world
are dry whites. Consider Domaine Leflaive, in
Burgundy, whose Montrachet Grand Cru
fetches over $5,000 a bottle (if you can find
it; try Hong Kong). I'd guess few men would
mind being called a "chardonnay sipper" if they
were poured a glass of that. If $5,000 is a little
too pricey, there's Weingut Keller G-Max 2009,
a dry Riesling from Germany's Rheinhessen—
a double magnum sold for over $4,000 several
years ago.
 
White wine also suits the man who knows
the value of being understated, interesting, and
surprising. Today, real men know that white
wines can often offer more intrigue and complexity
than red.
My father's generation would scarcely consider
cellaring white over red. But faced with
astronomical prices, I'm seeing younger collectors
move away from the classic reds of Bordeaux,
Burgundy, Barolo, and Brunello, and begin to
stock their cellars with Rieslings from Germany
and Austria, pinot gris from Alsace, chenin blanc
from the Loire Valley, pinot blanc from Alto
Adige, and look to aged examples of indigenous
grapes like grüner veltliner and garganega. 
I'm also beginning to see more people seek
out higher-quality white wine, to look for more
special reserve bottlings, and to demand whites
that can be aged for years. For $60 to $80 on
a restaurant wine list, you can find whites that
offer better value than any red you could find
at double that price. For $25 and above on the
retail shelf, you can be drinking the best white
wines in the world. And if some knucklehead
calls you a chardonnay sipper? Just laugh and
say, "Absolutely."
Here are six great whites to change your red wine bias:
Domaine Leflaive's Puligny-Montrachet Les
Folatières 2011. Burgundy, France. $200.
Elegant, fresh, and intense, this is the affordable
label of the famed Montrachet house (at a
fraction of its $5,000 grand cru).
Patrick Piuze Chablis Grand Cru Bougros
2014. Burgundy, France. $75.
Lively and rich, with notes of lemon and crushed
seashell. Though not as prestigious as Montrachet,
good Chablis will still age nicely for at least
a decade or more.
Domaine des Baumard Savennières Clos du
Papillon 2009. Loire Valley, France. $35.
Savennières, in the Loire, produces chenin
blanc–based wines that have been called
"demanding" and "the thinking man's wine." This
one is intense and captivating, a big ripe golden
apple rolled in salted butter and almonds, with
an amazingly long finish.
Hirsch Grüner Veltliner Lamm Reserve 2013.
Kamptal, Austria. $60.
Don't fear the umlaut. Austria's grüner veltliner
isn't an obscure fad, but one of the world's
classics. The Lamm Reserve, with rich, deep
flavors of fleshy pear and apricot, white pepper,
and sage, is elegant and insanely delicious. Best
wine you can drink with sushi.
Clusel-Roch Condrieu Verchery 2014. Rhône,
France. $60.
Condrieu is an area of France's Rhône Valley
where wines are made with 100 percent viognier,
a grape that's intriguing and strange (in a good
way). Like a beautiful, ripe melon garnished
with herbs that's been dropped into a crystal-blue,
tropical bay.
Inama Soave Classico Vigneto du Lot 2013.
Veneto, Italy. $25.
Soave, made from garganega, used to mean
thin, cheap plonk wine, but not anymore. This
is a serious, burgundy-like wine, full-bodied and
steely, with flowers, fruit, and almond, but also a
deep minerality and pleasant earthy finish. One
of Italy's finest whites.

Jason Wilson is working on a book about the world's rarest and most obscure wines
.