Amy Schumer Joins Rihanna in Super Bowl Boycott Supporting Colin Kaepernick
"The hottest thing a guy can do is get down on one knee."
Getty Images
" tml-render-layout="inline
Comedian Amy Schumer has joined Rihanna and (maybe) Cardi B in boycotting the Super Bowl to support Colin Kaepernick. The former 49ers quarterback has essentially been shunned by the NFL since he began protesting police violence against young black men by taking a knee during the national anthem. 
In an Instagram post, Schumer wrote, "I personally told my reps I wouldn't do a Super Bowl commercial this year." Schumer also called out Maroon 5, the Adam Levine-fronted pop group tapped to replace Rihanna during the halftime show. 
"I think it would be cool if @maroon5 backed out of super bowl like @badgalriri [did]." 
It's a significant statement for Schumer. Vox reports:
The comedian has had her own controversies related to race, apologizing for telling a racist joke about Hispanics in 2015. She said the joke and other offensive humor stemmed from her "dumb white girl" stage persona. In the wake of the backlash, Schumer said she would take responsibility for her words in the future.

Her decision to back out of Super Bowl ads may signal some growth on her part. Her support of Kaepernick and Rihanna's boycott of the halftime show help to amplify the athlete's activism more than two years after he first kneeled during the anthem. Their protest may also usher in a new wave of celebrity activism, as a wide range of public figures, including Diddy, Kathy Griffin, Anika Noni Rose, and Jameela Jamil, have applauded them.
Pink was also considered for the halftime show but reportedly moved on because "the negotiations took so long," reports Entertainment Tonight.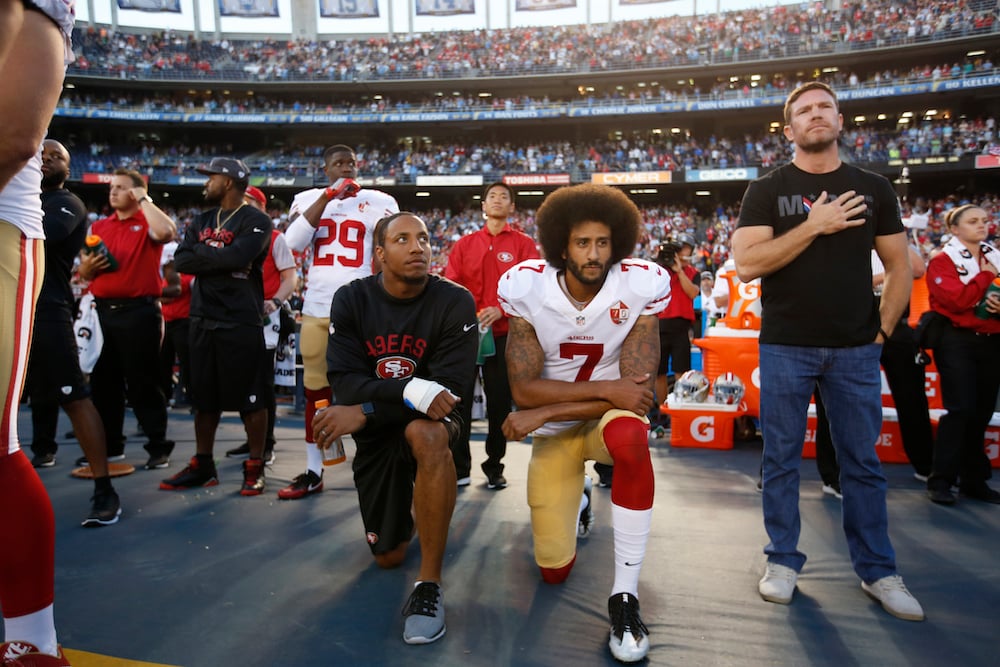 For their part, Adam Levine and Maroon 5 would love it if Rihanna changed her mind.
A source close to the band told Hollywood Life that if "she changes her stance this year, they would love her to join them to perform 'If I Never See Your Face Again,' the song they recorded together."
It looks like Maroon 5 is happily sticking to their guns and will be there for the big show and has no intention of pulling out. 
The anthem controversy isn't going away anytime soon, and it seems certain there will be more boycotts to come.