NHL Star Anthony Beauvillier Shoots His Shot With Anna Kendrick and the Twitter Replies Are Hilarious
"Thank you all for regaling me with the true tales of this man's heroism."
Both Photos: Getty Images
It's the holiday season, many people are at home and starting to get a little stir-crazy. What better time than to join in the fun when a young pro hockey star goes for the goal via Twitter with nerd goddess Anna Kendrick?
That seemed to be the thinking behind many tweets in response to a single, simple greeting from New York Islanders ace Anthony Beauvillier sent on Christmas Day, anyway.
Beauvillier, who is probably on his way to NHL stardom after racking up 10 goals for his team this season so far, just wrote, "Hi, @AnnaKendrick47." 
That was the only cue retired Islanders player Bruno Gervais needed to get in on the fun.
Remember Beau when you saved me from a burning building, cooked me a 7 course meal and taught me 8 languages , that was a great day

— Bruno Gervais (@bruno_gervais27) December 26, 2019
Just like that, the rest of hockey Twitter was off to the races in an attempt to see who could tell the grandest tales of Anthony Beauvillier's epic deeds. An entire social media network of hype men and women. They got pretty creative.
Hey Anthony thanks again for paying a whole years worth of my rent. I don't know how I can repay you. Much love

— Isles Ranter (@IslesRanter) December 26, 2019
Hey Beau,

The folks at @NASA called, looks like they're gonna need you to save the world from another planet-ending asteroid again. Yeah I know, it's getting old saving the world, but face it you're our only hope!

Thanks, the entire world owes you for your sacrifice!

— ⓃⓞⓅⓤⓒⓚⓢ (@afewpucksshort) December 26, 2019
Ya man and the kids at the orphanage love when you come by to volunteer!

— jim (@SuhkMadiq) December 26, 2019
Good news Tito, that xxxxl jock strap you had to special order came in.

— Christian (@Christian_W_W_) December 26, 2019
That's just a small sampling. The general tenor was the same for all the positive tweets: Anthony Beauvillier is good at hockey, sure, but he's also a well-endowed demi-god who loves puppies and babies.
Anna Kendrick, who is nothing if not funny and good-humored in her own right, finally responded on December 27th.
These replies have been my entertainment for the last two days. Thank you all for regaling me with the true tales of this man's heroism.

— Anna Kendrick (@AnnaKendrick47) December 27, 2019
"These replies have been my entertainment for the last two days," she wrote, "Thank you all for regaling me with the true tales of this man's heroism."
And of course, that only prompted more hilarious responses, of which this was perhaps one of the funniest:
All kidding aside, I had planned to repaint the ceiling in my local church for my Eagle Scout project and Beau showed up on the first day and said "I got this". I came back a few hours later and…well…see for yourself pic.twitter.com/8KoipqcdWn

— TonyM (@NewRoTony) December 27, 2019
As for Beauvillier, is there any chance his victorious pose in the photo below will one day be replicated off the ice following a real-life conversation with Anna Kendrick?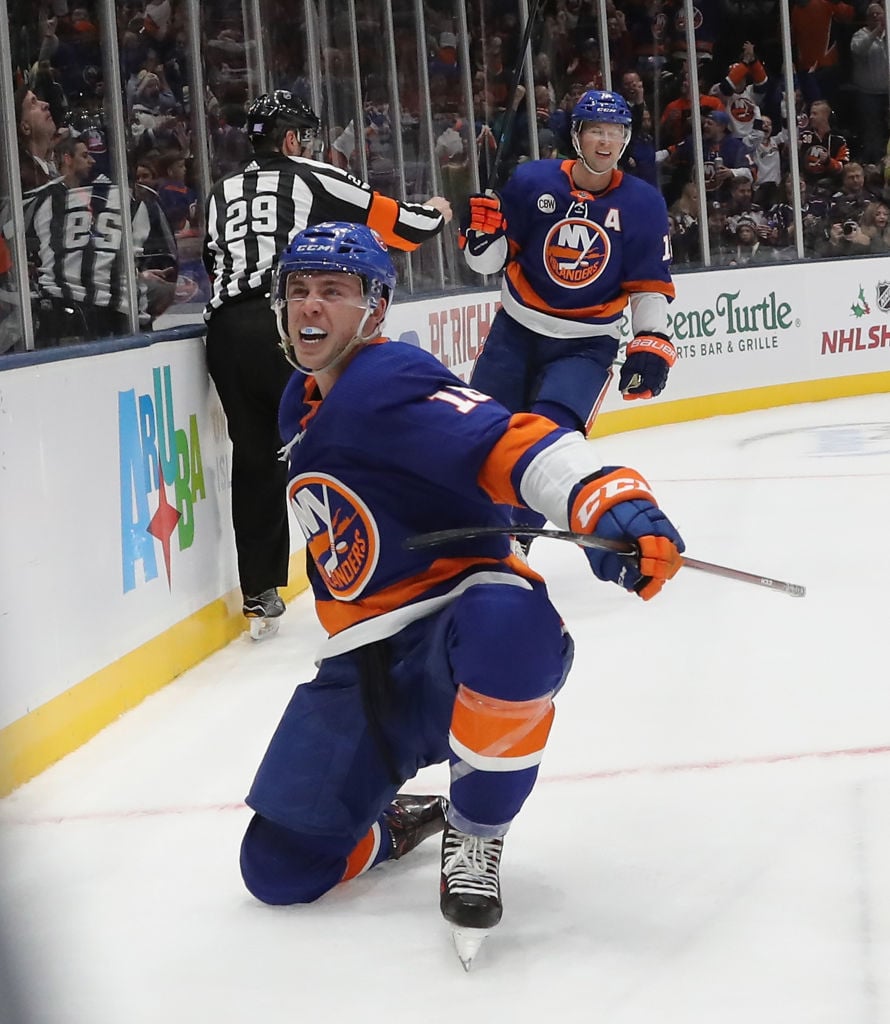 She's not married, but reports indicate Kendrick has a long-time boyfriend, cinematographer Ben Richardson.
Has Richardson saved entire orphanages full of adorable kids and puppies or scored a goal for the Islanders? We don't know. 
Because it's the holidays and that nebulous time between Christmas and New Year's can produce a lot of. hooking up (check birth rate spikes in September if you don't believe that), we'll just go ahead and assume that for Anthony Beauvillier the puck may still be in play.