Artist Ryan Jones Showcases Classic Cars, Vintage Watches & Steve McQueen
The painter, whose planetary renderings were featured in "Star Wars Episode IX," showcases watches, cars and Americana in his new show, "Fragments."
Fine art meets fantasy and film in San Francisco this month. Fragments, the latest solo show by Bay Area-based artist Ryan Jones opens at Caldwell Snyder Gallery on April 16. Rearranging vintage ephemera from American pop culture in neatly divided canvases, Fragments paints a patchwork picture of glamor worthy of the silver screen.
"Glamor contains elements of intrigue and mystery to me," Jones tells Maxim. "It evokes a longing to see more, want more and feel more beauty. It's a bit ethereal and my art definitely plays to that."
Although iconography like classic cars and watches within these works immediately register, Jones forgoes narrative, encouraging viewers to choose their own adventures in this artwork. "Our uninhibited imaginations are where the fun lies," he adds.
"This style has appeared in my past shows but this is the first exhibition to fully embrace it," Jones notes. "The options within this framework are endless."
Paintings across Fragments build off the artist's multifaceted practice, which has seen gallery walls and science fiction film sets alike. A predominantly self-taught oil painter, Jones studied art at Stanford with mentorship from renowned artist Enrique Chagoya.
"After college Jones worked as a matte painter for George Lucas on scores of Hollywood films where his eye for cinematic intrigue helped mold a distinct lens through which he viewed the world," his bio explains.
Jones considers these disparate areas of his practice quite connected. "Creative decisions about the composition and lighting of scenes in a movie are very similar to those made for a painting," he clarifies.
"The opening scene of Star Wars Episode IX – The Rise of Skywalker features several planets I painted digitally, and those exact same principles of lighting inform my personal art painted by hand on canvas. In cinema, everything has to ultimately please the director, but in art I am the director and that freedom is quite liberating."
Classic timepieces in Fragments are a new theme. "The beauty and mechanics of watches have always intrigued me and now incorporating them alongside the film icons who helped make them popular opens a door to some interesting ideas," Jones says.
"Watches are unique objects because they create conversations about their history, mark milestones and even tell the world a bit about who you are. A fitting addition to the rich imagery of cars, people and places which have already been featured in my work for years."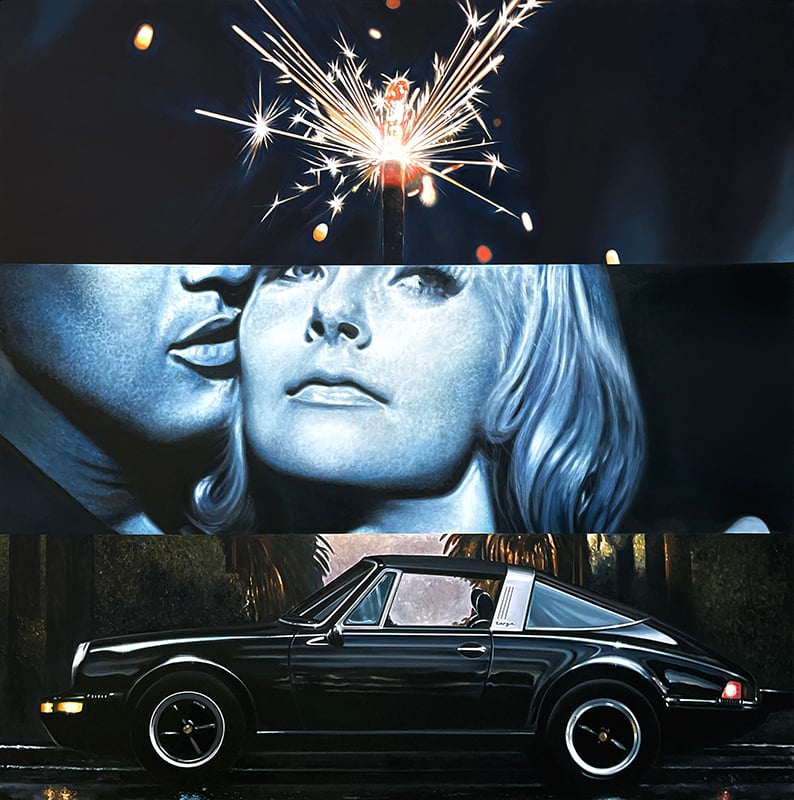 Other elements like the Porsche 911 (and Mercedes-Benz 300SL) are consistent–Jones remembers sitting in his father's Porsche 911 as a kid, and now takes his own for long spins along the coastal roads of Marin, CA. The painting Looking For That Spark was set to feature a classic coup, "but after recently watching House of Gucci, I was inspired to incorporate a black Targa that caught my eye in the film," Jones intimates.
"The appeal of vintage cars, Porsches in particular, has been increasing over time as they deviate further from what is now considered modern. My art directly speaks to that enthusiasm and brings a fresh perspective to the celebration of these timeless elements."
Although Fragments evokes a knee-jerk nostalgia for the American dream, Jones's divided canvases "extend a paramount inquiry into the genealogies of contemporary media, offering a much needed pause amidst the rapid speed of content creation and circulation within today's digital landscapes," the release states.
These symbols retain power, but their meanings inevitably change–not usually on accident, but to update their desirability for the modern market. "On display in Jones's paintings are not only the objects of materialism, but the use of film and advertising to shape commercial wants," the release continues.
"As American culture evolves, so has the demand for collecting objects with unique design, great craftsmanship and eternal staying power," Jones concludes. "Hopefully emerging technology facilitates even better ways to honor uplifting things people enjoy both from the past and present."
Imagine new futures in the luxuries of the past with Fragments, on view at Caldwell Snyder Gallery through May 7.