10 Amazingly Meat-Centric New Orleans Dishes To Devour Right Now
Put the "Fat" into "Fat Tuesday" with these badass BBQ joints and meat meccas.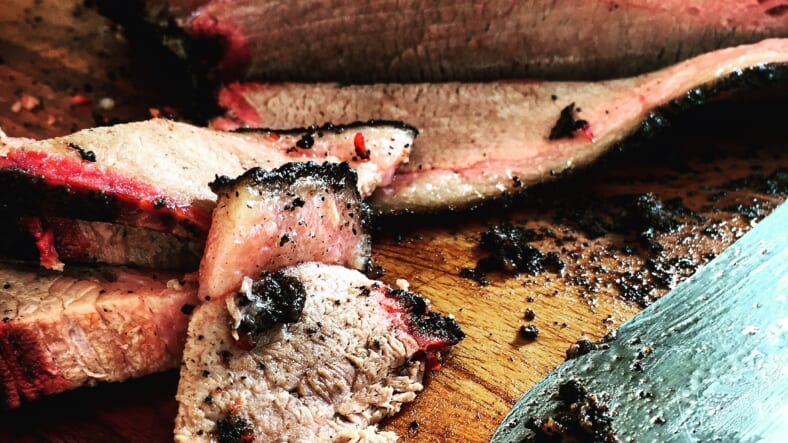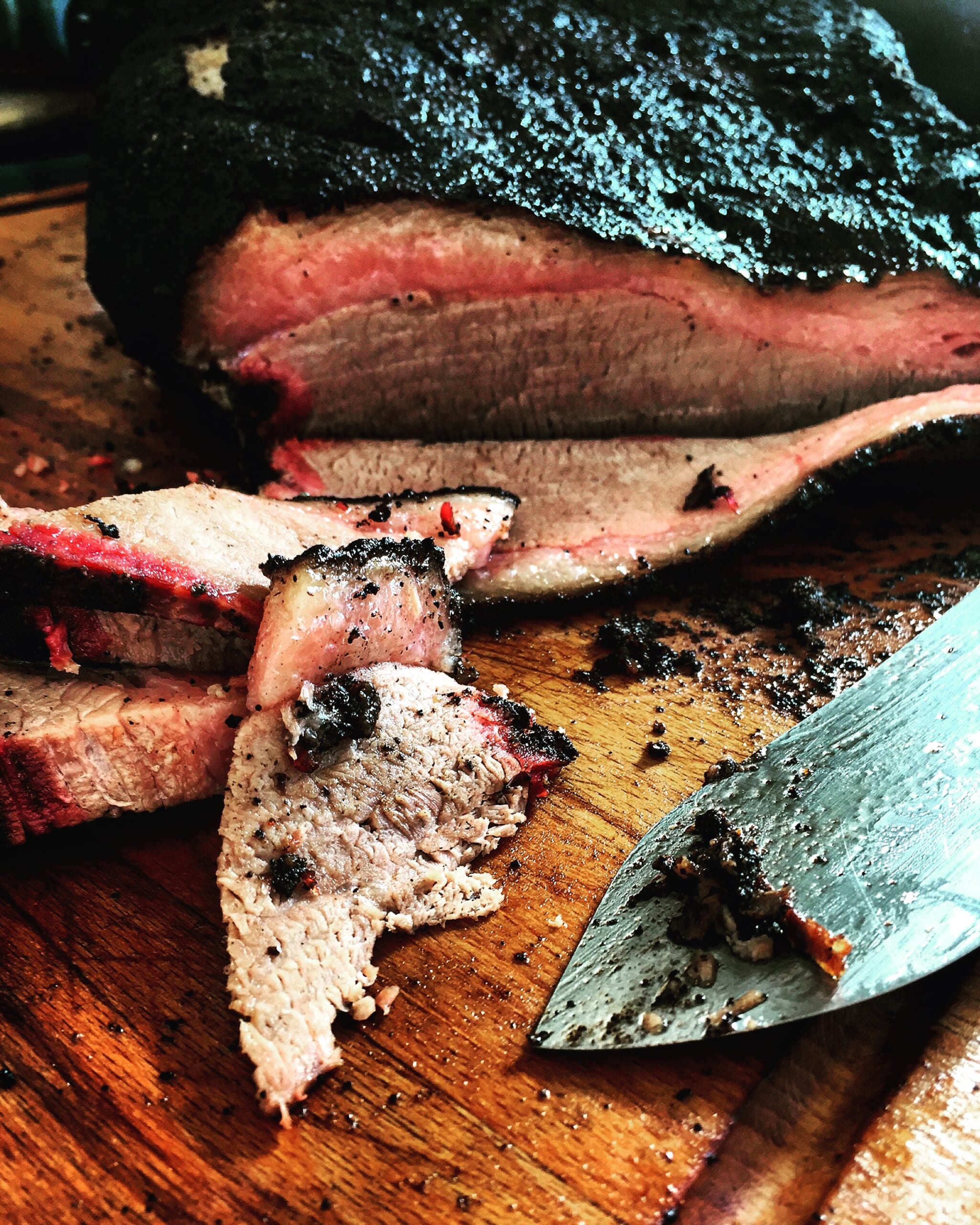 Despite that Louisiana's Cajun Country is home to the "boucherie"–the Frenchie-fried culinary term for butcheries and long-held festival-tradition of chewing the fat while bringing home a slab of freshly slaughtered pig at family roasts–New Orleans has never held a spot in the ranks of regional pit-mastery (Texas, Tennessee, the Carolinas, Kansas City, duh). 
Not anymore. In only the past several years, estimable barbecue shacks and purist-leaning smoke-and-grill houses have popped up all over the city's crescent borders, particularly in its rejuvenated, corridors and neighborhoods (from St. Roch and Carrollton to Mid-City and its bordering Oretha Castle Haley Boulevard strip)–that is, neighborhoods off the conventional tourist destinations of the French Quarter and Uptown's picked-over Magazine Street.
Live a little. When you're getting your mojo on to hit New Orleans for the bacchanalian buildup to Fat Tuesday (falling like an amateur Feb. 28 this year), put some meat on your bones rather than playing it safe and hitting instead the classic barbecue shrimp haunts and all those fried-and-true Deep South go-tos and French-Creole dust-offs. 
Get on Google and map out a gout-inducing pig-and-meat-aholic run to neighborhood spots where you can whiff the low-and-slow sizzle of crackling cuts–be it pig, cow, venison, or chicken.
Then go ahead and sink your teeth into ten of New Orleans' mightiest meat markets:
https://www.instagram.com/p/BfD6TaLlQb5
Last year formidable pitmaster Rob Bechtold and laurelled local chef Aaron Burgau (Patois) converted a former seafood market–which says it all–into this outpost featuring custom-built smokers turning out the city's best burnt ends and smoked sweetbreads, downed with kimchi Bloody Marys. Contrary to the traditional family-style BBQ, this sit-down service has a full bar, as do many others in New Orleans. (They drink you know.)
MUST TRY: BBQ Sampler (Brisket burnt ends, sliced brisket, sausage, chicken, ribs, pulled pork, choice of 4 sides).
https://www.instagram.com/p/BNiBIJIgg-C
Wagyu Central, this pristine little butcher shop on a quiet Uptown strand recently jumped into sandwich land, featuring its finer cuts, to stay and eat or take home. Besides several Wagyu sandwiches, served on everything from rye to Texas toast, there's nods to regional favorites, including pork-belly sliders, hot boudin sausage, and a spicy country-fried chicken and Swiss. The housemade pickles are sub-brine. It's still a butcher shop, so nab some homemade jerky to take home, then grab a table on the sidewalk and feel like you're in an Edward Hopper painting. Check Facebook for its new food truck's next bar stop.
MUST TRY: Slow-Smoked Wagyu Short Rib Sandwich (on Texas toast with onion and housemade pickels).
https://www.instagram.com/p/BHA7tFdBZiq
One of the city's many popups-turned-standalone last year, this bustling BBQ restaurant is the go-to for smoked brisket and smoked wings, with side dishes like barbecue egg rolls. Full bar. Walk it off in the dreamy nearby City Park.
MUST TRY: USDA Prime Beef Brisket (sliced or chopped) with roasted garlic mac-and-cheese.
https://www.instagram.com/p/BPtBtMyDm0c
This corner shop, painted like a little red barn in the Irish Channel neighborhood, turns out the kind of sandwiches chefs make when they're at home after a long shift. ("Hmmm, what's this in the Crisper?") No wonder in the past few months of opening its intimate bar and handful of tables, set with mismatched china, are filled with boldface-name chefs. Inventive sandwiches, spilling over, include a Wagyu chicken fried steak, a sublime fried bologna sandwich layered with house-made chips and spicy English mustard, and house-smoked ham with cranberry sauce. "Not Sandwich" items include deviled eggs topped with fried chicken skins and a Vietnamese chicken base. There's pedigree here: Its fearless leader Mason Hereford is the former chef de cuisine at the respectable fine-dining Coquette. Make sure you make a pitstop in the loo for its framed napkin art display.
MUST TRY: Leighann's Fried Bologna Sandwich (with American cheese on white)
https://www.instagram.com/p/BPnXoi2DkAp
A Bywater neighborhood fixture (since 2004), this yellow-and-brick corner stalwart has consistently turned out savory pulled pork sandwiches, slow-cooked beef brisket, baby-back ribs, and killer sides. Sit out on the back patio by the gargantuan smoker or watch the scene unfold at the full bar while downing a Lynchburg Lemonade. As cinematic as it gets, The Joint is the spot for river-facing sunsets out on bouncy and rusted sidewalk chairs.
MUST TRY: Pulled Pork (on white bread) with cole slaw and baked bean sides.
https://www.instagram.com/p/BQEkFXcDwBQ
A meat pornographer's dream, this sleekly-designed corner meat Mecca on the revived Oretha Castle Haley Boulevard corridor–suddenly raising cane on the gastronaut's map–is ground zero for meat-purist gluttons. Its open-kitchen hearth, shooting sparks at its butcher-bibbed masters, is fueled by white oak kindling and coal. Specialties there are many: braised pork cheeks, smoked port butt with dumplings, five-hour smoked beef coulette, compote roasted marrow bone, as well as fried duck wing confit, killer smoked mullet and charred kale and skillet beans sides.The full craft-style bar rolls the length of the airy glass box of a dining floor. Happy hour features baby-back rib specials. Caution: You'll lighten your wallet while eating like Falstaff.
MUST TRY: Coal-Grilled 26 oz. Prime Rib-eye Roasted Marrow Bone (with skillet beans, creminis, and horseradish jus).
The pitmaster namesake owner, a Lone Star native and ex-Marine, moved in last year to  St. Claude's Southern foodie hall, the St. Roch Market. Specialties include monster-sized sandwiches like a BBQ club sandwich and duck-fat grilled cheeses. Go for rib-eye night ($12 a pop) Wednesdays. Highly inventive every-changing menu, including brunch.
MUST TRY: Slow-cooked Texas-style brisket. 
https://www.instagram.com/p/BLRNTxZAgqa
Road trip! It's worth the 30-minute drive on serpentine River Road to indulge in this family-style St. Rose smokehouse appointed with local artists' work. Look for the neon arrow sign reading "COMFORT." Outside of this converted c. 1921 roadhouse (back then 50 cents a night for a room), there's a wooden garage full of vintage autos, and in the back, huge smokers slow-turning juicy brisket, house-made sausage and Dinosaur Rib. Great Bloody Marys with bacon swizzle stick too. On the return trip to New Orleans proper, stop at the raucous Rivershack Tavern to keep the hootenanny going.
MUST TRY: Smoked Pork Ribs (served with country green beans, BBQ-blackeyed peas, potato salad, and white bread).
https://www.instagram.com/p/BOaQKRnBR3v
This mom-and-pop run Earhart Boulevard hideaway, which opened last year, specializes in barbecue grits-and-grillades bowls, meat plates, and a build-your-own sandwich bar. Beer on tap.
MUST TRY: Traditional Grillade Bowl (tender slow-cooked meat smothered in brown "gumbo gravy" and green onions).
https://www.instagram.com/p/BNa1aWFjOX1
This tool shed-sized walk-in with counter service, named for its South Street-inspired roots, is bar none for real-deal cheese steaks. The flaky-pillow-soft 12-inch Italian roll is sourced from Philly, and stuffed with spatula-chopped whole muscle sirloin and Rib eye, drizzled with Wiz (or provolone), and ladled with carmelized onions. Sides include golden French fries and various topping sauces. (Being a Philly boy, I douse mine with catsup.) Liberty is situated on buzzy Freret Street, one of the city's reinigorated live-music-and-indie retail corridors near Uptown. Down your sandwich–there's cold subs (or hoagies) too–then hit a nationally recognized alternative band at college-fun Gasa Gasa across the street.
MUST TRY: The Wiz (with Colby and cheddar cheese sauce).
Honorable Mentions: Cochon and Cochon Butcher, in the Warehouse District McClure's BBQ, at Nola Brewing, New Orleans; Smoke BBQ, on the Northshore, Covington, La.; 1 LA 23 BBQ stand, Belle Chase, La.
Steve Garbarino is a New Orleans resident and Vanity Fair contributing editor. This article first ran in 2017.