'Creed II' Producers Are Looking for a Jacked Blond Beast to Play Ivan Drago's Son
Do you have what it takes?
Photo: MGM/UA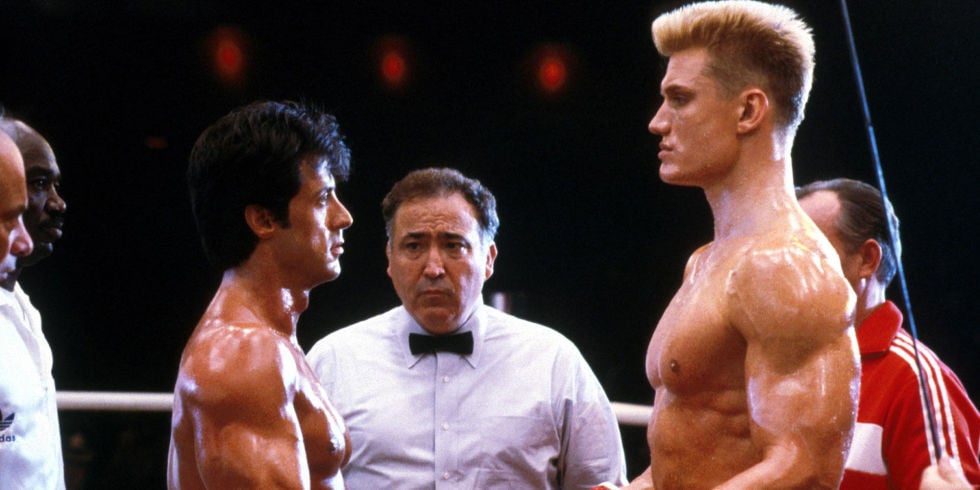 We already know that Dolph Lundgren is banging it out in the gym to get his Apollo-killing physique back and reprise his roll as Ivano Drago in Creed II. But producers of the latest Rocky installment have yet to cast a new character—Drago's son Vitor. 
According to Moviehole, Vitor Drago will be "a 'big fighter' in his late '20s with a 'slight European accent' to clash with Michael B. Jordan's Creed." 
Vitor has charisma and a hard hand but is as equally as arrogant as his old man – suggesting nobody trains harder and that he'll win any fight he finds himself in.

Like his father, Vitor doesn't much care if anyone ends up in a wooden box as a result of his unethical boxing practices either. 
Are you a totally shredded 6′-plus monster with a square jaw and frosted blonde tips? If so, you and other Vitor hopefuls will still have to beat out professional mixed martial artist Sage Northcutt for the part. 
Except his lack of screen time and relatively small 6′ stature (Lundgren is a towering 6'5″), the chiseled blond fighter seems well-suited to the role and has already submitted an audition tape. 
Though Northcutt's UFC career hasn't gone as planned, this kid clearly knows his way around the ring: 
Creed II is due out next November. Stay tuned for a casting announcement. 
h/t: Men's Health