Brutal Killings and Campy Humor Make 'Cult of Chucky' the Diabolical Doll's Sickest Movie Yet
There's a reason the tiny terror is the longest surviving slasher of '80s horror.
Stacked against the hockey-masked brute Jason Voorhees, the methodical stalker Michael Meyers and the sharp-witted night terror Freddy Krueger, it may come to some shock that Chucky—the children's doll possessed by a streetwise serial killer—has had the longest shelf life.
But here we are. Nearly 30 years after the original Child's Play, the little red terror is back for a seventh installment, the Cult of Chucky. This time, Chucky (or perhaps Chuckys…) is tormenting a clan of mental patients in a psych ward rather than the usual play pen of gullible kiddos.
Though for nostalgia's sake, we should all revisit that time he bit the mom from 7th Heaven and called her a bitch.
"We've never seen Chucky play in this playground before," writer and director Don Mancini, who originated the franchise in 1988, told Maxim from the wintery set of Cult in Winnipeg, Canada back in February.
"Instead of a five-year-old insisting that Chucky is alive, you've got a whole hospital of diagnosed schizophrenics."
Cult of Chucky begins four years after the events of the 2013 reboot Curse of Chucky. Nica, its paraplegic survivor, is locked away in a mental hospital, convinced she is to blame for the butchering of her family. What's more, her doctors insist the explicative-spewing Good Guy doll was but a figment of her warped imagination. 
"Nica's a little bit too tortured to be a damsel in distress," actress Fiona Dourif told us. "At the beginning of this movie, I'm certain that I've killed my entire family. There's a little bit more complicated self-loathing in my character than I think in most horror movie heroines."
That soon changes when the unorthodox psychotherapist Dr. Foley (Michael Therriault) introduces a Chucky doll (that he bought at Hot Topic, no less) to group therapy sessions. Expectedly, his therapeutic tool soon springs to maniacal life, not only setting off another gonzo killing spree but also whipping the patients into a paranoid frenzy.
While the ensuing kills are smart, the dynamics of the patients are even more wickedly inventive. One patient deludes herself into thinking the doll is her infant son (I bet you've never seen anyone a Chucky doll breastfed before) while another with multiple personality disorder believes he's been possessed by the spirit of Charles Lee Ray, the killer who's inhabited the doll for the past three decades. 
Cult proves that the Child's Play franchise, despite its low-budget B-horror trappings, is more imaginative than high-brow critics give it credit for. This is no revelation to Chucky fans, who worship director Don Mancini and star Jennifer Tilly with a fittingly cult-like devotion. 
"It's sort of like coming home every time I make a Chucky movie," Tilly, who joined the series as the titular "Bride of Chucky" in 1998, told us, still wearing the vampy murderess role of Tiffany like a glove at 59 years old. 
"The Chucky fans are the most insane. I mean, they'e really, really fanatic about Chucky so it's nice to be part of such a phenomenon," she continued. "I've made a lot of movies, but I'd say eight out of 10 times when people recognize me it's from the Chucky movies."
That is coming from an actress who's starred in a Woody Allen movie and has been a regular cast member on Family Guy since 1999, mind you.
Fans' continued interest in the series is not without ground. Despite early commercial success, creator Don Mancini never sold the series out with endless cash-grabbing sequels in the way Halloween, Nightmare on Elm Street and Friday the 13th all did (the later of which had 10 sequels and one remake).
Child's Play axed that formula early on and instead began releasing tonally distinct sequels every some five years. Cult may be going direct-to-Blu-ray, but its low budget and more specified target audience afford it the creative liberties of an indie flick.
"They just canceled the Friday the 13th remake," special effects designer Tony Gardner told us with equal parts chagrin and pride. "None of the other franchise characters have succeeded in putting out a film every five or six years and continuing to build an audience like that."
After the original Child's Play series wrapped up with a middling third entry in 1991, director Don Mancini waited until 1998 to revive it with Bride of Chucky, which deftly adopted the comedic tone of self-referential '90s slashers like Scream. 
Then, there was 2004's Seed of Chucky, which took meta horror to new implausible heights by having Chucky terrorize the set of his own movie… and by having actress Jennifer Tilly play herself being possessed by her own character, the "Bride of Chucky" Tiffany. (I know, I'm still scratching my head at that one).
Though the move divided critics and turned off mainstream audiences, fans recognized the movie was made for them. When Don Mancini again resurrected Chucky in 2013 with the more straight-forward Curse, those who stuck around celebrated it as a return to form.
"It's clear immediately that Curse of Chucky marks an effort to return to the more-horrific-than-comedic atmosphere of the series' first installment," Reel Film Reviews put it. "Curse of Chucky boasts a gleefully visceral feel that's heightened by a closing stretch clearly designed to please longtime fans of this erratic franchise—which ultimately does ensure that the wait for the next installment is going to be a very long one indeed."
No doubt devotees will likewise revel in Cult, which boasts a recognizably campy humor but still lays on the brutal killings and psychological mind games. It's unassailably part of a new wave of horror, which marries nostalgia for old-fashioned scares with smarter and more daring conceits.
"This is a Chucky movie on drugs. This is a movie where you'll feel like you're medicated because you're dealing with the mindscapes of the patients as well," Mancini said. "It's definitely the goriest."
We won't reveal much, but the kills are among the sickest of an already depraved franchise. When you let Chucky loose in a looney bin full of scalpels and medical equipment, you know he's gonna get inquisitional with that shit. 
"Chucky's not at a loss for trying new ways to kill people. He's pretty creative this go-around," Tony Gardner added. "There's a lot of accessorizing with his collection of death, but in every movie someone's guaranteed to get a head cut off."
Beyond Mancini's vision, much of the success of the revival lies in lead actress Fiona Dourif, whose expressiveness and beauty have made her a scream queen for a new generation. Better yet, she is the real-life daughter of Chucky voice actor Brad Dourif, which serves her well in the final act of the film. (We won't say anymore).
"It's been a part of my life since I can remember, and the fact that I get to be in it is still kind of surreal," Fiona told us. "I feel much more confident this time around."
Movie blog ComingSoon.net praised her assured work, writing that Cult provides Fiona "a huge, stark-white canvas to deliver a totally ballistic performance, literally channeling her dad and proving that she's a force to be reckoned with."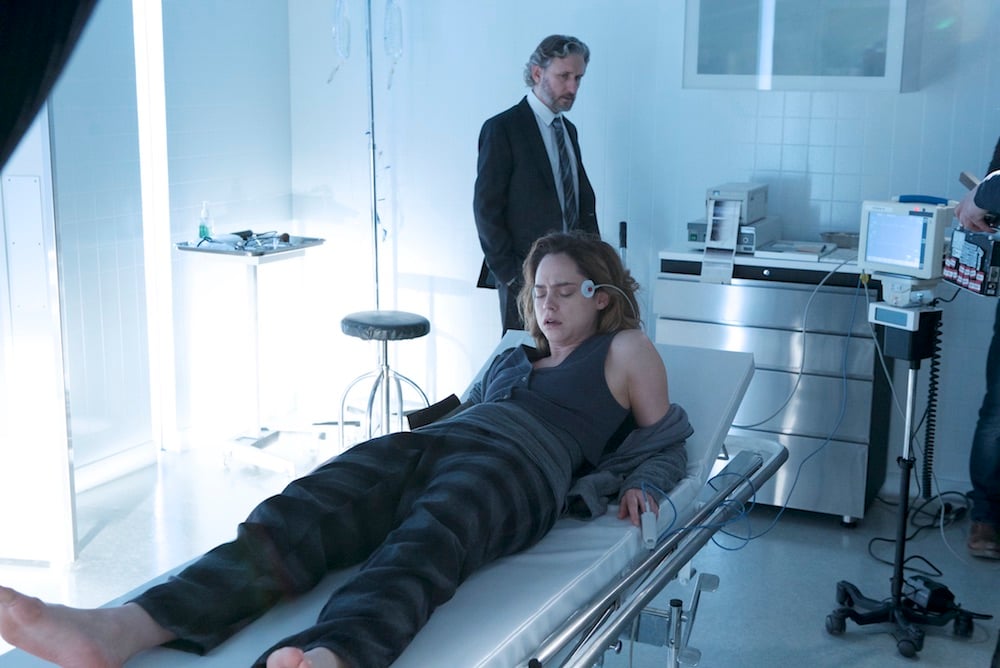 Fiona gives horror fanatics the sort of grounded heroine they saw in Jamie Lee Curtis in Halloween or Neve Campbell in Scream, but with an ever stronger genre pedigree. Still, she'll not only have to vie for screen time with Chucky but also with returning horror maven Jennifer Tilly, who this time plays Tiffany (or herself as possessed by Tiffany) with a newly sly sophistication.
"Tiffany used to be this kind of goth girl with tattoos, but then she read Kim Kardashian said, 'Why put a bumper sticker on a Bentley?' and decided to be fancy," Tilly said. "This round, she's a little bit more elegant, a little more chic. Don [Mancini] told me he was wanted Cate Blanchett from Carol."
About yet again reprising the role of Tiffany nearly 20 years after joining the series, Tilly said, "In 1998, I didn't even know anything about horror movies. Now I'd be very disappointed if I weren't in them anymore."
She's back all right, throwing a few wrenches of her own into the plot and even exchanging barbed dialogue with Nica. If there's a fatal flaw to the franchise, it's that the two of them together threaten to outshine Chucky. (Thankfully, he held his own this time). 
"[Tiffany is] still so much fun to play because she really enjoys it. She's not an evil or tortured murderer," Tilly said, bespeaking two decades' experience with the franchise. "She thinks it's really fun to kill people. It's fun to play a character that's really sort of whack."
It's still just as fun to watch her do it. As her character puts it at the end of the film, after slashing a dude's throat to jack his car like she did in Bride, "A true classic never goes out of style."
Cult of Chucky arrives just before Halloween, on Oct. 3 on un-rated Blu-ray, DVD and digital.