Eminem Says Jim Carrey 'Basically Wrote' One of His Greatest Albums
Will the real Slim Shady please stand up?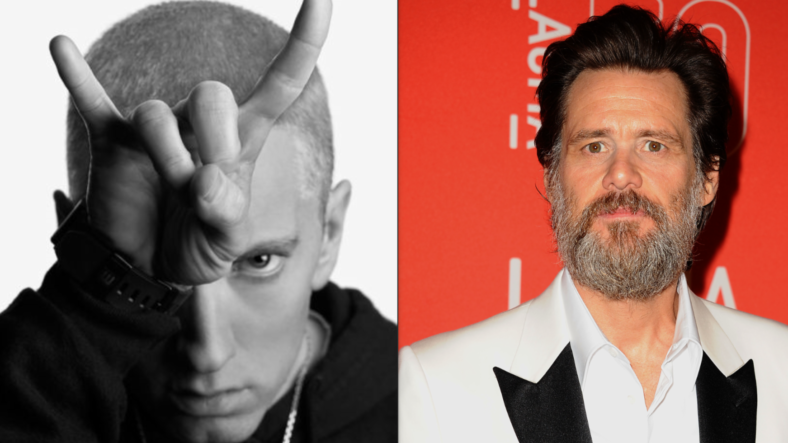 Left: Eminem
Grammy award-winning rapper Eminem named none other than Jim Carrey as a major influence behind his seminal work, The Eminem Show. 
In an Instagram post promoting the album's 15th anniversary edition, the self-proclaimed "rap god" wrote that Jim Carrey "basically wrote" The Eminem Show and cited the actor's comedy-drama The Truman Show as a source of inspiration.   
" tml-render-layout="inline
"The concept for The Eminem Show was inspired by The Truman Show because my life felt like it was becoming a circus at that time and I felt like I was always being watched," a handwritten note reads. "Basically, Jim Carrey wrote my album."  
The 1998 film tells the prescient story of a man whose entire life is being broadcast as a reality television show. While Eminem may have felt that his monumental fame led to him being eyed constantly by the media, saying that Carrey wrote the album's amazing rhymes is more than a little modest.
" tml-render-layout="inline
Fans can buy a nostalgic cassette reissue of The Eminem Show along with a limited edition t-shirt and poster online. Revisit some of the album's best tracks below. 
h/t: Hip Hop DX