'Euphoria' Star Sydney Sweeney Is Restomodding a 1969 Ford Bronco On TikTok
"I changed over the transmission, and I fixed up the front and rear axle from drum brakes to disc brakes. I made it power steering. Everything to make it a safe everyday drive but still look classic."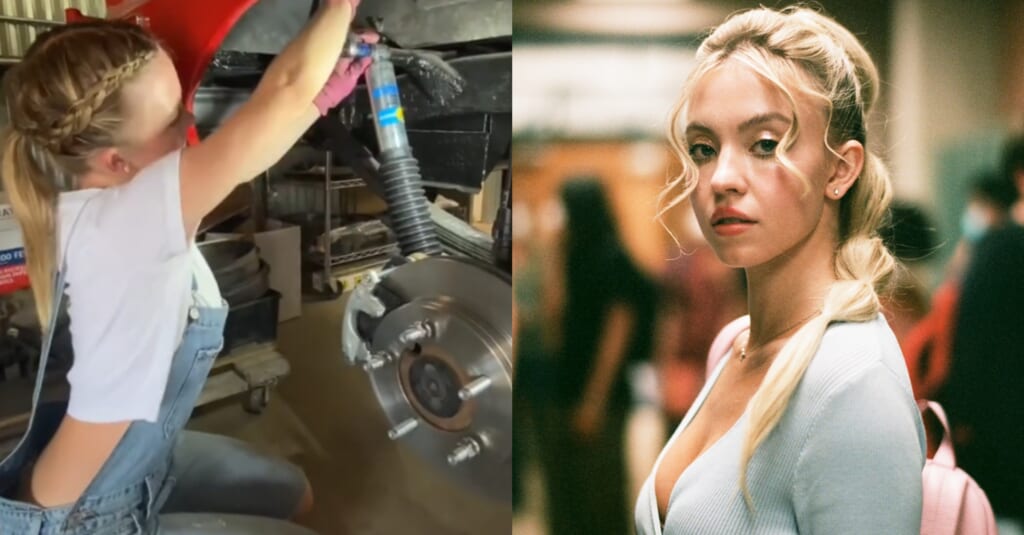 Apologies to Jay Leno, but Euphoria star Sydney Sweeney looks a helluva lot better sweating in a denim mechanic's uniform for her @syds_garage TikTok feed.
Sweeney, 24, who plays a high schooler navigating a complicated and promiscuous dating life on the hit HBO show, bought her "dream car"—a 1969 Ford Bronco—at auction, according to a new interview with GQ Britain.
She then enlisted the help of family friend and expert Porsche 356 restomodder Rod Emory, who gave her garage space and guided her along the way.
"I changed over the transmission, and I fixed up the front and rear axle from drum brakes to disc brakes," she said. "I made it power steering. Everything to make it a safe everyday drive but still look classic."
Snippets of 18 months of work have been documented on TikTok, where 1 million followers and counting have seen Sweeney prep the bright red classic Bronco for a new transmission, install the rear suspension, drill holes for the "Bronco" block lettering, and take it for a spin.
"I've always just wanted to be knowledgeable and learn as many different things as possible," she added.
Considering the caliber of roles Sweeney has gotten on both Euphoria and the HBO Max's The White Lotus—as well as the somewhat accidental success of the TikTok page—it's mind-boggling to learn that the actress was once told she'd never be on TV because one showrunner thought she didn't have the "right look."
"A casting director told me once that I will never be on a TV show. Now, I'm on some of the biggest TV shows in the world."