Ja Rule Teases Plans For Reboot After Fyre Festival Disaster
Because it worked out so well the first time.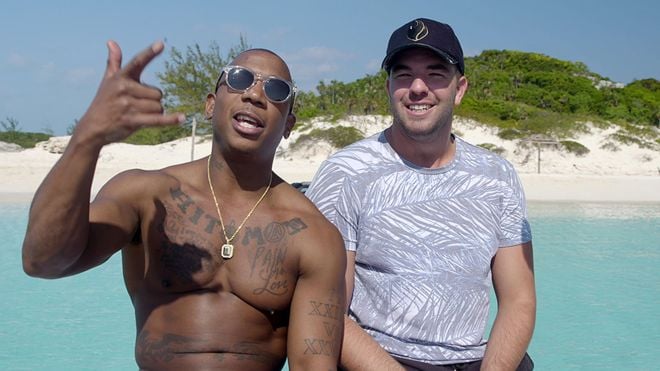 Netflix/Screengrab
https://www.youtube.com/watch?v=UYAwSzfKus0
Ja Rule must be a really positive thinker. Even though he put his name behind the Fyre Festival and it turned out to be such an epic snafu it spawned two documentaries, the rapper isn't done with the idea of a big-ass festival.
TMZ caught up with Rule in the video above and got him to talk about his plans.
Responding to a paparazzo's question regarding Fyre, Rule said, "It is the most iconic festival that never was, so I have plans to create the iconic music festival, but you didn't hear it from me."
In reference to competing Hulu and Netflix documentaries about the fiasco, Rule made it clear he still doesn't have much of a sense of humor about the whole thing. "It's not funny to me, man," he said, "It's heartbreaking to me. It was something that I really, really wanted to be special and amazing, and it just didn't turn out that way. But, you know, in the midst of chaos is opportunity."
Ja Rule has responded to the documentaries in the past, at one point straight-up ranting about them on Twitter.
I love how ppl watch a doc and think they have all the answers… 🤦🏾‍♂️

— Ja Rule (@jarule) January 20, 2019
I too was hustled, scammed, bamboozled, hood winked, lead astray!!!

— Ja Rule (@jarule) January 20, 2019
Technically, the Fyre Festival kind of was amazing. What else can you call something put on by a serial scammer (organizer Billy McFarland) that roped in numerous influencers and supermodels before the truth came out and it turned into the fraud that launched a thousand lawsuits? 
It could be that Ja Rule is just doubling down with talk of another festival, a way to say, 'look, this is what I meant to do all along.' If so, good for him. 
Just don't count on too much involvement from social media megastars the next time around—they might be too busy responding to subpoenas.