Joe Rogan and Spotify Respond To COVID Controversy After Neil Young Departure
"I'm going to do my best, in the future, to balance things out."
Joe Rogan offered an apology to Spotify and listeners who were offended by his controversial guests in the wake of Neil Young removing his music from the streaming platform.
The podcast king, comedian and UFC commentator defended his widely-criticized interviews with Dr. Peter McCullough, a cardiologist, and Dr. Robert Malone, an infectious disease specialist.
The podcasts apparently led to an open letter from hundreds of medical experts as well as Young's call for his songs to be removed from the platform.
Rogan called McCullough and Malone "highly credentialed, very intelligent, very accomplished people" who are offering "an opinion that's different from the mainstream narrative."
"I wanted to hear what their opinion is," Rogan said in a 10-minute Instagram video shared Sunday, later adding: "I do not know if they're right. I don't know because I'm not a doctor, I'm not a scientist. I'm just a person who sits down and talks to people and has conversations with them."
Rogan said Spotify will begin to put a disclaimer at the beginning of those kind of interviews, and he is considering following them up with an expert with a different opinion going forward.
"I want to thank Spotify for being so supportive during this time and I'm very sorry that this is happening to them and that they're taking so much heat from it," Rogan said.
"I'm not trying to promote misinformation, I'm not trying to be controversial," he added. "I've never tried to do anything with this podcast other than to just talk to people…I do all the scheduling myself, and I don't always get it right."
"I'm going to do my best, in the future, to balance things out," he added. "But my point of doing this, always, is just to create interesting conversations and ones that I hope people enjoy."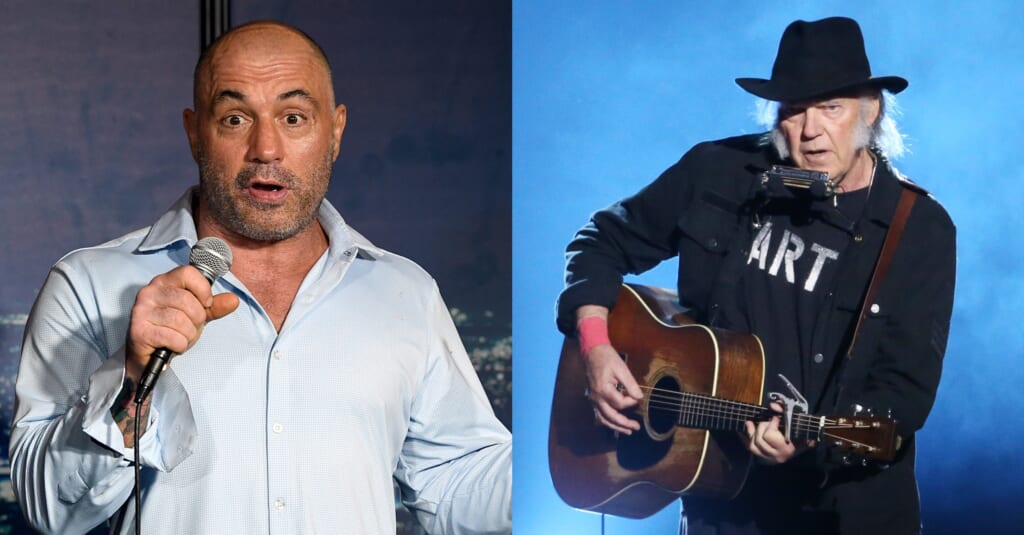 Rogan addressed the challenges of preparing for his unscripted and free-flowing podcasts, but also challenged the word "misinformation" about COVID-focused episodes of JRE, stating that scientific recommendations have evolved since the beginning of the pandemic.
Singer/songwriter Joni Mitchell announced over the weekend that she is seeking to remove all of her music from Spotify in solidarity with Young, as has Bruce Springsteen guitarist Nils Lofgren.
"I'm very sorry that they feel that way. I don't want that," Rogan said of the classic rock musicians, adding that he's a longtime Neil Young fan.
Spotify has been under fire for hosting the JRE episodes. It bought the exclusive streaming rights to the podcast in a multi-year deal reportedly worth more than $100 million.
Rogan has often found himself in hot water for his COVID takes in the past.
"If you're a healthy person, and you're exercising all the time, and you're young, and you're eating well…like, I don't think you need to worry about this," Rogan said in an April 2021 podcast episode. But, he also added that he is "not a doctor" or a "respected source of information."
In Sunday's IG video, Rogan also retold a story familiar to JRE listeners about the time he worked security at a raucous Neil Young concert in Massachusetts when he was 19.
Rogan said he left the show because too many fights were breaking out, and it didn't make sense for him to "get beat up" for his paltry pay. When he drove off, he remembered blasting Young's "Keep on Rocking in the Free World," and never looked back.
Meanwhile, Spotify CEO Daniel Ek addressed the backlash by announcing a new plan for the streaming service to clamp down on Covid misinformation.
In a statement Sunday, Ek announced a series of new measures aimed at addressing misinformation on the platform, including adding content advisories to any podcast episode discussing Covid-19.
"This advisory will direct listeners to our dedicated COVID-19 Hub, a resource that provides easy access to data-driven facts, up-to-date information as shared by scientists, physicians, academics and public health authorities around the world, as well as links to trusted sources," Ek said.
He also said Spotify would be publishing its "long-standing Platform Rules," which are now featured on the company's website, and said the streaming service would be "testing ways" to highlight its rules to "raise awareness around what's acceptable and help creators understand their accountability for the content they post on our platform."
Watch Rogan's full Instagram video statement above.