Maisie Williams: Watching 'Game of Thrones' Sex Scenes Was 'Embarrassing and Awkward' When I Was Younger
The scene in question was in one of the raciest "Game of Thrones" episodes ever…
HBO
Maisie Williams, who plays Arya Stark on Game of Thrones, began acting in the show at age 12. Game of Thrones is not always the best show for 12-year-olds. So, as she tells The Australian, it got a little awkward when she was younger.
Her mother even considered removing her from script read-throughs when the plot contained steamy sex scenes. There was one particular brothel scene that featured a girl-on-girl scene in which two prostitutes demonstrating their skills for the brothel's owner. 
Reports Business Insider:
The scene in question of two girls "going at it" was likely from the first season's seventh episode, "You Win or You Die," in which two sex worker characters (Ros and an unnamed woman) effectively "audition" for jobs in Petyr Baelish's brothel by performing sex acts on one another.
Williams said dryly, "The sex was just quite ­embarrassing and awkward for us."
But don't worry, she got over it pretty quick: According to The Australian, Williams has now "watched many episodes on the sofa next to her grandmother."
"Bless her," Williams said. "My mum just plies her with more and more gin."
Business Insider reports that she wasn't the only GOT actress to get weirded out by the show's sex scenes. Hell, a young Sophie Turner says she learned about oral sex by reading an early script: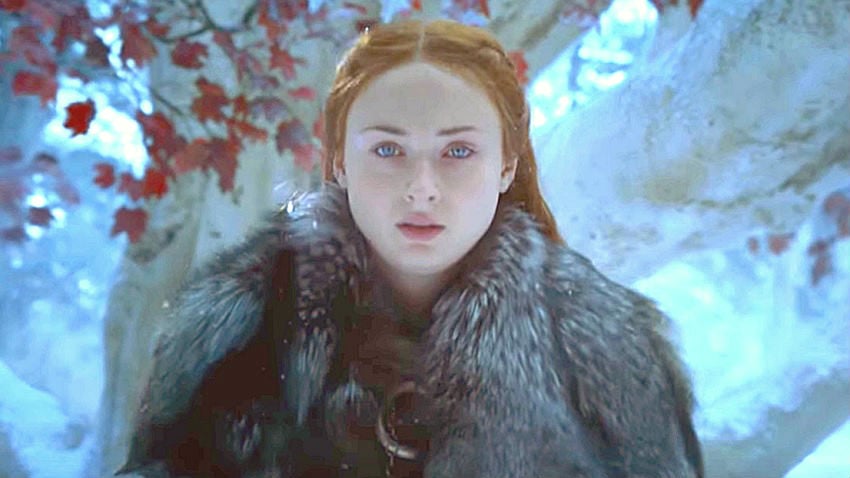 Williams says her best friend and co-star Sophie Turner underwent a similar experience with her mother and the awkwardness around sex scenes. Ahead of the show's seventh season, Turner herself said "Game of Thrones" was effectively her sex education .
"The first time I ever found out about oral sex was from reading the 'Game of Thrones' script," Turner told The Times. "I said, 'Wow! People do that?' That's fascinating! I guess that was my sex education."
So there you have it! Meanwhile, there's more cryptic rumors about plotlines for the long-awaited final season. 
It's vague still, but there are hints that Iain Glen's Ser Jorah Mormont will have a significant role in Season 8 in recruiting a new ally for Daenerys Targaryen. 
Reports The Express:
It even looked like it could be curtains for Jorah (played by Iain Glen) in season six of Game of Thrones. The knight was attacked by the Stone Men, leaving him afflicted with Greyscale.

Although, he was cured by Samwell Tarly (John Bradley) who managed to get rid of the disease.However, it could be that Jorah's near-death experience comes into play in the final season.

Reddit user dinochickennugs posted: "[In] season five the Asian red priest just said the 'stone men would rise?'… or something like that.

"Will Jorah raise the stone men to fight for him? Can anyone imagine something plausible..? Prove me wrong!"

As outcasts from society, the Stone Men don't tend to get involved with anything that goes on in Westeros, but that's not to say they never would.

A member of the Queensguard, it's Jorah's duty to protect Daenerys Targaryen (Emilia Clarke) and considering how much he cares about her, he could be willing to go to great lengths.

But with the White Walkers descending, Jorah may not even have to the time to rally up the recruits.
Guess we'll have to wait until the "first half of 2019", when the eighth and final season premieres, to find out.