Major Lazer On Their Ultimate Summer Party Playlist and New Limited-Edition Bacardi Rum
The party pop trio is here to save your summer.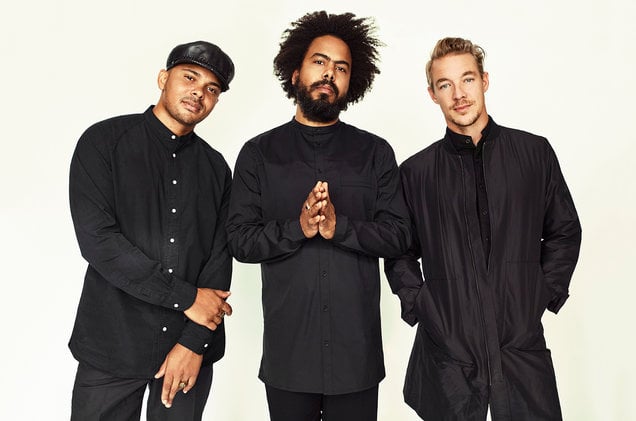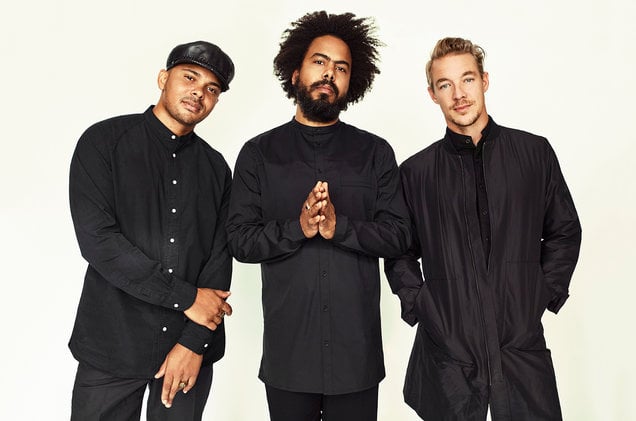 Is there any pop supergroup out there having a better time than Major Lazer?
Comprised of Diplo, Jillionaire and Walshy Fire, this mega-popular EDM trio has collaborated with just about every big name in the biz—from Nicki Minaj to Justin Bieber—and infuses it's signature brand of Caribbean cool into danceable electro beats. Their exuberant videos—notably for "Bubble Butt" and "Run Up"—are brimming with good vibes and enough twerking for a party at a Jamaican dance hall.
To celebrate the kickoff of summer, and the impending release of its fourth album Music is the Weapon, the DJ trilogy announced a wide-ranging new partnership with Bacardi rum. The group concocted a limited-edition Bacardi rum of its own, and Jillionaire is serving as the liquor brand's "Minister of Rum." Hey, nice work if you can get it. 
Maxim recently caught up with Major Lazer about compiling the ultimate summer playlist, breaking records with "Lean On," and getting artistically inspired by rum (seriously). 
What are three great songs that everyone should have on their summer party playlist?
Mr Eazi – "Leg Over"
Kendrick Lamar – "Love"
https://soundcloud.com/kendrick-lamar-music/love" tml-render-layout="inline" tml-embed-width="500″ tml-embed-height="500″ tml-embed-thumbnail="http://i1.sndcdn.com/artworks-IQfayYUmkQbd-0-t500x500.jpg
Portugal. The Man – "Feel It Still"
— Diplo
You've worked with Justin Bieber, Nicki Minaj, Beyonce, Ariana Grande and so on. Who are the dream artists you want to collaborate with in the future?
Diplo: Every day I'm just humbled to be working with great musicians. Every collaboration we do is spontaneous, and usually it's a new artist. MØ, MIA, Lil Yachty, Travis Scott — we always just keep moving forward.
"Lean On" is one of the most streamed songs of all time. Why do you think it blew up so ridiculously big?
Diplo: We knew when we made it that it was the perfect summer song — we thought it had such a unique sound, and wasn't like anything anyone else was doing at the time. Obviously big love to DJ Snake and MØ, it wouldn't have been "Lean On" without them. MØ is amazing, she's one of the greatest.
You guys are obviously massive superstars. Who are your all-time favorite artists that have influenced your music?
Diplo: Everyone from Burial to Bob Marley, Lil Uzi Vert to The Clash. There isn't one piece of music that doesn't inspire me.
You recently teamed up with Bacardi for the Sound of Rum project, and Jillionaire was named "Minister of Rum." What do these responsibilities entail? 
Jillionaire: It's a partnership unlike anything we've done before, they've given us so much freedom to work creatively and have helped us make some really awesome stuff, including our own rum. We share resources to ultimately help make a greater cultural impact, and we have some really amazing moments planned with them for this summer.
Are you big rum drinkers? Why did you partner with Bacardi for the Sound of Rum initiative and even release a Bacardi limited edition Major Lazer rum?
Jillionaire: We partnered with Bacardi because they come from similar roots and have similar ambitions. Bacardi Rum is part of the island culture that inspires our sound. I'm truly passionate about rum, its Caribbean heritage and its craft. I've been around rum my entire life. I grew up in Trinidad where rum was such a big part of the culture. I worked for years in bars, know how to mix proper cocktails, etc.
What's your favorite way to unwind after a show (besides drinking rum, of course)?
Jillionaire: Honestly, we all really like to nap. We're on tour most of the year so we have to get it in where we can.
Bacardi Major Lazer Limited Edition Rum will be available on June 15th.