Meet The Artist Transforming Designer Sneakers Into Freaky Animal Masks
"The value of these shoes definitely isn't lost on me, but it's rare that I'm uncomfortable about chopping a pair."
Imagine buying a pricy pair of Yeezys just to disassemble them to create art. Wisconsin-born artist Gary Lockwood, aka Freehand Profit, has crafted more than 200 sneaker masks doing just that.
12 years after he started rearranging kicks like Nike Air Max and glow-in-the-dark Doernbecher Jordans into animal archetypes of the shoes' true spirits, Freehand Profit celebrates "Face Value," his first-ever museum show featuring 30 elaborate masks culled from international collectors at the SCAD FASH museum in the sneaker hub of Atlanta.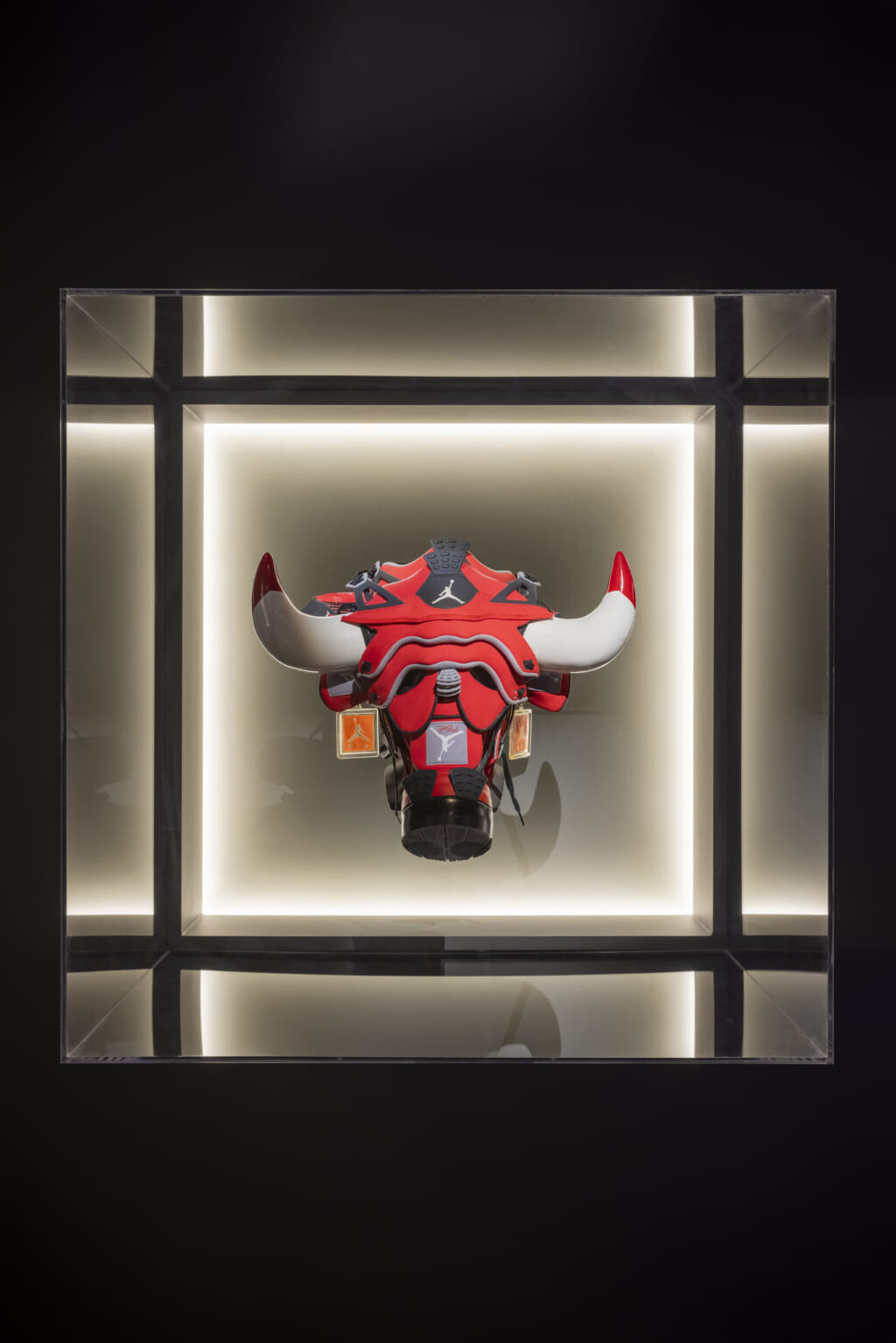 "The value of these shoes definitely isn't lost on me, but it's rare that I'm uncomfortable about chopping a pair," Freehand Profit tells Maxim.
"I've been in the sneaker game long enough that I know there are very few pairs that are actually that elusive. Hype and trends come and go, resale prices rise and fall—usually.
"The Yeezy 2 is an exception in my opinion, a personal grail that I've dissected four times now but haven't secured a personal pair. So that stung a bit."
A press release heralding his latest exhibit calls his work "a dynamic exploration borne of his innate love for sneaker subculture and graffiti artists, who often use respirator masks when creating their work." The Milwaukee-born artist's bio states he developed a passion for hip hop while growing up around Washington, D.C.
In 2006 he moved to LA, working in the music industry before starting a year-long project called MASK365 inspired by Noah Scalin's Skull-A-Day project. His first sneaker sculptures sprang from this, as did his moniker. Homages abound to the emcees, DJs, graffiti artists, and b-boys who laid the foundation for hip-hop and sneaker culture.
For Freehand Profit, sneakers are more than status symbols. They're sacred. A self-proclaimed "purist," he sticks to one pair for each work. "Using one sneaker style per mask creates a more cohesive finished piece," Freehand Profit explains. "Some masks are also a reflection of the character of the sneakers, a celebration, a remix, a sample–it's that pair's time to shine."
"When I started back in 2010 the work was a bit simpler, it was really about reimagining the sneakers around the gas mask form," he says, considering the retrospective at SCAD.
"Things were a bit more abstract compared to newer work that's more subjective, more literal like the German Shepherd mask I made from Yeezy 700s." While he's open to incorporating more than one style in future artworks, the artist sees bigger shifts coming from his new skills in 3D modeling and printing, fabricating custom forms like armatures.
"Face Value" coincides with the unveiling of SCAD's new sneaker design minor. Freehand Profit will be onsite to lead exhibition tours and master classes for students. "This body of work has been a major driving force of change for me personally," he says of the sneaker masks' impact in his own life.
"The physical masks have a presence that can only truly be felt in person," Freehand Profit noted. "I should point out that much of my inspiration to be a mask maker comes from going to museums as a kid. So it's a full circle moment for me."
Next, he's exploring Web3 by minting NFTs on the Tezos blockchain, crafting a King Tut mask to celebrate the 100th anniversary of the uncovering of Tutankhamun's tomb in the Valley of the Kings, and experimenting with non-mask sneaker sculptures like "Canem ex Flores ert Aere."
For now, find out why Freehand Profit's sneaker masks have amassed a cult following among celebs like Kevin Durant and Method Man—on view at SCAD FASH through September 11.