Meet The Maxim Cover Girl Competition Runners-Up
The 2nd and 3rd place MCG Competition finalists are heating up Maxim's latest issue.
Yesi Rodriguez – 2nd Place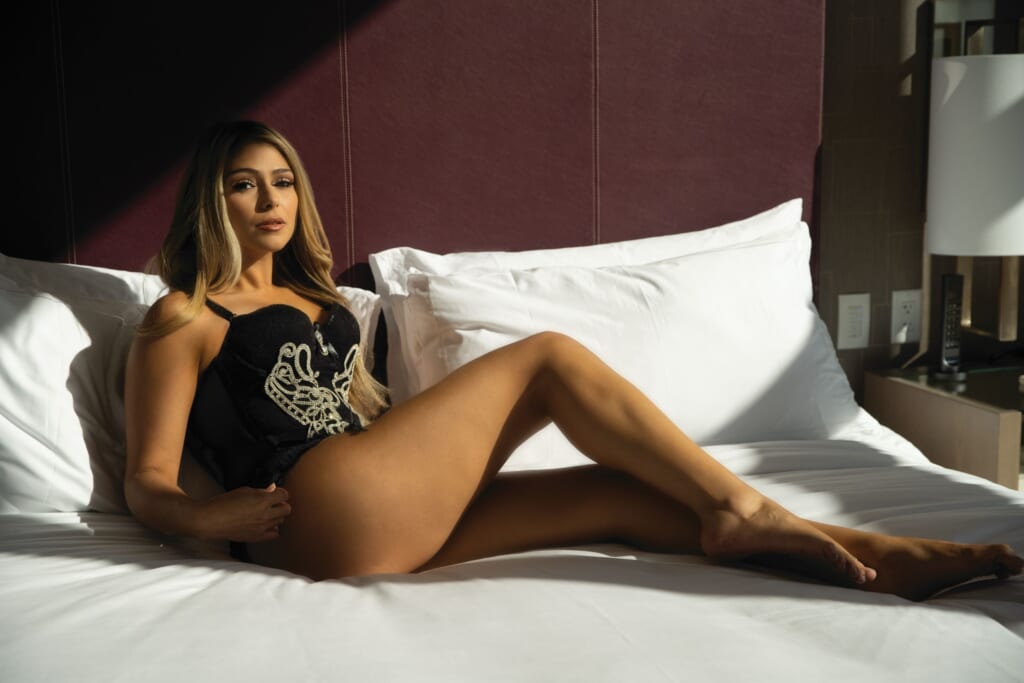 Yesi Rodriguez… remember this name. You're looking at the next big thing. She's not just a pretty face; Yesi is a force of nature that is about to erupt onto the scene. Yes, this half Cuban, half Peruvian nightingale is a stunning model, but she is also a lyricist, singer, and experienced actress who travels the independent movie circuit.
Most recently, she has been working tirelessly on her music career, which has people comparing her to the likes of Jennifer Lopez, Shakira, and Rosalía. With two singles, "Sigo Esperándote" and "Olvídate de Mi," and a music video for the latter under her belt, Yesi is recording her debut EP, Descubierta.
"I'm huge into songwriting, and I am doing this bilingual album. Descubierta is the Spanish word for discovery, but it can also mean uncovered, exposed, bare. I like it because my album is the opportunity for the world to discover me, but it's also me baring myself—exposing my soul." Check out her official YouTube channel and prepare to be awestruck.
So, she's an international model, actress, lyricist, and songbird… but there's more. Yesi is authentically herself and continually expanding her mind, both educationally and spiritually. She graduated summa cum laude from Rutgers University in 2021 and is a lifelong learner. Yesi is also a deep thinker who fully believes in manifestation and the law of attraction.
"This mindset is good for mental health. If you keep focusing on and envisioning the good things in life rather than the negative things, you can achieve your dreams. I don't get caught up on the pebbles I trip over; I get caught up on the beautiful journey that I'm on," she said.
"Encouraging others to follow their dreams is big for me. It's something that I'm always passionate about. I often ask people, 'What are your dreams?', and they don't know the answer. I find that kind of sad, to be honest."
Yesi's dreams are coming true before her eyes, but it hasn't been an easy road. With the ambitious goal of being an EGOT recipient (Emmy, Grammy, Oscar, Tony), she can't afford to let others stand in her way. "I had a writing teacher in fourth grade who said something to me that I felt like she was trying to be offensive. I was acting up in class, and she said, 'Alright, Yesenia (because that is my full name), we all know you're going to one day win an Oscar or Grammy, but for now, I want you to pay attention.' That really lit my fire at a young age."
So, she started acting and has since built herself a long list of credits you can find on her IMDB page. Yesi recently won Best Actress at the Brightside Tavern Film Festival for her role in Notice Me (a short thriller/horror that she also directed). She is currently filming Sucker alongside other Hollywood notables.
When modeling, Yesi is big on collaboration with the photographer and doesn't take herself too seriously. "I'm a big goofball onset. I make corny jokes because I feel like it creates that familiarity when it's a working relationship. I love a back-and-forth collaboration." Yesi's Maxim shoot took place at the all-new Resorts World Las Vegas, which offers stylish accommodations with next-generation luxuries.
Be on the lookout for Yesi Rodriguez's big entrance. She's got that whole earth goddess, warrior princess, gonna change the world vibe—follow her on Instagram @officialyesirodriguez and subscribe to her YouTube channel: Yesi Rodriguez Videos.
Fun Facts: Yesi is from the Garden State of New Jersey. She does pretty well from the free-throw line, and she would choose telepathy as a superpower. She is into reading, and her favorite authors are Louise Hay and Abraham Hicks, the creator of the Law of Attraction series. Yesi is often told she looks like Shakira when blonde and with brown hair, she gets Nina Dobrev, Alyssa Milano, and Morena Baccarin.
Her celebrity crush is Leo DiCaprio, and she dreams of collaborating with Meryl Streep, having a duet with Kanye West, and doing a photoshoot with Jennifer Lopez. Yesi has a BA in Theater Arts with a Women & Gender Studies minor and strives for a master's degree in Filmmaking and Business. Her favorite colors/patterns are gold, red, and leopard print, matching her fiery personality.
Paloma Cruz – 3rd Place
When you look at Paloma Cruz, you see that she is a natural beauty—alluring and exotic. But what you don't know is that she is an accomplished intellectual, as well.
"I am fluent in Mandarin Chinese and Spanish. My love of languages has given me the opportunity to travel and have new experiences. I have a deep appreciation for different cultures as I am ethnically Spanish, French, Italian, and Native American," she says.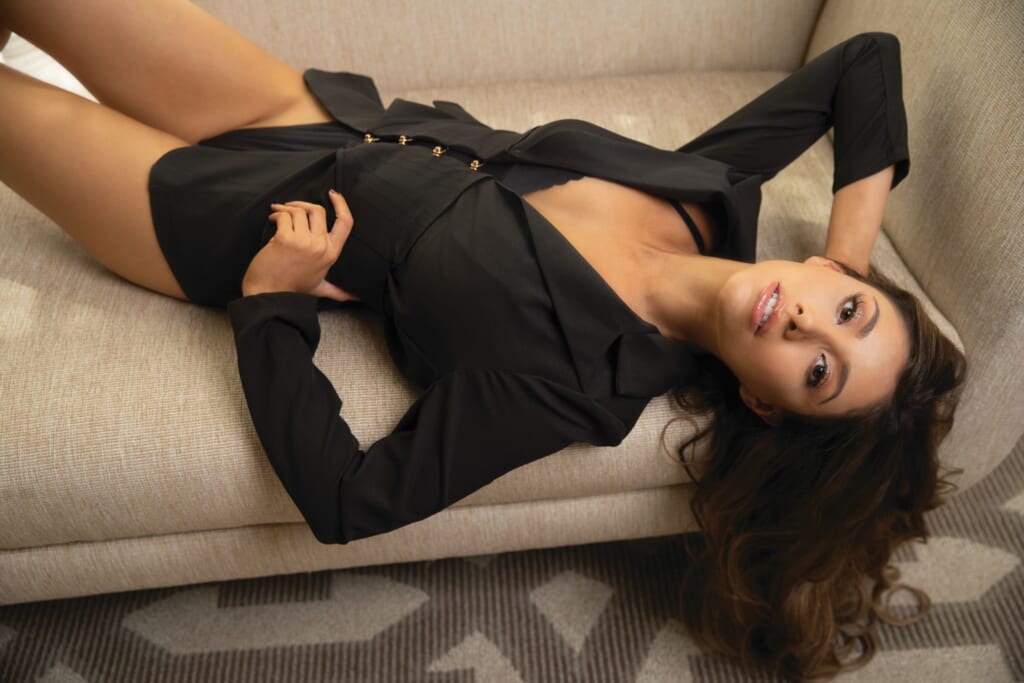 Paloma graduated from the University of Chicago with a BA in Asian Languages and Civilizations. She followed that with law school and then did a graduate certificate program in business economics at Harvard, where she became a teaching assistant.
While education is undeniably important to her, once she was discovered by a photographer in Palm Springs, she realized her passion for modeling. That day, Paloma decided to seize the opportunity and give her full energy to this new journey. Her first professional shoot was a makeup application in Chicago, followed by a swim shoot in Miami.
This feature in Maxim, which was shot at Resorts World Las Vegas, is technically the launchpad for seeing her aspirations of modeling come to life. Paloma is much like a Parisian woman—effortless, graceful, au natural. While she is a mama's girl, she is independent and inspired by her worldwide travels. Follow this classy Chicago native @palomaqcruz.
Maxim Cover Girl is an annual competition that gives beauties across the globe the opportunity to flaunt their modeling (and marketing) skills. This year's winner, La-Tanya Greene, got a killer prize package that includes a lavish photoshoot for the Maxim cover and $25,000. This year, runners-up, Yesi Rogriguez and Paloma Cruz, were awarded the unique opportunity to be featured inside the magazine, gaining them international exposure.
Paloma's advice for anyone competing in future competitions is: "Focus on yourself and what you want to achieve. Keep positive. Raise each other up."
Fun Facts: Paloma has a positive attitude and calm spirit. Her inspiration is Greta Thunberg because she stands up for what she believes in and takes risks. Paloma would choose teleportation if she had a superpower and fly straight to Paris—her favorite place to travel. If she could have anything, "I would choose knowledge so that I may have kindness for all," she said.