Today's the Day to Rock the 10 Most Popular Fourth of July Tunes, According to YouTube
Here's your patriotic playlist.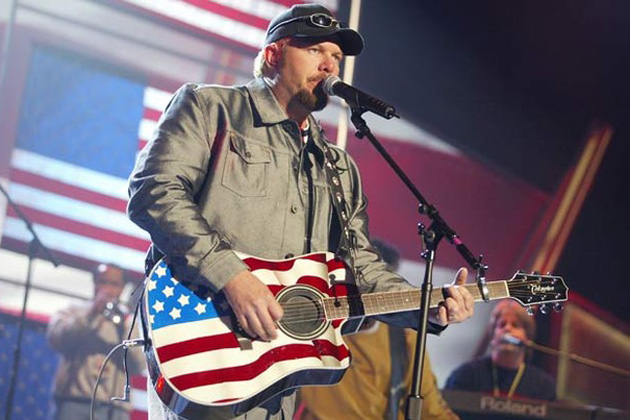 It's the Fourth of July, and if you're not busy downing brews and blowing shit up while listening to one of the many glorious odes to the USA, you're just not doing it right.
Should you need help choosing an all-American soundtrack for the day, YouTube released a list of the top ten most popular Independence Day songs that works perfectly as a patriotic playlist. Billboard acquired the data and has further details: 
The video streaming site collected data from 2015 to 2016 to identify the 10 tracks with the largest uptick in views on July 4 compared with other days of the year. To qualify for inclusion on the list, though, each song had to rack up on average at least 1 million views per year.  
Lee Greenwood's ballad, "God Bless the USA," tops the list with nearly a 25 percent increase in views, just barely edging out rock 'n' roll legend Bruce Springsteen's "Born in the U.S.A." which receives a 24 percent uptick. 
Country crooner Toby Keith proves to be a formidable patriotic force with his ass-kicking "Courtesy of the Red, White and Blue" coming in at number three, while "Made in America" and "American Soldier" take the fourth and seventh spots, respectively.
YouTube used a similar metric to measure the holiday's most popular artists. 
Greenwood comes out on top, where the country star's popularity spikes by 21 times the usual. 

The rest of the musicians on the list don't even come close to such an increase — Keith, at number two, gets 3.5 times more views on the Fourth, while Springsteen, third, gets 2.6 times his usual views. The only female artist to make the list is Martina McBride, coming in at number seven with 2.1 times the usual views.
Those who are diligently celebrating the day are bound to hear at least a couple of these all-American tunes. Feel free to plug in and belt out any one of them out at the top of your lungs. 
1. Lee Greenwood, "God Bless the USA" (24.7x) 
2. Bruce Springsteen "Born in the U.S.A." (23.8x) 
3. Toby Keith, "Courtesy of the Red, White and Blue" (12.9x) 
4. Toby Keith, "Made in America" (10.7x) 
5. Neil Diamond, "America" (9.3x) 
6. Fall Out Boy, "Fourth Of July" (8.4x) 
7. Toby Keith, "American Soldier" (7.8x) 
8. Trace Adkins, "Arlington" (7.3x) 
9. Alan Jackson, "Where Were You (When the World Stopped Turning) (5.8x) 
https://www.youtube.com/watch?v=o2NXDJ4FabE
10. John Mellencamp, "Pink Houses" (5.3x)