'It's Always Sunny' Star Rob McElhenney Reveals How He Got So Ripped to Play Jacked Mac
"I don't know why everyone's not doing this. It's a super realistic lifestyle and an appropriate body image to compare oneself to."
YouTube/FXX
In addition to a creepy, Dennis-shaped inflatable doll, the season 13 premiere of It's Always Sunny in Philadelphia featured a totally yoked Mac—six pack and all. 
Creator, writer and actor Rob McElhenney revealed the incredibly strict diet and exercise regimen he followed to chisel Mac's muscles in a tongue-in-cheek Instagram post. 
"Look, it's not that hard," McElhenney wrote. "All you need to do is lift weights six days a week, stop drinking alcohol, don't eat anything after 7pm, don't eat any carbs or sugar at all, in fact just don't eat anything you like, get the personal trainer from Magic Mike, sleep nine hours a night, run three miles a day, and have a studio pay for the whole thing over a six to seven month span." 
"I don't know why everyone's not doing this," he quipped. "It's a super realistic lifestyle and an appropriate body image to compare oneself to."
The caption accompanied a side-by-side photo of fat Mac—McElhenney famously packed on 50 pounds of lard in the seventh season to make the character "funnier"—and jacked Mac.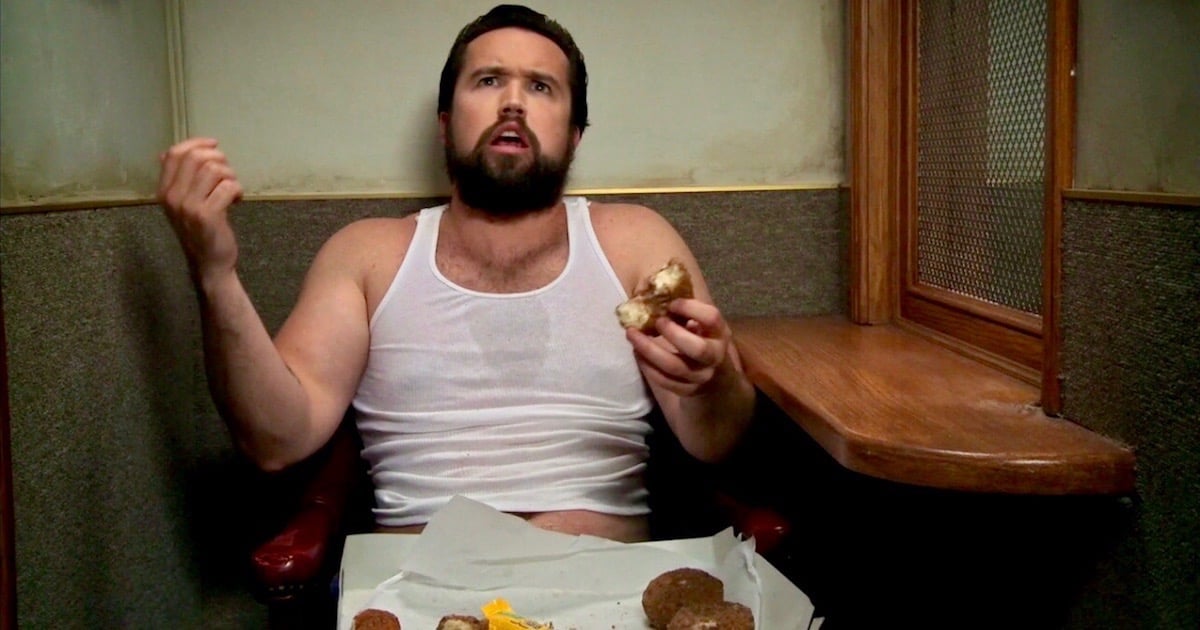 As it turns out, the latter body transformation is directly tied to Mac's coming out as a gay man on the show. 
"We felt that was the opposite of what we are trying to do, which was trying to normalize the LGBTQ community within the context of Sunny," McElhenney told Decider at a stop on the Television Critics Association's 2018 summer tour. 
"Saying that 'Of course Mac as a gay man can still be a piece of shit' is part and parcel to normalization. So we felt like it would be doing a disservice not only to the show but to the community itself if we were to change his character other than the fact that he is now out of the closet."
https://twitter.com/ihatethatguy11/status/1006028692659683330
McElhenney added that his own real-life experiences with the LGBT community were a major influence in writing Mac's story.
"I grew up in the LGBT community. I was raised by two women, and I have two brothers that are out," he said. 
"As much as I feel like I have a pretty good sense of what it's like to be in the community, I can't really know for sure and I don't know exactly what it's like to grow up like that."
We'll find out what else is in store for Mac and the gang when the new season's second episode airs September 12 at 10 p.m. EST on FXX.