The Rock's Workout Regimen and Diet For 'Fast 8' Is Absolutely, Totally Nuts
Here's how he added 22 pounds to his already mammoth frame.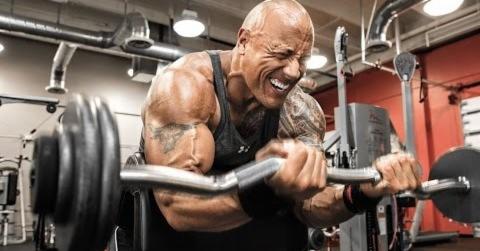 Image: The Rock/YouTube
Dwayne "The Rock "Johnson may be the highest-paid actor on earth, but no way he's letting himself get complacent.
On the contrary, he set a goal of putting on a staggering 22 pounds of mean, lean muscle for his upcoming role in The Fate of the Furious. 
In an Instagram post, Johnson said he wanted to play the "meanest, strongest and most highly funny & entertaining shit talkin' version" of Luke Hobbs fans of the franchise have ever seen. 
" tml-render-layout="inline
The 6′ 4″ human hulk was sitting at a shredded 238 lbs for his role alongside Zac Efron in Baywatch. To hit his gargantuan goal of 260 lbs, he followed this obliterating workout routine.  
"I work out six days a week, and usually in the morning. But depending on my schedule, I may also [train] in the evening."
" tml-render-layout="inline
"But I definitely prefer the morning. With the iron, I separate body parts: legs, back, shoulders, chest, biceps, and triceps. I mix up dumbbells, cables, barbells, and machines."
" tml-render-layout="inline
"My workout is constantly changing and adapting, but for the most part, I do 4 sets of 12 reps with a 60-90-second rest. I don't play around in the gym. I always aim to be the hardest worker, and I make sure I clang and I bang to the best of my ability."
" tml-render-layout="inline
For fuel, Johnson claimed to eat 6,000 calories a day of clean food, with the exception of the occasional eight slices of french toast and apple pie for a midnight cheat meal. 
" tml-render-layout="inline
That onslaught of calories would ruin the average human's pathetic attempt at eating healthy. But when you work out like this, you earn the right to pig out. 
What an animal.
h/t: Business Insider