Dwayne 'The Rock' Johnson and Kevin Hart Hilariously Swapped Each Other's Faces Onto Photos of Their Babies
This bizarre baby picture feud is the best thing on Instagram right now.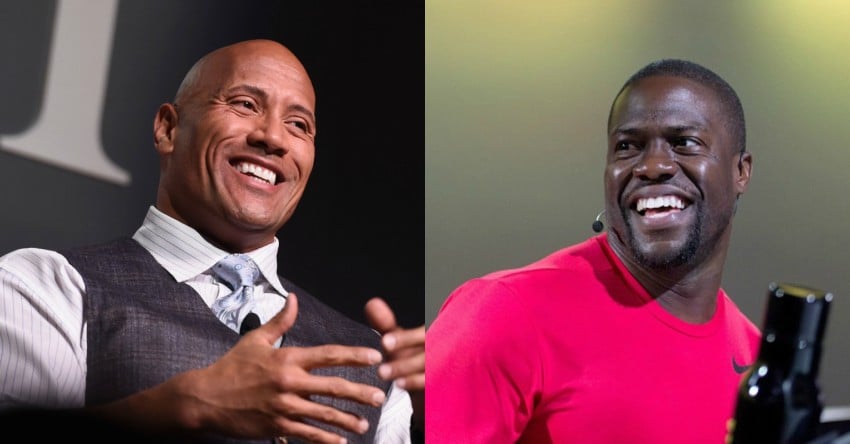 Getty Images
Dwayne "The Rock" Johnson and Kevin Hart have a well-documented history of friendly ball-busting, and they just took it to an absurd new level. 
It all started with this touching photo the jacked movie star shared shortly after the birth of his daughter, Tiana Gia Johnson. 
https://www.instagram.com/p/Bh7Amsfl_pd
Nothing strange there, right? But a week later, he 'grammed the photo again with one, small change—Hart's crazed mug was Photoshopped onto his newborn's face. 
https://www.instagram.com/p/BiLUWEhFic1
The hilarious pic was accompanied by an equally outrageous lullaby.
"To my beloved son, @kevinhart4real," Johnson wrote. "Twinkle Twinkle little Hart, I just don't know where to start…Daddy will always love and protect your tiny little soul…Even though you were delivered directly out of the butthole…"
Hart first re-posted the image, then fired back with a similarly shopped photo he insisted was "funnier." 
https://www.instagram.com/p/BiPOqRjgyLU
"He's also a slobbering baby which is annoying as hell, Hart wrote. "I think it's the protein shakes ….Also my post is funnier because you can tell that I just smacked the shit out of him in this photo. He's also the first baby born in the world with grey hair. We are going to make a shit load of money together."
The Rock's pic has more likes, but Hart's is newer. Only time will determine the winner of this round. 
After beefing with his Jumanji co-star, Johnson broke more big news on…you guessed it…Instagram. The social media superstar announced that his former WWE rival, John Cena, has been cast to topline his big-screen adaptation of crime novelist Robert Ludlum's The Janson Directive.
https://www.instagram.com/p/BiNWmX_liin
"Congrats man and I'm excited to go on this journey with you," Johnson wrote. "Thank you for your commitment to the role and remember, as your producer if you screw up, I'm coming to set and droppin' the People's Elbow on ya. And you know first hand how devastating my elbow drops can be."   
" tml-embed-width="480″ tml-embed-height="394″ tml-render-layout="inline
The plot follows a veteran Navy SEAL-turned-security consultant who becomes the target of a termination directive from the highest offices of the U.S. government. 
Universal and The Rock's Seven Buck Productions will co-produce the movie. If it's done anywhere near as well as the Bourne Trilogy—also penned by Ludlum—we have a lot to look forward to.