1800 Tequila Launches Limited Edition Bottle Collection With Artist Dustin Yellin
Six artsy blanco tequila bottles are available for a limited time.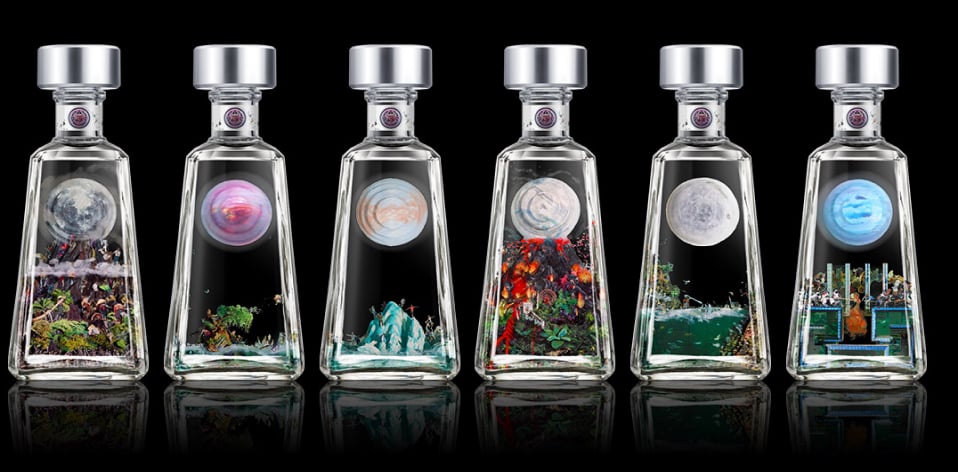 (Photo: 1800 Tequila)
1800 Tequila just announced the 11th edition of its "Essential Artist Series," a collaboration with Dustin Yellin, a Brooklyn-based modern artist and founder of the Pioneer Works non-profit cultural center.
The limited edition art and tequila partnership previously spotlighted renowned artists Okuda San Miguel, Shantell Martin, Enoc Perez, and the estates of Jean-Michel Basquiat and Keith Haring.
The latest artistic collab with Yellin features six limited-edition 1800 blanco tequila bottles showcasing original works by his "Psychogeography Series," which explores tension between nature and technology through narrative and visual transfiguration.
Yellin's six designs feature intricate details of human interaction—with each other and with nature—backdropped by different celestial bodies.
"I have been an admirer of 1800 Tequila and its Essential Artists Series for many years now and am incredibly honored to have been selected as this year's featured artist," said Yellin in a statement announcing the partnership.
"1800 Tequila is an artist-forward brand that celebrates innovation, creativity and culture, in a similar way to which I approach art. I'm excited to present our synergies and my artwork through this collaboration on the classic 1800 Tequila Blanco bottles."
As part of the brand's dedication to moving culture forward and support of emerging artists, $1 from each 1800 Tequila Essential Artist Series 11 bottle sold will be donated to Pioneer Works, Yellin's art and science-focused cultural center in Red Hook, Brooklyn.
The 1800 Tequila Essential Artists Series 11 featuring Dustin Yellin bottles are now available while supplies last on 1800Tequila.com for $31.99.