6 Simply Delicious One-Bottle Cocktails to Try Right Now
Only one spirit is needed for each of these killer recipes.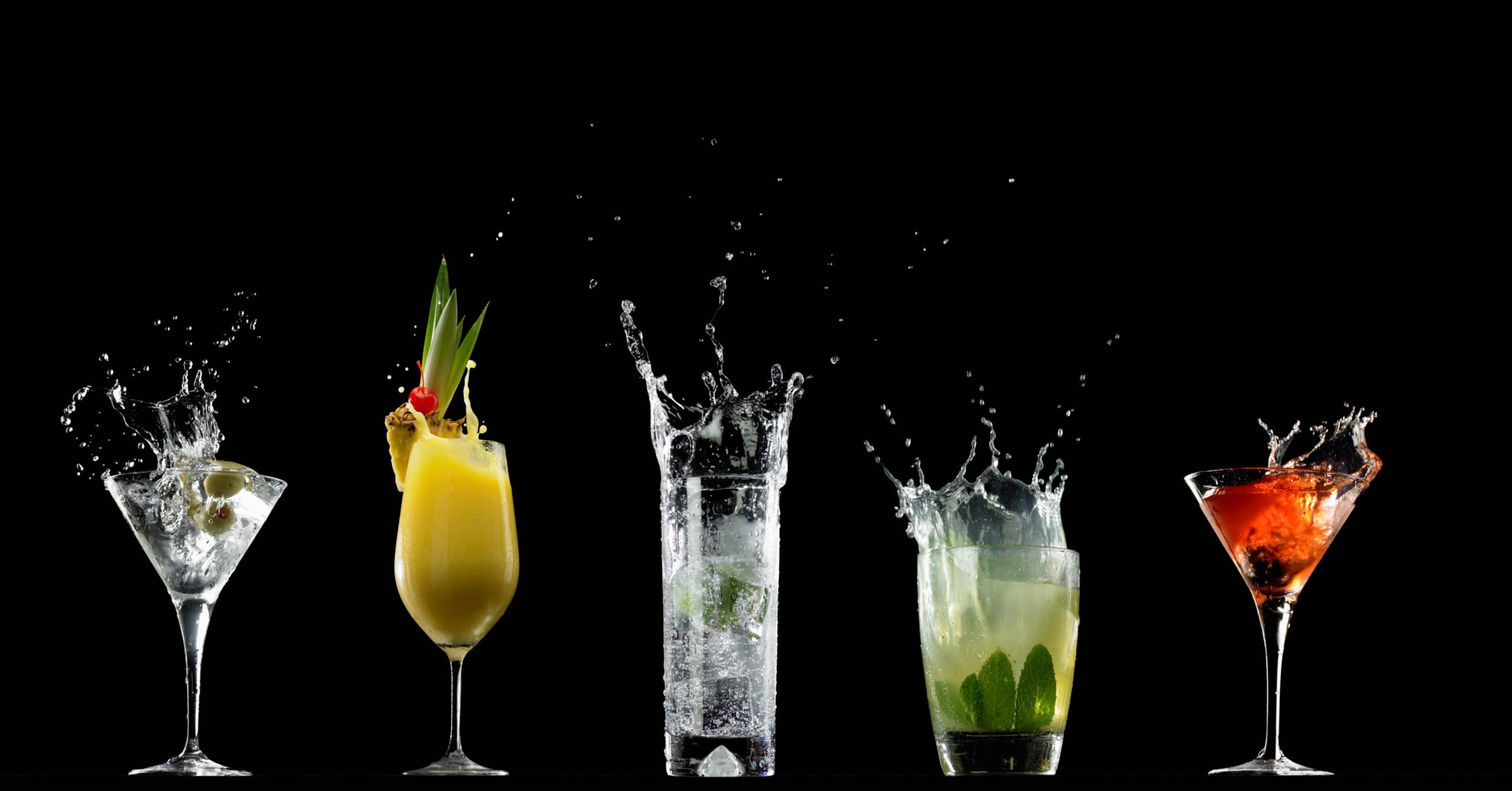 Go to a bar these days, and it's likely your drink will pair whiskey and vermouth, bitters, and an esoteric Italian liqueur, maybe an infused syrup or tincture or two. Maybe they'll present it in a glass swirling with smoke, or maybe they'll carbonate your cocktail to order. These days, drinks at bars and restaurants are quite frequently drinks you just can't make at home.
I probably have more bottles of booze in my apartment than all of my neighbors' collections combined, but even then, I find many cocktail recipes require a trip to a liquor store or three. I own Cynar and the higher-proof Cynar and six kinds of rum, but even my two best local shops didn't have the liqueur bartenders seem to be most excited about this week.
Enter The One-Bottle Cocktail: More than 80 Recipes With Fresh Ingredients and a Single Spirit (Ten Speed Press). Every drink in my new book has one bottle as a base: the bourbon on your counter, the Scotch leftover from Christmas, the gin you mixed with tonic until you got bored. Every other ingredient in these cocktails can be picked up at your local market. No bitters, no vermouth, no problem.
Here are 6 recipes to get you started.
1. A SIDECAR NAMED DESIRE
Makes 1 drink 
Find the best apricot jam you can. Maybe it's at the farmers' market, maybe you mail-order it from California's Frog Hollow Farm, maybe your neighbor makes his own every summer. When you get your hands on the good stuff (or a decent sugar-sweetened version like Bonne Maman), make this drink, pronto. 
Created by Laura Bellucci, who runs the bar program at SoBou in the heart of the French Quarter of New Orleans, this cocktail riffs on the classic sidecar, with a huge boost of summery flavor from that rich stone fruit. If you have Angostura bitters around, feel free to add a few dashes before shaking for a touch of extra spice. It doesn't need it, though.
2 ounces Cognac 
3 tablespoons top-quality apricot jam 
½ ounce fresh lemon juice 
Garnish: lemon twist
Combine Cognac, jam, and lemon juice in a cocktail shaker and fill with ice. Shake vigorously until well chilled, about 12 seconds. Double-strain into a chilled coupe glass. Gently squeeze the lemon twist over the top of the drink to express oils, then use as a garnish. 
2. BREAKFAST OF CHAMPIONS
Makes 1 drink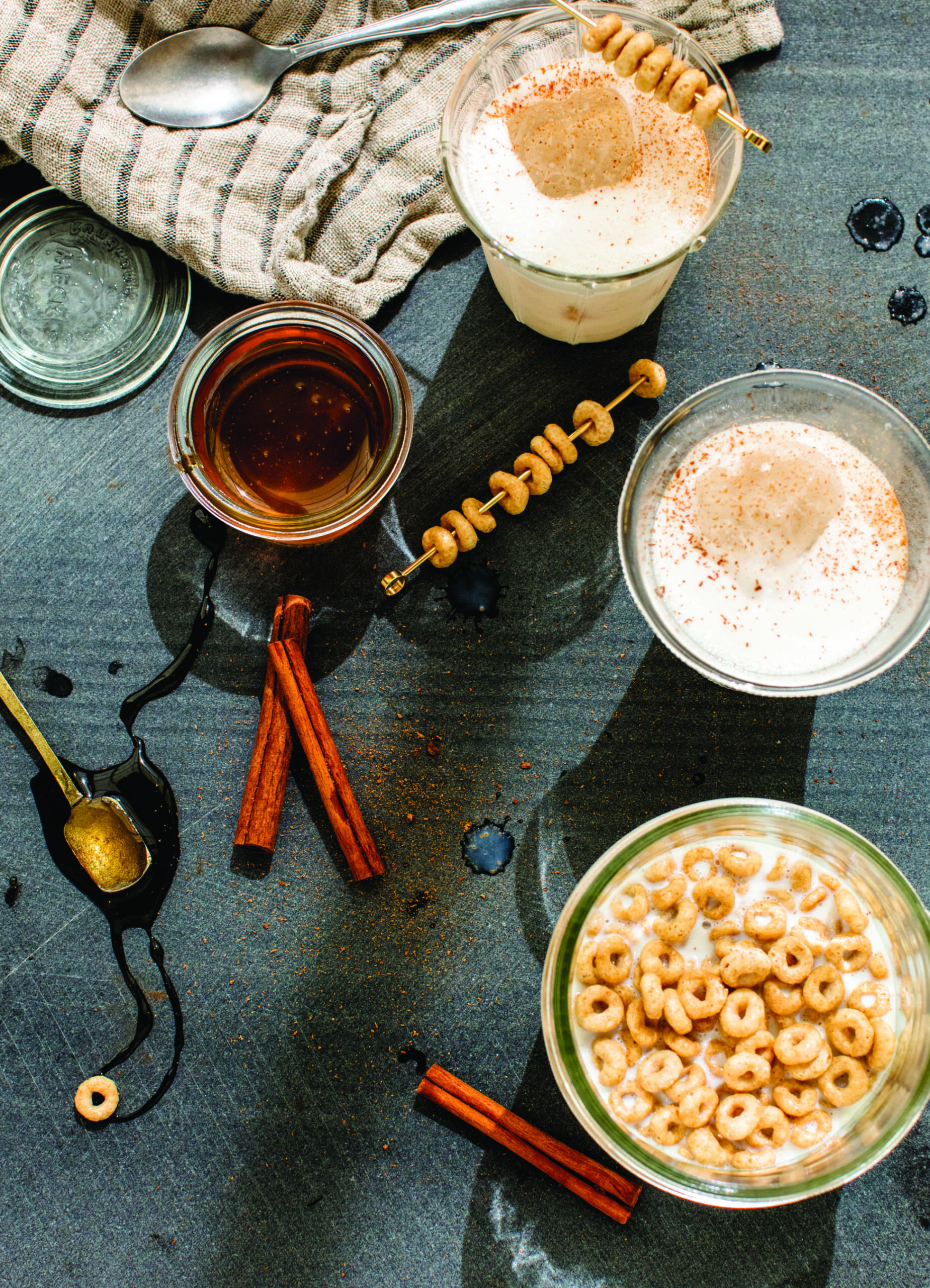 Whether or not Honey Nut Cheerios were your favorite accompaniment to Saturday morning cartoons as a kid, this creamy whiskey drink created by Jared Hirsch of NickelDime Syrups and Sidebar in Oakland is too fun to resist. 
Bourbon slices through the sweet, nutty flavor of the milk left over at the bottom of your cereal bowl, and it's all enlivened with a sprinkle of cinnamon. (Okay, you probably want to actually mix the cereal and milk exclusively for this purpose, especially if you plan to serve this to friends. The infusion is quick and painless, I promise.) Try it with Cognac instead of the whiskey if you have a bottle around.
1 ½ ounces bourbon 
¾ ounce 2:1 honey syrup (see recipe) 
3 ounces Honey Nut Cheerios–infused milk (see recipe) 
GARNISH: freshly grated or ground cinnamon and cocktail pick with skewered Cheerios
Combine bourbon, honey syrup, and Honey Nut Cheerios–infused milk in a cocktail shaker and fill with ice. Shake vigorously until well chilled, about 20 seconds. Double-strain into an ice-filled collins or juice glass and garnish with cinnamon and a cocktail pick with skewered Cheerios.
HONEY NUT CHEERIOS–INFUSED MILK
For 2 drinks
1 cup Honey Nut Cheerios 
8 ounces whole milk
Combine Cheerios and milk in a resealable container. Refrigerate for 1 hour, stirring or shaking occasionally to help Cheerios break down. Strain through a fine-mesh strainer set over a resealable container, pressing on solids to get as much liquid as possible, and refrigerate for up to 2 days.
HONEY SYRUP: Mix two parts (say, 1 ounce) honey with one part (so, ½ ounce) hot water and stir until dissolved. 
3. EL GALLITO
Makes about 12 drinks
Have you ever met a drink that also provides its own perfect snack accompaniment? This rare treasure, an umami-rich sweet-salty-smoky chipotle number from Matthew McKinley Campbell of Comal in Berkeley and A Mano in San Francisco, balances juicy pineapple with grassy green cilantro. 
It straddles the line between sweet and savory: a handful of cherry tomatoes tamps down the fruity flavor without pushing the drink into full-on Bloody Mary territory. The mixer is easy to prep in advance for a group, and the solids that you strain off the blended mixture become a fresh, spicy salsa that's excellent with chips. Vodka lets the drink's vivid flavors shine, but the mix is also good with reposado tequila.
25 fresh cilantro stems with leaves 
2 green onions, top third of greens removed 
8 cherry tomatoes 
1 cup diced fresh pineapple 
8 ounces lime juice 
5 ounces water 
4 ounces undiluted agave nectar 
1 ounce adobo sauce from canned chipotles 
Pinch salt 
About 24 ounces vodka 
GARNISH: 12 cocktail picks, each with 1 cherry tomato half
Slice cilantro and green onions into 3-inch segments, then add to a blender along with tomatoes, pineapple, lime juice, water, agave nectar, adobo sauce, and salt. Process until smooth. Strain through a chinois or fine-mesh strainer into a large measuring cup. Set aside solids to serve as a salsa, refrigerating if not serving immediately.
Measure the liquid mix (it should yield about 24 ounces) and pour into a 2-quart pitcher or resealable container along with an equal amount of vodka. If not serving right away, refrigerate for up to 3 hours.
When ready to serve, stir mixture well, then add 1 ½ cups ice to pitcher and give it another gentle stir. Pour into ice-filled rocks glasses and garnish each one with a speared cherry tomato half. 
4. PASSPORT TO CHILE
Makes about 12 drinks
You can serve this easy-drinking grapefruit cocktail from Matt Friedlander of New York's Sweetwater Social in a punch bowl with a big ice block. But I like to prep the mix in advance, stash it in the fridge in a pitcher, then pour it into ice-filled glasses. Be sure to have an ice bucket on the side so people can add more ice to their glasses when they pour a second round.
I love how pisco highlights the honey and grapefruit flavors here—but you can also make this easy, citrusy drink with vodka or blanco tequila. If you have an electric citrus juicer, you can save some time. Otherwise, you'll want to put some of your guests to work with a squeezer.
1 (750 ml) bottle pisco 
11 ounces 2:1 honey syrup (recipe follows) 
22 ounces fresh grapefruit juice 
11 ounces fresh lime juice 
½ teaspoon Cholula or other hot sauce 
GARNISH: 6 grapefruit wheels, sliced in half, and flaky salt (such as Maldon)
Pour pisco, honey syrup, grapefruit juice, lime juice, and hot sauce into a 2 ½- or 3-quart pitcher and stir well to mix. If not serving right away, cover and refrigerate for up to 2 hours.
When ready to serve, stir well and pour into ice-filled rocks glasses. Garnish each glass with a half-moon of grapefruit and a pinch of flaky salt.
2:1 HONEY SYRUP Mix two parts (say, 1 ounce) honey with one part (so, ½ ounce) hot water and stir until dissolved.
5. SPANISH PENNY
Makes 1 drink
This effortless stirred drink from Andrew M. Volk of the Portland Hunt and Alpine Club in Maine celebrates the rye barrel and the sherry cask. 
Potent, peppery whiskey (Volk recommends seeking out a 100-proof rye) mingles with a crisp touch of sherry vinegar, but the key to the perfect mix is a softening spoonful of maple syrup. The drink comes together silky and rich, with a lingering maple flavor that's perfect for a cool evening.
2 ounces rye (100 proof preferred) 
1 teaspoon maple syrup 
¼ teaspoon sherry vinegar 
GARNISH: dried apricot on a cocktail pick (optional)
Combine rye, maple syrup, and sherry vinegar in a rocks glass and fill with ice. Stir until chilled, about 30 revolutions. Garnish with a speared apricot. 
6. SUN-KISSED HIGHBALL
Makes 1 drink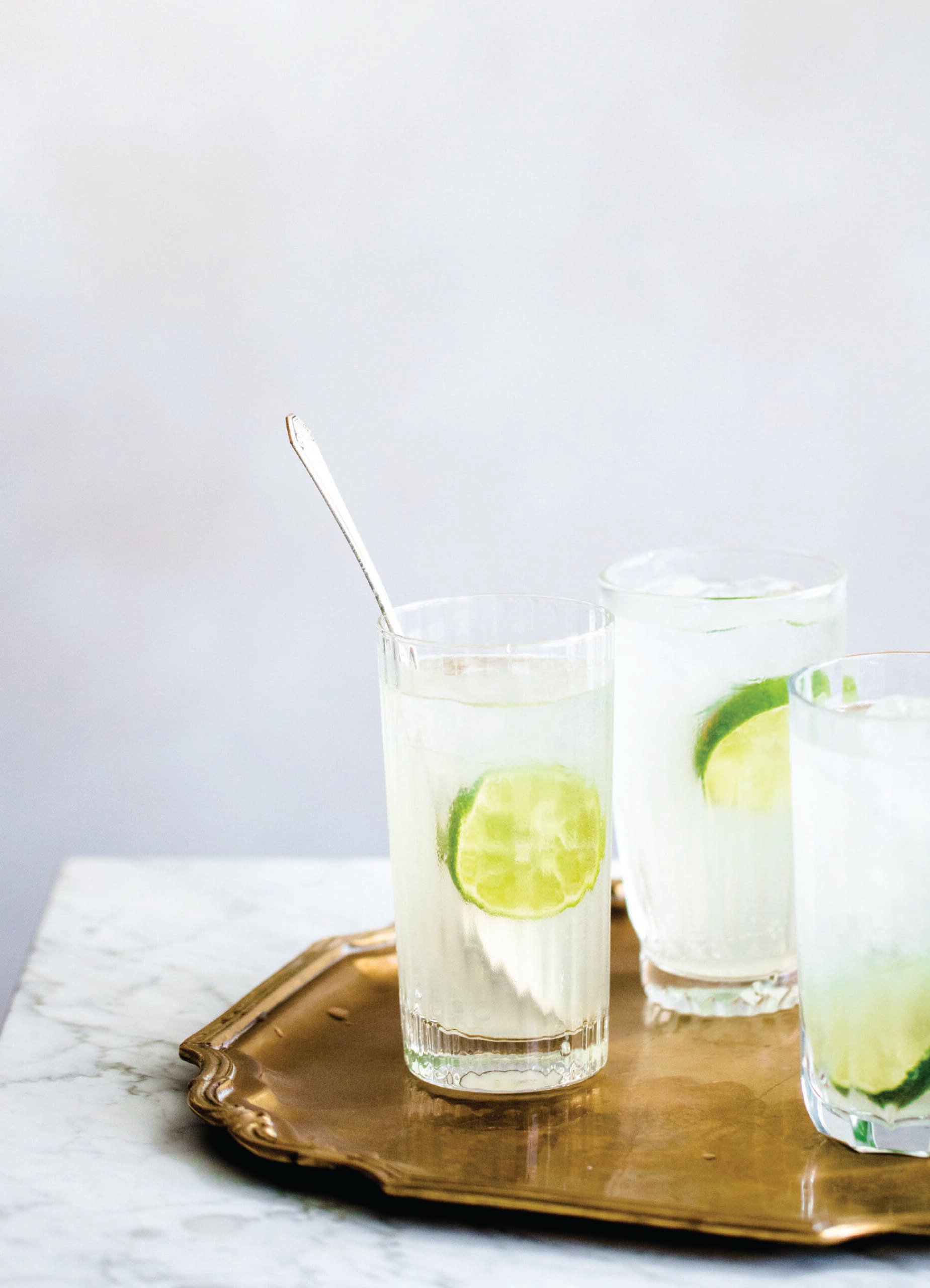 I love that this easy highball brings together two succulents. The agave that tequila is made from isn't actually that closely related to spiky aloe, but the two plants look strikingly similar and also taste great together. This drink is softly herbal and tart, served tall in a skinny collins glass. It's the ideal option for your friend who says, "Cocktails are always too sweet."
Sother Teague, beverage director of New York's Amor y Amargo, designed this recipe to be flexible: if you don't have tequila on hand, try subbing in gin or light rum. The final flavor will also vary depending on which aloe juice you buy. I recommend the widely available Alo Exposed brand, which is sweetened with honey.
2 ounces aloe vera juice (such as Alo Exposed) 
2 ounces blanco tequila 
¾ ounce fresh lime juice 
1 ¾ ounces chilled club soda
Pour aloe vera juice and tequila into a collins glass. Add lime juice and carefully drop the spent lime rind into your glass. Stir together to mix, top with club soda and ice, and give it another gentle stir.
Reprinted with permission from The One-Bottle Cocktail by Maggie Hoffman, copyright © 2018. Published by Ten Speed Press, an imprint of Penguin Random House LLC.