How To Make The Ultimate Backyard Spatchcock Chicken
Chicken and chill with this quarantine-friendly recipe.
Big Green Egg
While many of us are hunkered down and cooking more than ever, we can hardly live on macaroni and cheese alone. So we enlisted Chris Sussman, aka the BBQ Buddha, to share his favorite chicken recipe to cook during quarantine on his backyard Big Green Egg grill. 
"This is easy for any backyard barbecuer to do, and one they should have the ingredients for," Sussman says. "And if there are any leftovers, they can be used for smoky chicken salad the next day."
"I used a basic salt, pepper, paprika rub, which gave the chicken a beautiful crust and flavor. I removed the backbone, cooking the chicken on indirect heat, 'spatchcock' style at 350 degrees for an hour and a half. It's best to use pecan or hickory wood chips for a smoky flavor. Top it off with some homemade white sauce using ingredients we all have in our pantry."
Ultimate Backyard Chicken Ingredients
1 whole raw chicken
Dry spice rub of your choice (salt / pepper / paprika here)
Pantry White Sauce

1 cup mayonnaise
¼ cup apple cider vinegar
1 Tbs Chili Paste (Gochujang, Sambal, etc.) or regular hot sauce
1 tsp Worcestershire sauce
1 tsp lemon juice
2 Tbs sugar
½ tsp garlic powder
½ tsp onion powder
¼ tsp chili flakes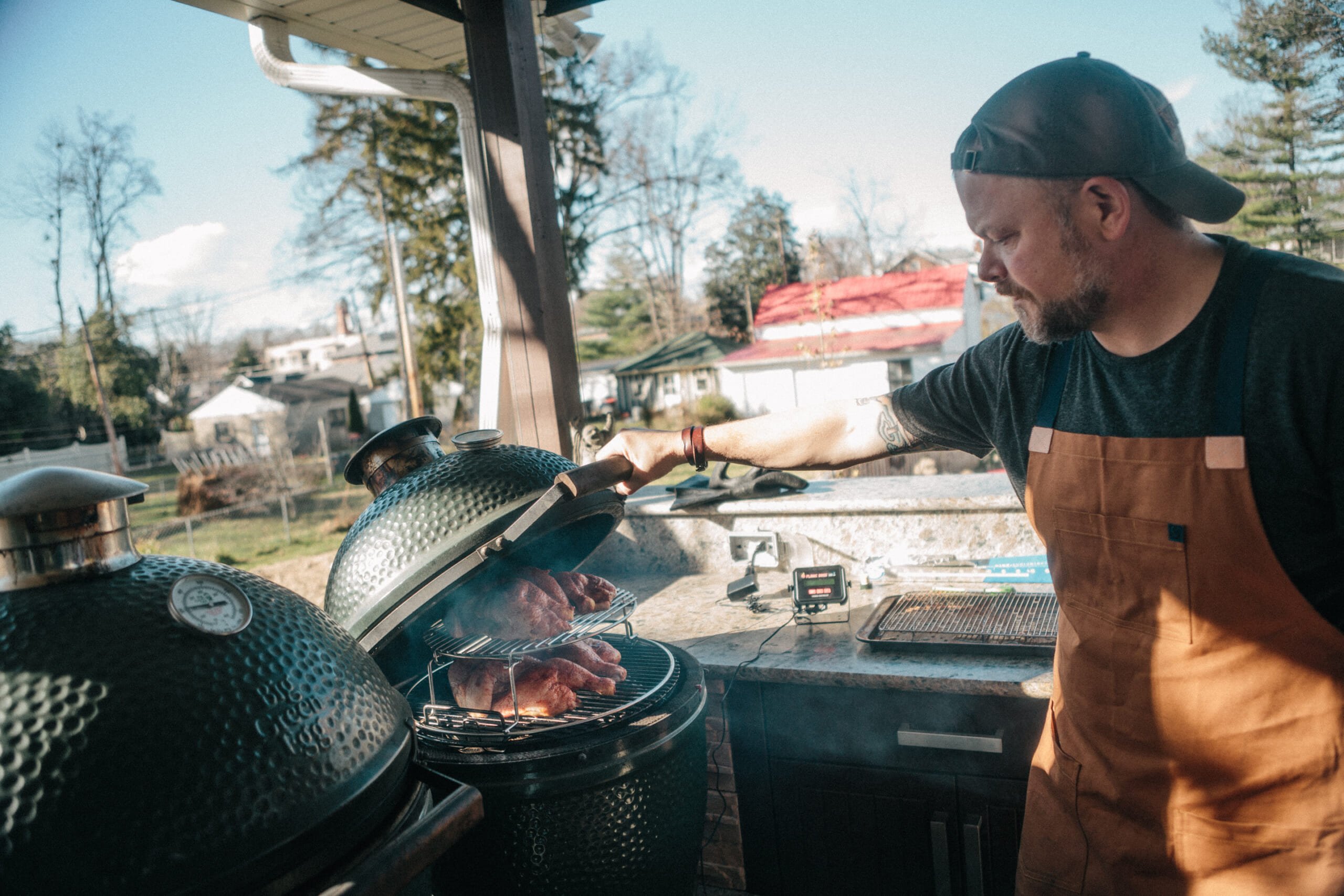 Ultimate Backyard Chicken Directions
Fully thaw your chicken
Spatchcock the chicken – use your kitchen scissors to cut the chicken along the backbone to essentially open the chicken up and lay flat (For extra crispy chicken, spatchcock and then rub down with salt, letting the bird sit on a wire rack to promote airflow over the whole chicken) 
Prior to grilling, coat the entire outside with a hot sauce of your choice as a "binder" then rub the chicken down with the dry spice rub of your choice
Set up your home grill for an indirect cook and get it up to 350°–and make sure to keep that temp consistent throughout the cook
Cook the chicken for 1.5 hours or until internal temp at thickest part of chicken reaches 165°
While the chicken is cooking, mix the sauce ingredients
Whisk all sauce ingredients together and let sit in a cool place until chicken is cooked and ready for serving.
Serve with sauce and enjoy.