Bowmore & Aston Martin's Latest Scotch Whisky Is A 22-Year-Old Collector's Bottle
The bottle marks another release in the Masters' Selection partnership.
Intricate design and craftsmanship are at the heart of both luxury automobiles like an Aston Martin and luxury Scotch, like the covetable spirits produced by Bowmore. The two don't often naturally intersect, but when they do, the results tend to shine, as with the new Bowmore Aston Martin Masters' Selection 2023 release.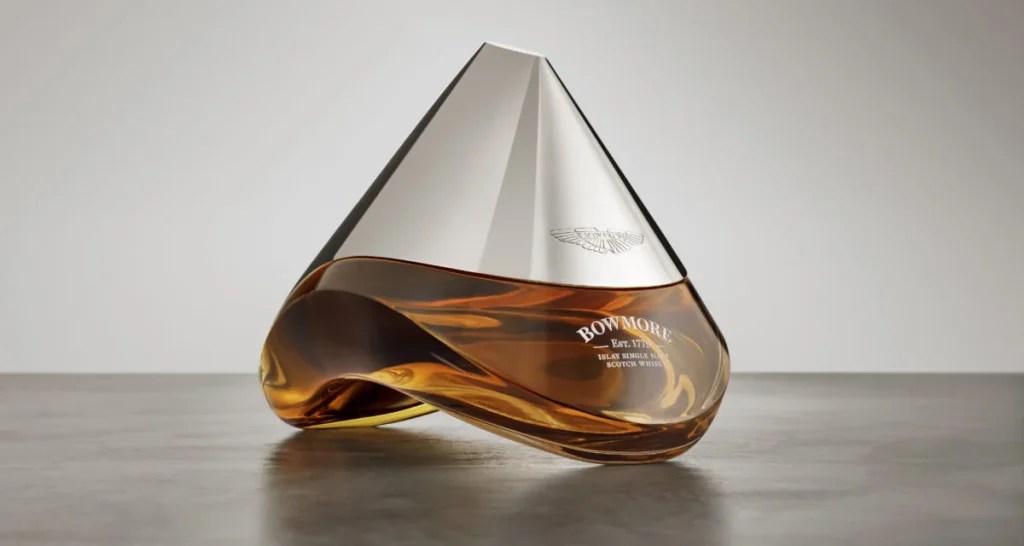 It's the latest impressive entry in a partnership that now includes the out-of-this-world Bowmore Arc-52 (aged more than five decades) and a more approachable, yet no less enviable, 22-year Scotch.
Although the auto world and the world of Scotch might not seem like closest fit, the distillery notes that it's the "coming together of heritage and innovation" that brings both famed U.K. companies closer.
Indeed, the handsome matte black-and-gold bottle design calls to mind the clean lines of the open road (or a smooth-riding Aston Martin SUV).
"We talk about shared synergies between the contrasting worlds of Bowmore and Aston Martin," said Bowmore Master Blender Ron Welsh. "In collaborating as guardians of our respective legacies, we recognize the honor bestowed upon us."
That gravitas comes through quite clearly in the richly crafted Scotch, which brings together whisky aged in two distinct fashions (American Oak hogshead, fused with Sherry casks).
The synergy is there from the start, right on the nose, with notes of both woodsy oak spice and vanilla, along with heather honey.
Vanilla, oak and malty spice character come through on the palate, and the subtle peat smoke finish is particularly enticing for those who want Scotch with classic peat character.
Beyond the stellar liquid itself, the impressive packaging is as sleek and striking as an Aston Martin automobile, presented accordingly in a deep black special-edition box with gold-hued detailing and a fittingly impressive seal.
Luckily for Scotch and Aston Martin enthusiasts, the spirit within is made to be enjoyed, rather than tucked away on a shelf.
The new Bowmore Aston Martin Masters' Selection 2023 Edition retails for a suggested price of $450, but the exceptional design innovation driving the partnership is nearly priceless one might say.