Cochon555 Does Dallas: Inside America's Porkiest Culinary Competition
The heritage pork cook-off is headed to Chicago and Austin next.
Cochon555
Presented by Cochon555
Five renowned chefs gathered to celebrate farmers who sustainably raise heritage-bred pigs by cooking up delicious porcine bites in the latest culinary cook-off for Cochon555. 
The epic Cochon555 feast presented by CitiBank took place in Dallas at The Four Seasons Resort and Club Dallas at Las Colinas—the official host and hotel of the 10th Anniversary Tour.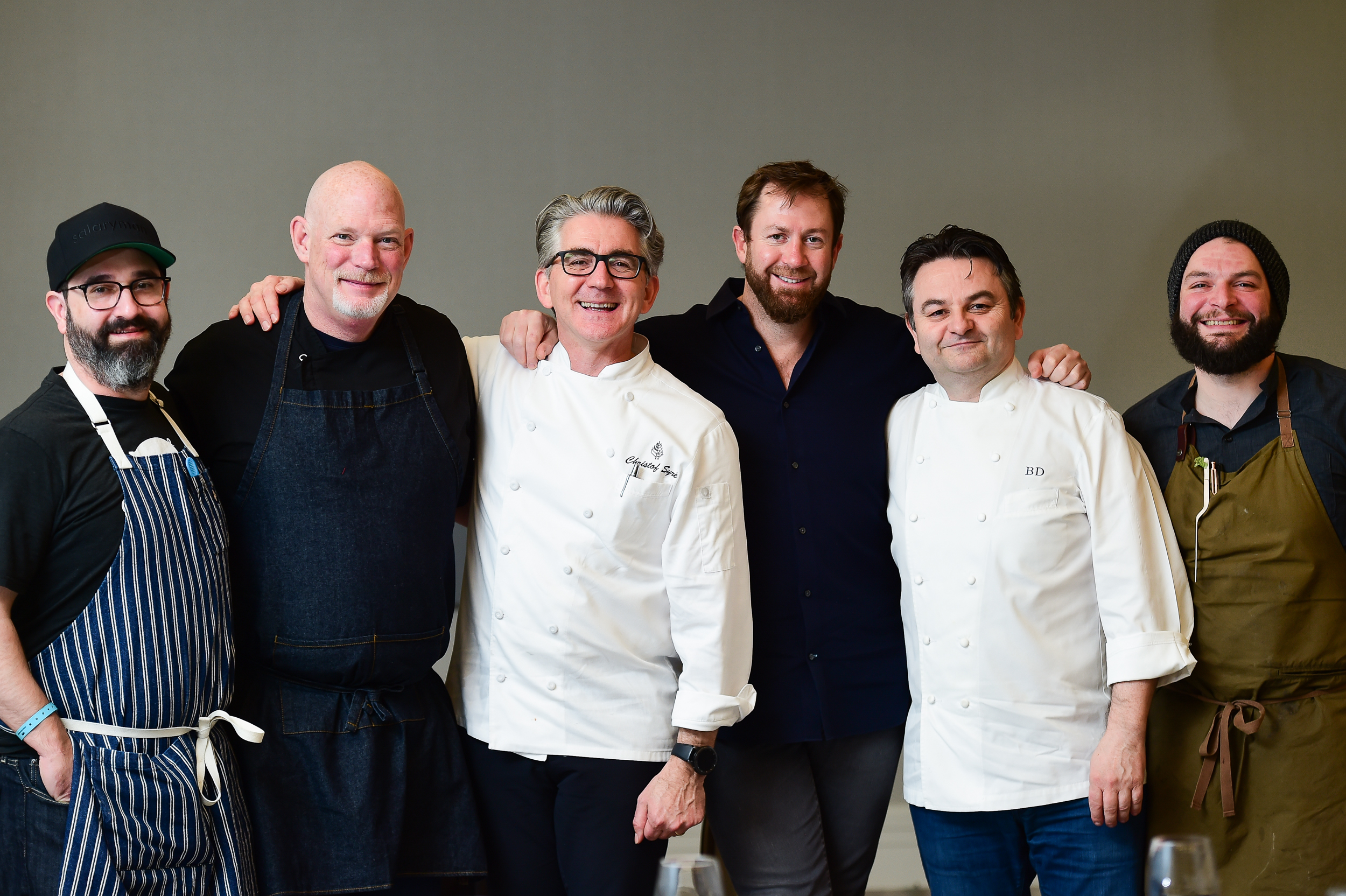 Five top chefs prepared and served over 1,500 pounds of heritage pigs bred at family farms to 600-plus guests, including chefs, sommeliers, barkeeps and notable judges. 
Host chef Christof Syré of LAW at Four Seasons Resort and Club Dallas at Las Colinas, Chef David Uygur of Macellaio, Chef Bruno Davaillon of Bullion, Chef Matthew Scott of Great Scott and Chef Josh Bonee of Fine China all competed at the event. 
Chef Davaillon of Bullion clinched the regional title of "Prince of Pork" and will represent Dallas at Grand Cochon, the national finale, on September 15 in Chicago. 
With full glasses to toast the winning team, the audience cheered on Chef Davaillon. He and his team presented of a French-inspired menu that included dishes such as Paté en Croûte de Provencal, Pied de Cochon Farci, Rillon Comme Chez Moi and the show-stopping Tarte "Boudin Noir." 
The winning plate showcased one whole pig: a Hereford-Mangalitsa Cross raised by Chubby Dog Farms.
Additionally, the event featured five of the city's hottest barkeeps and Punch King's chosen spirit: El Tesoro™ Blanco Tequila was the spotlight ingredient steeped with tradition. 
Stephen Garcia's punch "El Corazón" combined El Tesoro™ Blanco Tequila, Pineapple Habanero Syrup, Tepache and Lime.
Cochon555 also features a wine-based competition called Somm Smackdown, in which five notable sommeliers selected their favorite wine to pair with dishes presented by five competing chefs. 
Cameron Cronin of Sachet took the trophy with his Brut Rosé Franciacorta from Contadi Castaldi produced in Lombardy, Italy.
"The national competition gets more intense and dynamic every year, and the performance of chefs, sommeliers, and barkeeps in Dallas shows precisely why the city is synonymous with landscaping a responsible culinary excellence in this country," Cochon555 founder Brady Lowe said of the event. 
"We can't wait for Chicago and Austin in the coming weekends. The flavor train continues across North America, make sure to catch us at one of the magnificent properties of the Four Seasons, they are such amazing hosts to these community events."
Partners of Cochon555 helped raise more than $4,500 for charity in a silent auction adorned with gifts from participating sponsors. The proceeds support Piggy Bank, a charitable foundation and start-up farm in Missouri that serves as a kickstarter for emerging family farms, as well as a safety net for farms in the wake of a disaster (flood, fire and disease). 
The Four Seasons Resort and Club Dallas at Las Colinas in association with craft-distilled Wheatley Vodka made by Master Distiller Harlen Wheatley in small batches and Perfect Puree of Napa Valley continue to give to Piggy Bank through a limited menu "Cocktails for Charity" supporting Piggy Bank into next month. 
To end things on a sweet note, Perfect Puree teamed up with a local pastry chef to create sweet and savory offering to woo the crowds.
If you love chef competitions and must-do culinary experiences, endless wines and spirits, making charitable donations and noshing on 30-plus chef-crafted dishes, then follow the event on Instagram @Cochon555 and founder @BradyLowe555. 
Are you in Chicago or Austin in the coming weeks? Here is your all-access pass to buy tickets for the nation's most talked about culinary event.
About the Cochon555 Tour
The Cochon555 Tour executes a yearly host of authentic, hyper-local food events focused on raising awareness for heritage breed pigs through an innovative nose-to-tail pig cooking competition. 
This epic pork feast visits 14 major cities in North America annually. The tour is comprised of an array of live expressions and cultivates a long-term impact for heritage species. 
Both educational and inspirational messages are circulated among 16,000 guests; 2,200+ chefs; 150+ family farms; and culinary schools each year. Since 2009, 108,000+ consumers have experienced heritage pork for the first time, more than $1,100,000 has been donated to charities, and over $1,200,000 has been paid directly to our farmers. For more information, visit www.cochon555.com or follow @cochon555 on Twitter and Instagram.
About Piggy Bank
Launched in 2015 by Brady Lowe – founder of the Cochon555 US Tour and Taste Network – Piggy Bank is a pig farming sanctuary. Harboring a Noah's Ark-worthy selection of heritage breeds, it provides free genetics and business plans to emerging family farms. Piggy Bank aims to change the future of food by creating a community in which small farmers can learn about safer, more responsible practices and benefit from the sharing of genetics, livestock, and the very information needed to not just survive, but to thrive as small businesses. 
The Piggy Bank farm, located in Missouri, raises pigs to be gifted to communities that are dedicated to elevating the cause and expanding through a model of social and agricultural transparency. Piggy Bank is a nonprofit corporation with federal tax exempt status as a public charity under Section 501(c)(3). Follow the Piggy Bank conversation on Twitter @PiggyBankOrg. For more information, visit http://www.piggy-bank.org.