Miami's Hottest Chefs Battled For The Heritage Pork Crown at Cochon555
Los Angeles is the last stop on the Cochon555 national tour! Get your tickets now for all-you-can-eat heritage pork and endless spirits.
Max Flatow Photography
Presented by Cochon555 US Tour
Five renowned Miami chefs battled it out in a friendly competition for a cause at
Cochon555, celebrating heritage breed pigs and the family farms
dedicated to their sustainable upbringing.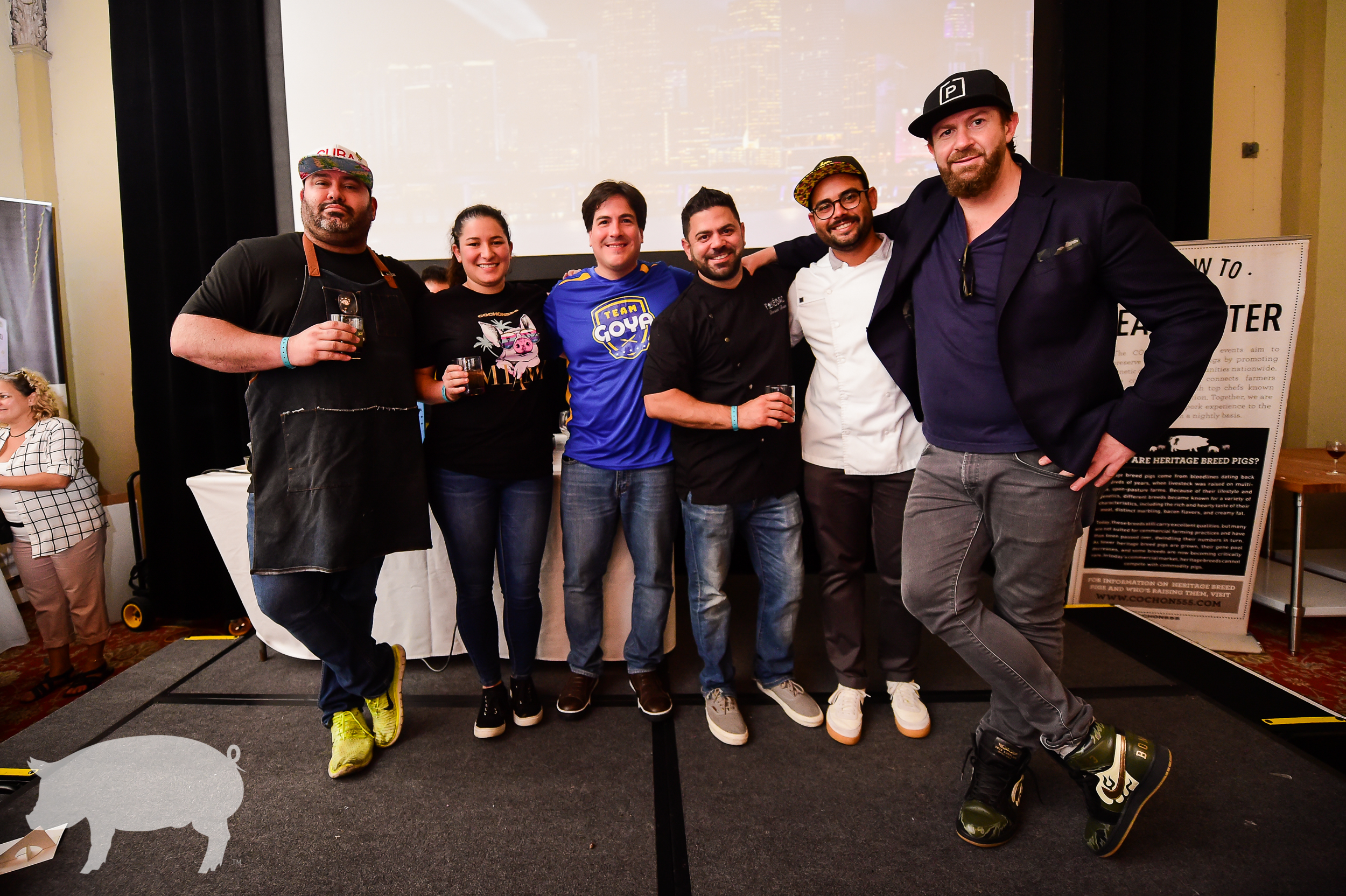 The competing chefs and their teams worked
tirelessly to prepare 30-plus dishes for the judges and the room full of more than 500 guests cheering
them on.
This year's competing chefs included Jorgie Ramos of BARLEY, Karla Hoyos of The
Bazaar by Jose Andres, Fernando Desa of Goya, Daniel Bouza of Pokebao, and Jimmy
Lebron of 27 Restaurant & Bar.
Chef Ramos and his stellar team presented an inspired winning menu including: Head & Trotters
Croquetas with brain and onion soubise and kumquat marmalade, Pig Skin Confit with a
fennel and orange salad, mojo rojo and cilantro flowers, Abuela's Empanada Gallega with
chorizo, green peas and sofrito butter, Masa De Puerco with Pineapple escabeche,
avocado, red onion and herb salad, Butifarra Tortellini with fumet, chorizo, sweet plantain and yuca Mofongo crumble and Smoked Pork Natilla with pork fat caramel and whipped
lard fluff. 
The winning plate showcased one whole pig: Duroc/Berkshire/Chester White
Cross raised by Miami Purveyors.
Additionally, the event also featured three of the city's hottest barkeeps competing with
the Punch King's chosen spirit: El Tesoro™ Blanco Tequila, the spotlight ingredient
steeped with tradition. 
Arleen Delima's winning punch "¡No pare, sigue, sigue!"
combined El Tesoro™ Blanco Tequila, Pineapple Shrub-Tepache Mix, Fresh Lemon
Juice, Agave Syrup and Xocolatl Mole Bitters.
Cochon555 also celebrated wine. Five notable sommeliers competed in Somm
Smackdown, in which they each selected their favorite wine to pair with dishes
presented by the five competing chefs. 
Daniel Toral of 50 Eggs Hospitality Inc. took the
trophy with his selection, Kiralyudvar, 2016 Sparkling Furmint from Tokaji, Hungary and
his Enderle & Mall, 2016 "Liaison" Pinot Noir from Baden, Germany.
"The national competition gets more intense and dynamic every year, and the
performance of chefs, sommeliers, and barkeeps in Miami shows precisely why the city
is synonymous with landscaping a responsible culinary excellence in this country,"
Cochon555 founder Brady Lowe said of the event. 
"We can't wait to have Miami's finest
in September for Grand Cochon, where we will crown the King or Queen of Pork."
If you love chef competitions, must-do culinary experiences, endless wines and
spirits, making charitable donations and noshing on 30-plus chef-crafted dishes, then
don't miss out when this tour comes to your city. 
Up next is LA on June 2. Buy tickets to the
nation's most talked about culinary event and follow @Cochon555 on Instagram to keep
up with all of the excitement happening across the country.