New York City Chefs Battled for Heritage Pork Dominance at Cochon555
Minneapolis and Miami are up next on Cochon555's national tour. Get your tickets now for all-you-can-eat heritage pork and endless spirits.
Presented by Cochon555 US Tour

Five renowned New York City chefs battled it out in a friendly competition for a cause at Cochon555's latest event in Brooklyn last weekend, celebrating heritage breed pigs and the family farms dedicated to their sustainable upbringing. 
The competing chefs and their teams worked tirelessly to prepare 30-plus dishes for the judges and a room full of 500-plus guests cheering them on.
​This year's competing chefs included Seungjoon Choi of Hortus NYC, Allan Walker-Hodkin of The Grey Dog, Kimberly Plafke of Grand Army Bar, Garrison Price of Cafe Clover and Christina Bartoli of Gelso & Grand.
Chef Choi and his stellar team presented an inspired winning menu. It included ​Head Cheese Salad, Katsu Sando, Sweet & Sour Pork, Pork Bone Soup & Rice, Charcoal Grilled Pork Belly and Bacon Macarons. 
The winning plate showcased one whole pig: a Gloucester Old Spot​ ​raised by DeBragga, ​New York's Butcher®.
Additionally, t​he event also featured five of the city's hottest barkeeps and Punch King's chosen spirit: ​El Tesoro™ Blanco Tequila was the spotlight ingredient steeped with tradition​. ​
Sofia Valdez's ​"Juno and Avos" punch ​combined ​El Tesoro™ Blanco Tequila​, Neversink Apple Brandy, Ancho Reyes Verde Chile Poblano Liquor, fresh beet juice, fresh lime juice and chamomile tea syrup.
Cochon555 also celebrated wine with five notable sommeliers competing in ​Somm Smackdown​. Each each selected their favorite wine to pair with dishes presented by the five competing chefs. Anna-Christina Cabrales ​of ​Morrell Wine Bar & Café ​took the trophy with her selection, Nin-Ortiz, 2015 Planetes de Nin – Priorat, Spain.
Overall, Cochon555 and their partners helped raise more than $1,412 for​ Piggy Bank​, a charitable foundation and start-up farm in Missouri that serves as a kickstarter for emerging family farms, as well as a safety net for farms in the wake of a disaster (flood, fire and disease).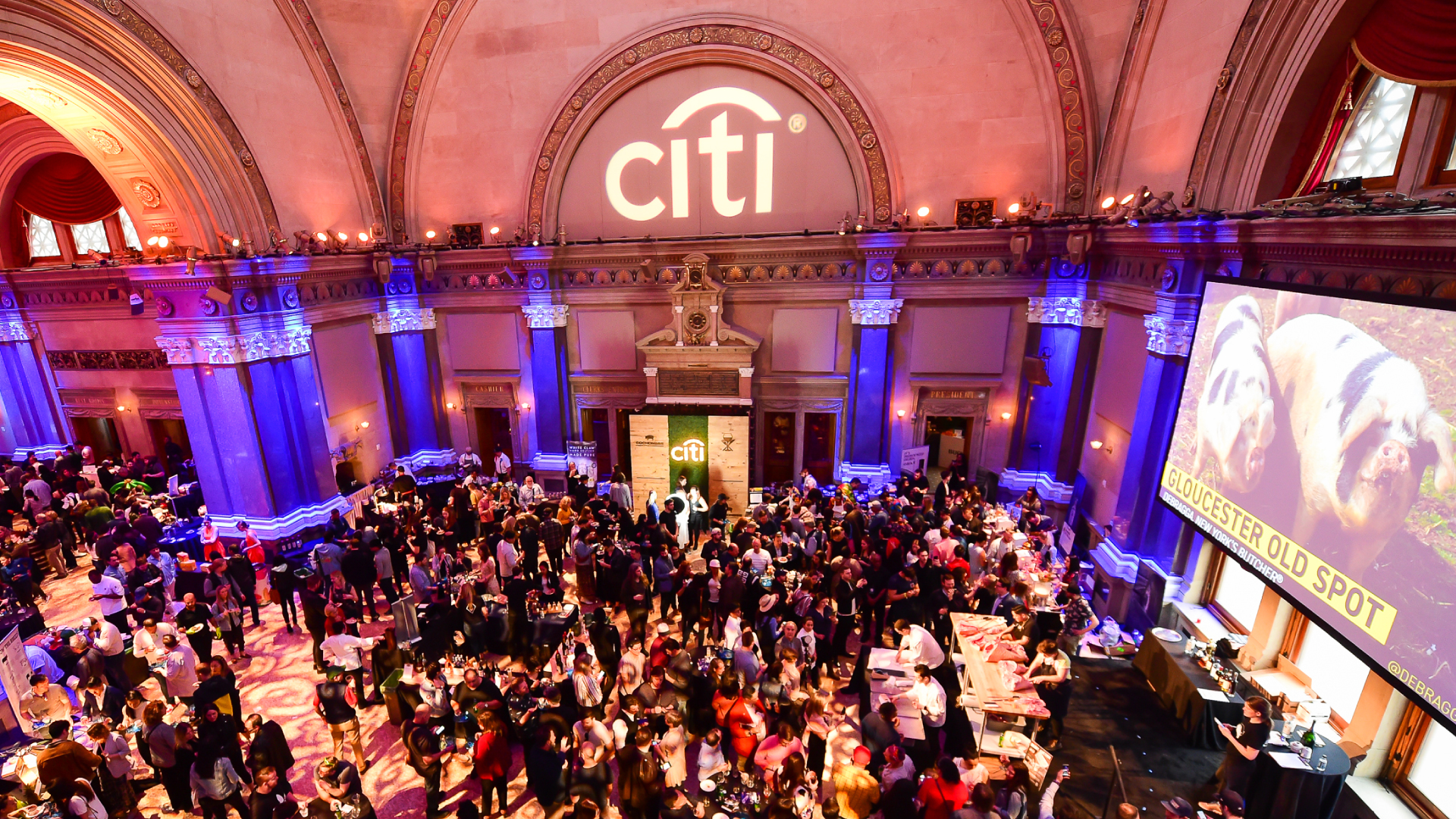 "The national competition gets more intense and dynamic every year, and the performance of chefs, sommeliers, and barkeeps in New York City shows precisely why the city is synonymous with landscaping a responsible culinary excellence in this country," Cochon555 founder ​Brady Lowe said of the event. 
"We can't wait to have NYC's finest in September for Grand Cochon where we will crown the King or Queen of Pork."
If you love chef competitions and must-do culinary experiences, endless wines and spirits, making charitable donations and noshing on 30-plus chef-crafted dishes, then don't miss when this tour comes to your city. Up next are Minneapolis on May 5 and Miami on May 19. ​
Buy tickets to the nation's most talked about culinary event and follow @Cochon555 on Instagram to keep up with all of the excitement happening across the country.