Exclusive First Look At Dewar's New 'Caribbean Smooth' Rum Cask-Finished Scotch
This scotch blends the spirits of Scotland and the Caribbean for something completely original.
When you think of Scotch, you think of Scotland. But today Dewar's is releasing a new scotch whisky that perfectly infuses highlands history with a tantalizing hint of tropical flavor.
Dewar's Caribbean Smooth is an 8-year-old Scotch that was double-aged and finished in Caribbean rum casks. We had an exclusive preview and can vouch for Dewar's claims—this is a match made in spirits heaven.  
According to a release from the distiller, this is also the "first in a new cask-finished series of whisky," so there will be more to come. 
Caribbean Smooth's unique blend of flavors and cultures is the end result of a complex and long-term process. In a statement about the Scotch's release, Dewar's vice president  Brian Cox said they have "blended up to 40 single malts and grain whiskies that have laid in casks for at least 8 years." Then they double-aged that blend in order to "ensure our distinctive extra smooth Dewar's profile."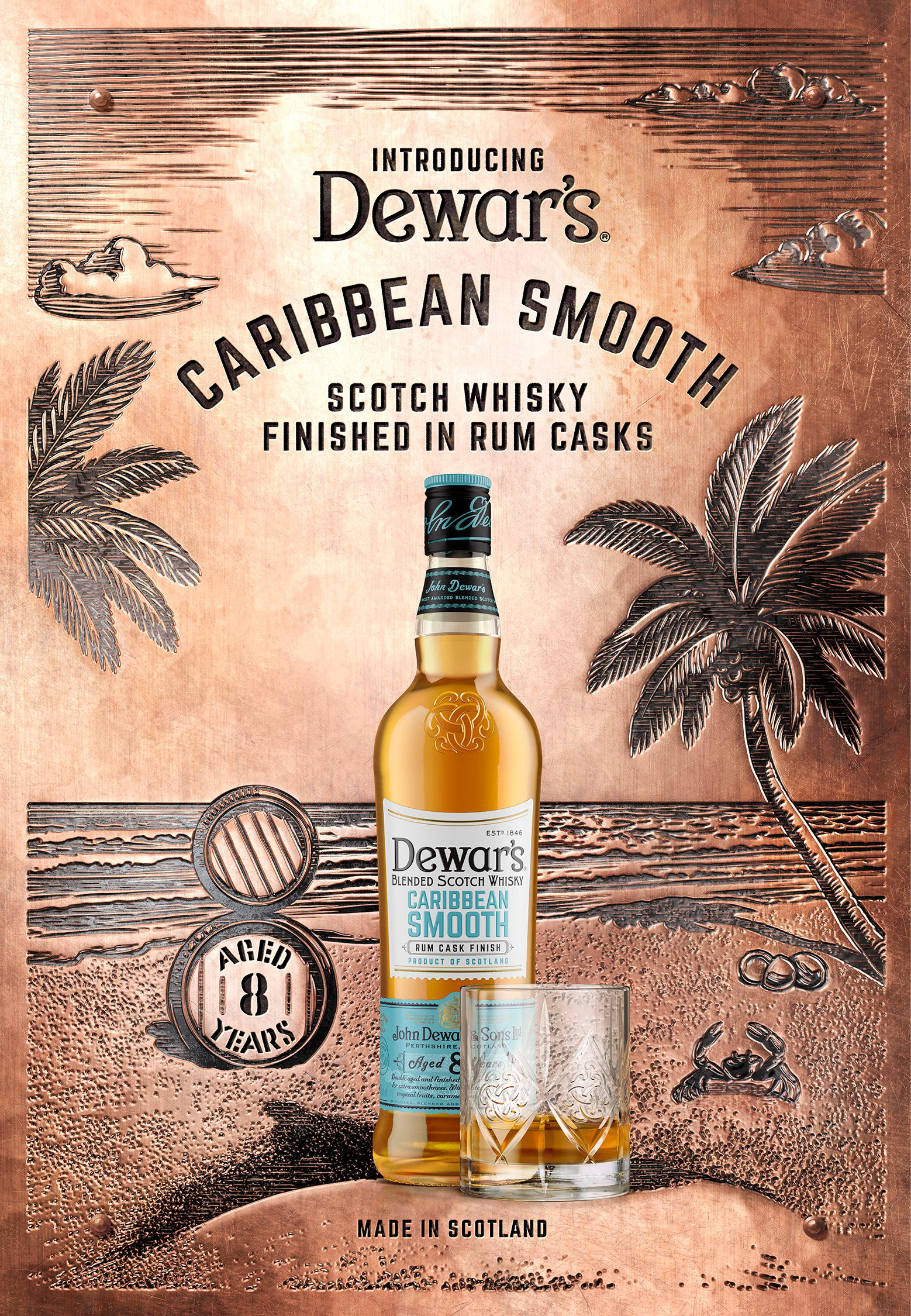 Six months in casks that once held Caribbean rum provided the finishing touch. 
Cox explained that the casks "were sourced straight from the Caribbean and brought to our aging warehouses in Glasgow to be filled with our flavorful 8-year-old blend." 
Cox also said this new product is part of a drive to create "renewed interest in our brand, and thereby the whisky category."
Master blender Stephanie Macleod said Caribbean Smooth features a "unique flavor profile," one that "features subtle notes of apple, caramel, and biscuity cereal that slips into dark brown sugar and tropical fruit."
The warm hint of sweetness from those brown sugar and fruity notes makes this one hell of a great Scotch for mixing a wide variety of cocktails. Unlike some of the classic, peaty, smoky-flavored whiskies, Caribbean Smooth is easily taken neat and will never overwhelm. 
Should you prefer a cocktail to sipping straight, Dewar's suggests the following as ideal introductions to their latest scotch:
Dewar's Caribbean Smooth Signature Serve: The Coconut Highball 
1 ½ parts Caribbean Smooth
½ part Lemon juice
½ part Coconut Syrup
3 parts Soda Water

Glass: Highball

Garnish: Lime wheel and mint sprig

Method: Add whisky, lemon juice and syrup to chilled Highball glass, filled with cubed ice, add soda, stir ingredients from the bottom upwards to mix thoroughly, and garnish with slapped mint sprig and lime wheel.
Cask to Colada
50ml Caribbean Smooth
25ml Fresh Pineapple juice
50ml Coconut water
10ml Vanilla sugar

Glass: Highball

Garnish: Pineapple leaf

Method: Add all ingredients to a cocktail shaker, fill ¾ with cubed ice and shake hard for 5 seconds. Single strain into Highball glass filled with cubed ice and garnish with Pineapple leaf.
Dewar's Caribbean Smooth 8-year-old rum cask finish comes in a 750mL bottle and retails for $21.99.