'Game of Thrones' Beer Celebrating Final Season Is Latest in Long Line of Thrones-Themed Booze
Toast "Game of Thrones" April 14 premiere with these GOT-branded beers, wines and scotches.
(Photo: HBO/Brewery Ommegang)
With a little over a month to go until the eighth and final season of Game of Thrones, fans are getting endless ways to eat, sleep, and breathe GoT with everything from Westeros-themed bars, ice hotels, sneakers to lots and lots of cleverly-branded booze.
The latest in the GoT booze collection is Brewery Ommegang's beer For The Throne, which will be available at the brewery's taproom in Cooperstown, New York, starting March 8 and in stores in early April.
https://www.instagram.com/p/BuWkU-Zg_gb
The beer is a strong 9.5% ABV golden ale that's been co-fermented with pinot grigio and viognier grapes juices, and bottle conditioned with Champagne yeast.
According to Thrillist, Brewery Ommegang president Doug Campbell says:
Winter is here, the wall has fallen, and the final battle for Westeros is underway. With this offering, we have bent the traditional boundaries of beer-making, co-fermenting traditional ingredients with juices normally destined for fine wines, going to great lengths to create a truly unique, special beer.

This style of beer, often called a 'oenobeer,' is a rapidly expanding area of study for us. For The Throne is our first of co-fermentation beer of 2019, and the only one we've launched under the Game of Thrones banner.
This isn't Ommegang's first official Game of Thrones beer, though. The brewery came out with a Winter Is Here double white ale, Fire and Blood red ale, Bend the Knee golden ale, as well as a separate four-beer series called the Game of Thrones Royal Reserve Collection that included one called Seven Kingdoms sour blonde ale blend in honor of the good queen Cersei, who happens to be a very sour blonde herself.
Ommegang's beers join other GoT libations such as eight single malt scotches from some of Scotland's finest distilleries, which are as follows: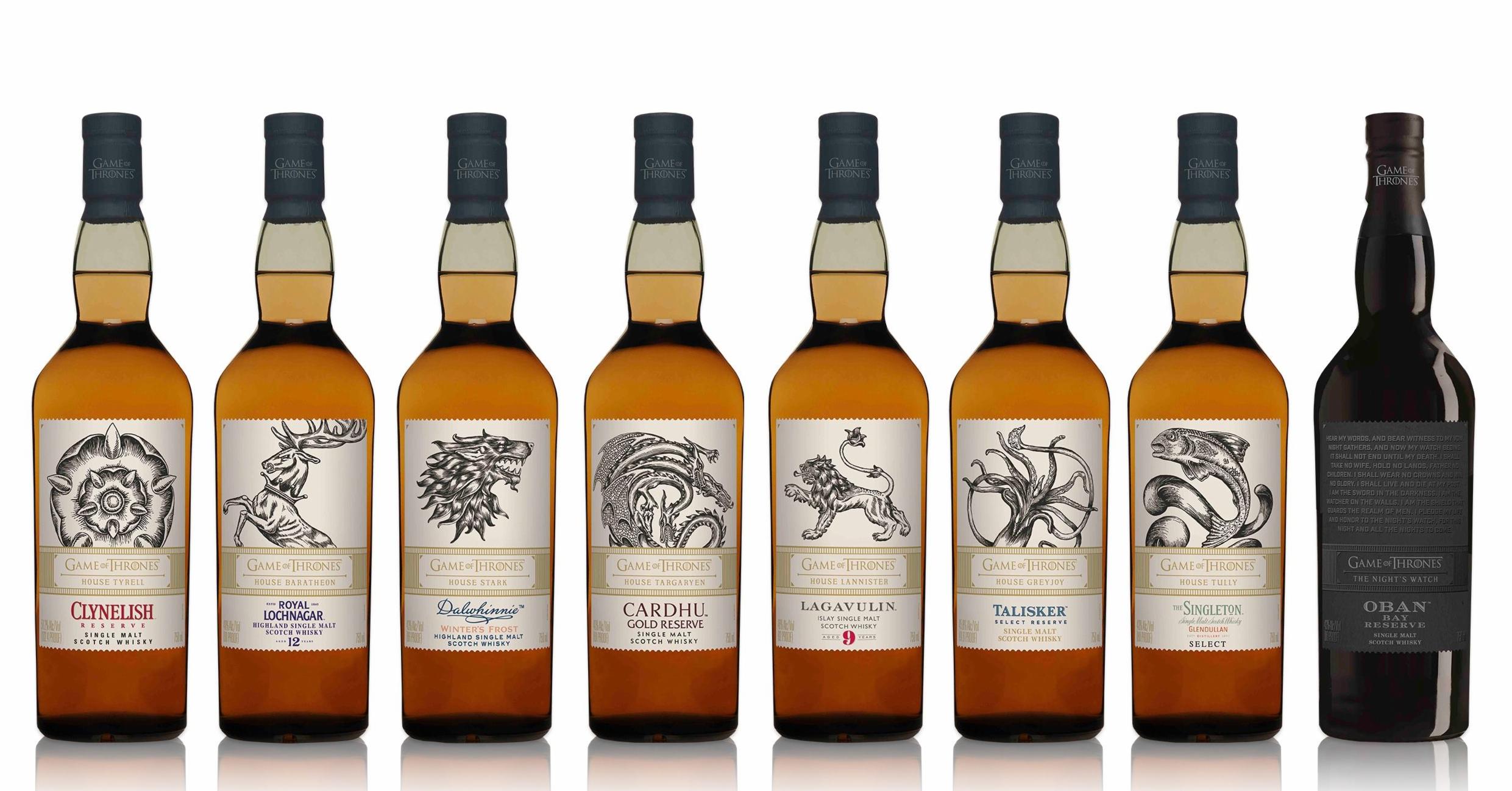 Game of Thrones House Tully – Singleton of Glendullan Select ($29.99)
Game of Thrones House Stark – Dalwhinnie Winter's Frost ($39.99)
Game of Thrones House Targaryen – Cardhu Gold Reserve ($39.99)
Game of Thrones House Lannister – Lagavulin 9 Year Old ($64.99)
Game of Thrones The Night's Watch – Oban Bay Reserve ($62.99)
Game of Thrones House Greyjoy – Talisker Select Reserve ($44.99)
Game of Thrones House Baratheon – Royal Lochnagar 12 Year Old ($64.99)
Game of Thrones House Tyrell – Clynelish Reserve ($59.99)
HBO also collaborated with Johnnie Walker to create a blended scotch wittily called White Walker by Johnnie Walker, that has "notes of caramelized sugar and vanilla, fresh red berries with a touch of orchard fruit," according to a press release.
There's also a line of special-edition Game of Thrones-branded wines created by Wine Enthusiast's 2011 Winemaker of the Year Bob Cabral in partnership with Vintage Wine Estates. Right now, you can get a Pinot Noir or a Chardonnay and live your best life just like Tyrion.
Season 8 airs April 14, so until then, enjoy.