Hooters Is Launching Their Own Line of Premium Spirits
The Hooters hooch portfolio will include vodka, tequila, rum and cinnamon whiskey.
Hooters Spirits
Hooters, well-known everywhere for its excellent appetizers, also understands that its customers aren't just there for food. So, the company announced last week that it is launching its own line of booze.  
Hooters Spirits—developed with a private label, United Spirits, Inc.—will include vodka, gin, rum, tequila, and cinnamon whiskey and will be sold in both restaurants and some stores nationwide.
As everyone knows, racing pairs well with booze. So, Hooters Spirits will be featured on Chase Elliott's Chevrolet Camaro ZL1 when he hits the track at the Bristol Motor Speedway on August 17. This marks an expansion in Hooters' sponsorship of Elliott and Hendrick Motorsports.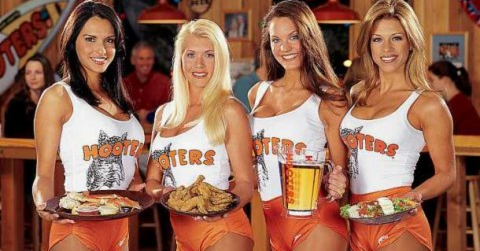 From the press release, details on what Hooters is bringing to the bar:
Hooters Vodka is a flavorful and smooth six times distilled, gluten-free, corn-based organic vodka, perfect for any cocktail
Delivering a memorable gin experience, Hooters Gin uses only select natural botanicals and Juniper berries
Hooters Dark Rum is aged in barrels and made with choice Caribbean blackstrap sugar cane molasses
Slightly sweet and smooth, Hooters Light Rum mixes beautifully in your favorite tropical cocktails or soft drinks
Hooters Tequila Silver is a unique blend sure to satisfy fans looking for an adventurous drinking experience, while Hooters Tequila Gold is a beautiful amber-hued tequila, perfectly suited for cocktails or neat
Hooters American Whiskey is a two year aged true American Whiskey that is perfect for any occasion, mixed or as a shot
Finally, Hooters Heat Cinnamon Whiskey is a compilation of premium American Whiskey with natural cinnamon and a touch of heat
Don't look for Hooters hooch at your nearby location yet. We'll have to wait till fall 2019, when Hooters plans on blending the line with a series of signature cocktails.
If you're really into it, you'll then be able to buy it at major retailers for your own use at home. Waitresses not included.