Indulge In a 5-Star Culinary Tour of Mexican Hotels
Eat your way across Mexico without ever leaving the elegant environs of your luxury resort.
We recently checked into the stunning Conrad Tulum Riviera Maya, a new five-star property that's part of the impressive Hilton luxury portfolio in Mexico. At the top end, the resurgent Hilton now operates no less than four five star properties in Mexico—the magnificent Waldorf Astoria Los Cabos Pedregal; Umbral Mexico City, Curio Collection; Waldorf Astoria Cancun; and Conrad Tulum Riviera Maya—along with the AAA 4 Diamond Hilton Los Cabos, Forbes 4-Star Conrad Punta de Mita, and 4-Star Hilton Mexico City Reforma.
All of them including the Tulum property place a major emphasis on their cuisine, and refute the outdated notion that hotel dining isn't as authentic or original as that found in the streets. Which is a huge benefit for travelers who don't want to risk exploring unknown and or unsecure territory abroad in search of some special, local dish.
As Tom Walters, Hilton's SVP Food and Beverage Operations Americas, tells us, the brand recently produced a Global Trends Report that identifies several key trends for 2023. "Emerging trends reveal that 2023 is the year of the evolved traveler looking for more immersive local culture experiences," he tells us. "And where better to dive deeper into a culture, than the interpretations of recipes brought on by creativity or inspiration from ancestors."
He notes that, "We have always believed food is one of the most important ingredients our guests' experience when visiting our hotels and truly embodies the spirit of a culture."
Travelers are "now looking for personalized food and beverage options, prioritizing locally sourced products and healthier options," he continues. "And one of the greatest joys of traveling is the shared experiences, stories and authentic moments that complement a great meal." So, "creating immersive culinary experiences that reflect this trend has certainly taken the spotlight as part of our hotels' culinary operations."
He adds that, "With these trends in mind, our culinary teams recognize the importance of creating a globally inspired menu and programs that deliver on guests' cravings and desires to connect and create memories. We encourage our chefs to embrace the local cultures and traditions to create dishes and experiences guests will enjoy. "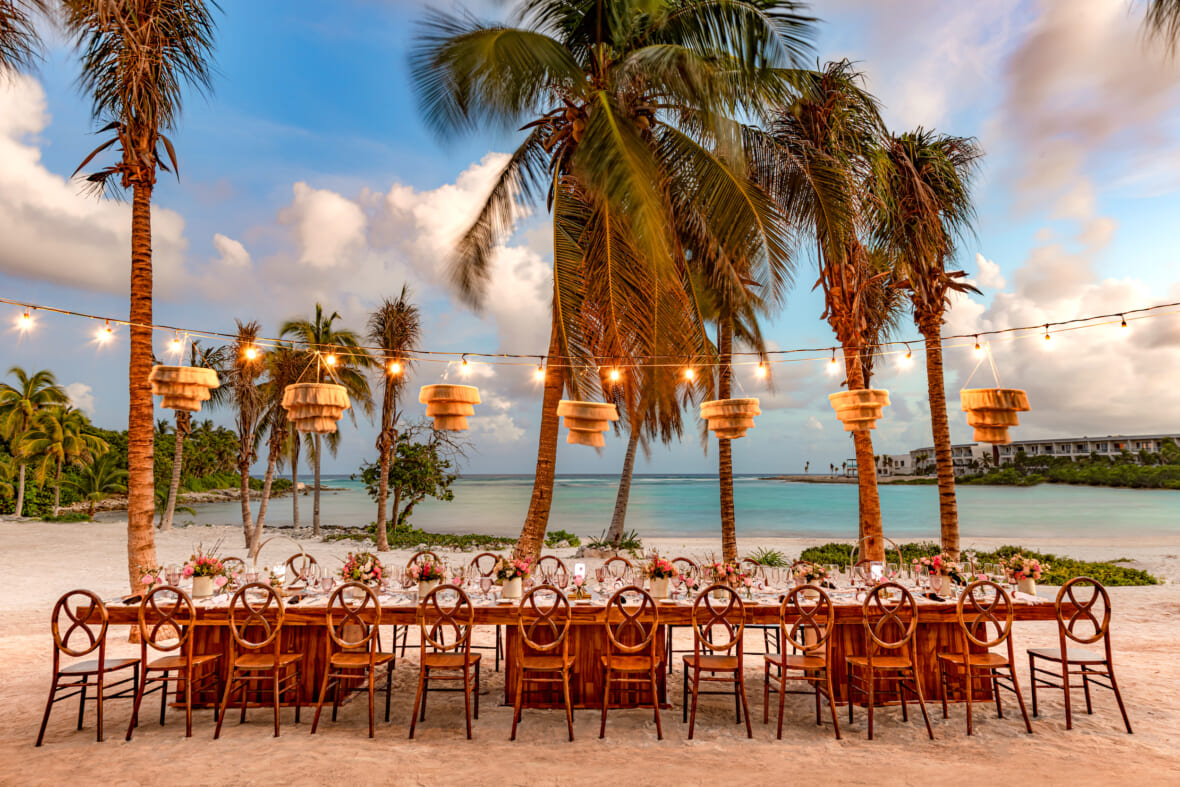 For instance, "the Zarandeado beach barbecue at Conrad Punta de Mita embraces the food traditions of the Nayarit region with fisherman arriving from the local village of La Cruz Huanacaxtle with the fresh catch of the day to be prepared over hot coals, reflecting a very traditional preparation."
At Hilton Los Cabos meanwhile, "the property's 'Biblioteca de Agave' offers an immersive look at the agave spirits that make up this diverse region including tequila, mezcal, sotol and raicilla with more than 200 varieties available for our diners to sip and sample from. All the while, guests can learn about the origin/distilling process for each spirit while indulging in traditional Mexican antojitos."
At Conrad Punta de Mita, the luxury resort's restaurant Codex is inspired by the ancient Aztec book of herbs, "Codice." There, Walters relates, "the culinary experience begins with a Huichol [Indian] cultural ritual of gratitude and continues with regionally prepared dishes and flavors and ingredients from local purveyors that exemplify all that Riviera Nayarit has to offer."
This is even reflected in the serving ware which includes regionally made artisanal plates and ceramics featuring natural minerals from local clay. "The experience is completely immersive from beginning to end so diners walk away feeling part of the story," he notes.
"Many of our chefs travel to other destinations to learn the traditions from each other and other regions as well as support hotel openings or special events," Walters adds. "With a deep commitment to innovation, sustainable sourcing, and globally inspired menus that pay homage to their style of cooking, we look to provide our guests with elevated food and beverage experiences that rival any restaurant or bar found outside the doors of their hotel."
"In addition to showcasing our team members stories, we also look for opportunities to demonstrate Hilton's best-in-class alliances with esteemed chefs and industry leaders in the space. For instance, Waldorf Astoria Los Cabos Pedregal's Festival of Flavors culinary weekends series features some of the world's most acclaimed Michelin star-honored chefs, each of whom have deep roots in Mexican flavors and culinary traditions."
The culinary series is spearheaded by Waldorf Astoria Los Cabos Pedregal Executive Chef Gustavo Pinet and the resort's impressive culinary team in collaboration with a guest chef to create an intimate three-day gastronomic weekend. Pinet never hogs the spotlight though, allowing his team the opportunity to shine as well, and he isn't afraid to leave the kitchen during service.
"Some would say a bold move but I would say building future leaders and chefs by empowering our culinary teams to showcase their creativity and talents while teaching one another," Walters notes. "This is part of the culture in the kitchen, we are proud of and encourage."
At the brand new, five star Waldorf Astoria Cancun, Executive Chef Stuart Roger tells us that "our mission here is to provide the best culinary experience for our guests—being able to enjoy unique flavors they won't encounter elsewhere and that's what we hope they will come back for. When I design a new dish, my goal is to create exciting flavors form the first to the last bite."
Roger, who hails from France, recently started working with a small oyster farm in Baha California that is harvesting sea scallops. He adapts a version of the baked scallop he once tasted in Scotland, giving it a Mexican twist by adding chipotle chili to the sauce.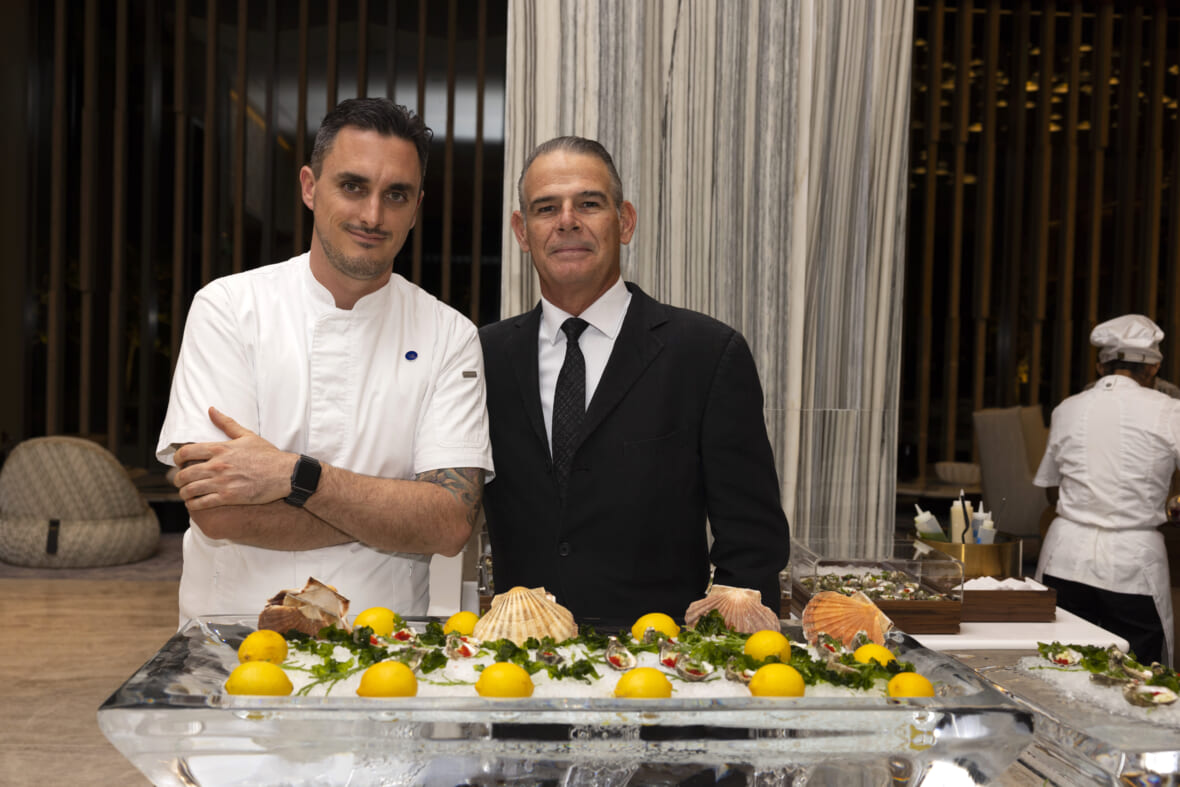 In reference to his signature suckling pig dish, Chef Roger explains, "The suckling pig is quite an interesting story, as the breed of pig we serve at Waldorf Astoria Cancun is the original breed brought to Mexico by the conquistadors centuries ago. Thanks to passionate local farmers, they managed to preserve the genetics without any modification."
And for after dinner, "The idea of the blue corn pudding is to really bring into a dessert authentic Mexican flavor, so you will have the ancestral blue corn pudding and the ice-cream made from roasted agave heart used to distill the tequila, which give a really unique flavor that you will only find in Mexico."
Waldorf Astoria Cancun's Hotel Manager Andre Aparicio tells us that, "Our elegant service approach is based on emotional connections with the purpose of creating memories and unforgettable experiences to all our guests. Genuine, authentic, personalized, engaging, non-intrusive in a way that our guests feel cared and pampered like at home and with a willingness to return—a refined haven."
No wonder then that, "We have been receiving national and international guests looking for a secluded and intimate atmosphere connected to the local destination."
Conrad Punta de Mita Executive Chef Pedro Arceyut tells us that, "Our mission is to provide our guests with extraordinary and honest experiences through carefully crafted, locally sourced menus that reflect the heritage and soul of Nayarit and ancestral respect for nature and its bounties.
Chef Pedro believes in creating locally sourced menus that reflect the heritage and soul of Nayarit and ancestral respect for nature and its bounties. His approach is based on a local commitment to respecting food products and nature, [as enjoyed] during his Zarandeado Grill lunch (prepared on property at Hilton Los Cabos Beach and Golf Resort).
"We take pride in everything we produce and prepare for the meal," he notes, "clean, fresh and always local. I've been working on infusions and textures for tuna and watermelon. I wanted to create a seamless tuna and watermelon appetizer where you could take a bite and try different flavors, but the look and texture would be the same, which came to mind once I achieved it."
At the acclaimed Hilton Los Cabos meanwhile, Master Distiller and Tequila/Mezcal expert Ana Martinez offers an incredibly popular Agave tasting, a "curated journey that demonstrated the diversity of agave spirits and everything the agave plant represents," even beyond tequila and mezcal.
Ana creates a complete sensory experience made up of three elements: flavors, textures, and aromas. "I select the distillates according to the client's taste. I ask what they usually drink and what they like, and then provide them with unique distillates. I always choose a sotol, a raicilla, a mezcal and a tequila. The purpose of this is to allow them to learn about various varieties of agave plants and to see the small batches that tell a story of the traditional Mexican distillates produced from agave plants."
Hilton Los Cabos Executive Chef Mauricio Lopez followed the agave tasting with a delicious menu including his take on the tradition Mexican mole sauce. Chef Mauricio believes in respecting the flavors and traditions and the fresh and healthy ingredients this cuisine is well known for.
"Using local ingredients has become a form of expression," says. "We can talk about the roots of the Baja, which has become very interesting since we find here many unique ingredients that are not found anywhere else. Mole has been a tradition in Mexican cuisine for years. It is a dish that involves many stories and due to its versatility and complexity has become a dish that cannot be missed in any Mexican kitchen."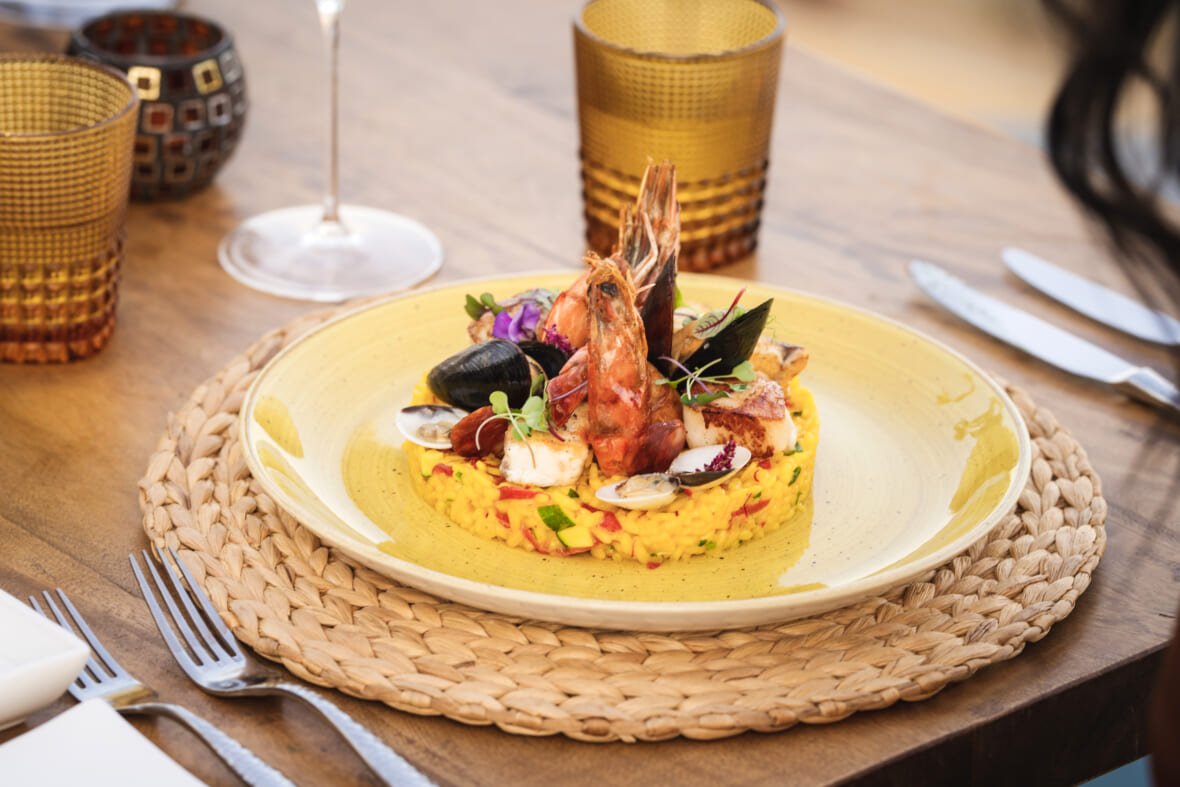 "This dish highlights the unique style each chef brings to their recipes. When I was a child, I cooked mole with my family where each member took some step in the preparation. Now I do it in my kitchen at the Hilton Los Cabos. Through the inspiration of Baja and its vineyards, we created the mole with cabernet grapes, a different mole worthy of Baja cuisine.
Summing up, "My mission is to create unique culinary and travel experiences for our guests, offering the finest dishes from Mexico's regions so that they can fully experience Mexican cuisine. Passion and meticulous preparation is incorporated into each dish. I am convinced of the importance of delivering the highest quality using the finest and carefully selected ingredients from local partners."
Sergio Bocci, Hilton Los Cabos' General Manager, notes that, "Relaxation begins the moment our guests set foot on the resort. Our approach is driven by our team members, and we consistently hear from guests that our staff is the most welcoming, caring and sincere hospitality team they have encountered."
He adds that, "Our guests have the option to stay at any hotel, and they choose us. They return to Hilton Los Cabos because of wonderful accommodations, relaxing atmosphere and culinary excellence. However, the main reason they return is because of our staff! When they stay with us, they feel they have been welcomed to their home in Mexico.
At the unforgettable Waldorf Astoria Los Cabos Pedregal, Executive Chef Gustavo Pinet specializes in "authentic and unforgettable experiences rooted in Mexican culture," as demonstrated by his TRAVESÍA menu featuring a nine-course tasting centered on his takes on the taco, paired with local agave spirits. The cliffside El Farallon restaurant and Champagne Terrace are incredibly beautiful settings for the culinary arts.
The posh property is said to sell more champagne than any other hotel or resort in Mexico, and it also showcases the Private Pedregal Collection of exclusive wines created in partnership with leading Mexican wineries Roganto and Don Leo; as well as a Signature Mezcal Collection made in partnership with Koch El Mezcal.
Fernando Flores, Waldorf Astoria Los Cabos Pedregal's much-admired General Manager, tells us that, "At Waldorf Astoria Los Cabos Pedregal we champion innovation while focusing on bringing authentic experiences rooted in Mexico's rich culture and history to life through our elevated culinary, spa, amenity offerings, and personalized guest experiences."
At the acclaimed Nardo Cocktail Club at Umbral Mexico City, Curio Collection by Hilton, home to an art gallery, rooftop pool, hanging garden, mini-cinema, library, and vinyl record collection, master mixologist Ramón Tovar showcases signature cocktails inspired by iconic and historical places located in Mexico City's Centro Histórico. His drinks include tributes to Mexican folklore, popular legends, and traditional venues as Garibaldi "Mariachi Square,"China Town, Sonora Market and the Lucha Libre.
At Umbral Mexico City, Curio Collection by Hilton, General Manager Jorge Gutierrez tells us, "We inspire the curious: those who wish to leave their routine and discover the new. The guests at Hotel Umbral Curio Collection by Hilton are passionate and independent travelers in search of local and authentic experiences."
He adds that, "This is a property you wish to discover as you would meet a new person, with its own history and experiences. From the friendly to the grand and from the elegant to the bold, it's an avant-garde experience in the Historic Downtown of Mexico City."