Inside New Orleans' Recently-Renovated Pelham Hotel
The Pelham and nearby Elysian Bar are worthy additions to your Big Easy bucket list.
Whether you're heading to New Orleans for Mardi Gras or just hitting it up for some of the legendary "lessez les bon temps rouler," your choice of hotel could make or break the excursion. You don't want to be in the maelstrom of Bourbon Street mayhem, nor do you want to be too far away from all the best places on your Big Easy bucket list. Which makes The Pelham Hotel well worth considering.
Smack in the middle of the convenient Central Business District yet a stone's throw from the French Quarter, the historic, boutique property just underwent an approximately $3 million renovation helmed by design led by Suomi Design Works, covering its public spaces and 65 rooms and suites, so there's never been a better time to check in and check it out.
"With a lobby styled like that of a Victorian theater and rooms carrying easy, offbeat charm of a classic New Orleans Manor House, The Pelham's enchanting interiors, eye-catching art, marble-finishes, and gently deco-inspired decor tell a story about a city whose style and personality are never in doubt," as the property puts it.
The reno comes as a result of new ownership by AMS Hospitality, the hospitality division of Southeast-focused real estate development firm, Allen Morris Company, and Black Salmon, the Miami-based national real estate investment and development firm.
"This renovation will provide guests with an elevated yet distinctly New Orleans experience," notes Allison Barnette, The Pelham's General Manager. "Inspired by the property's origins, we sought to preserve the hotel's unique character while transforming spaces with the modern-day traveler in mind. From the moment they arrive, guests will be immersed in the rich history of the city while receiving the world-class hospitality that The Pelham is known for."
Originally built in the 1800s, the Pelham priceless architectural details are complemented by retro-modern furnishings, plasterwork, oversized mirrors, with leather and natural woods giving it a masculine, supper club feel. Original pieces of art by renowned local artist Page Goss as well as a collaborative curated collection of art by Goss and designer Vanessa Watts of Suomi Design Works adorn the walls.
"Representing the rich history of the Big Easy, Page Goss' and Vanessa Watts' custom curations vary in techniques including salvaging art pieces and then reconstructing and reinterpreting pieces with the addition of strategically placed, signature fluorescent paint dripping down the canvases," The Pelham notes.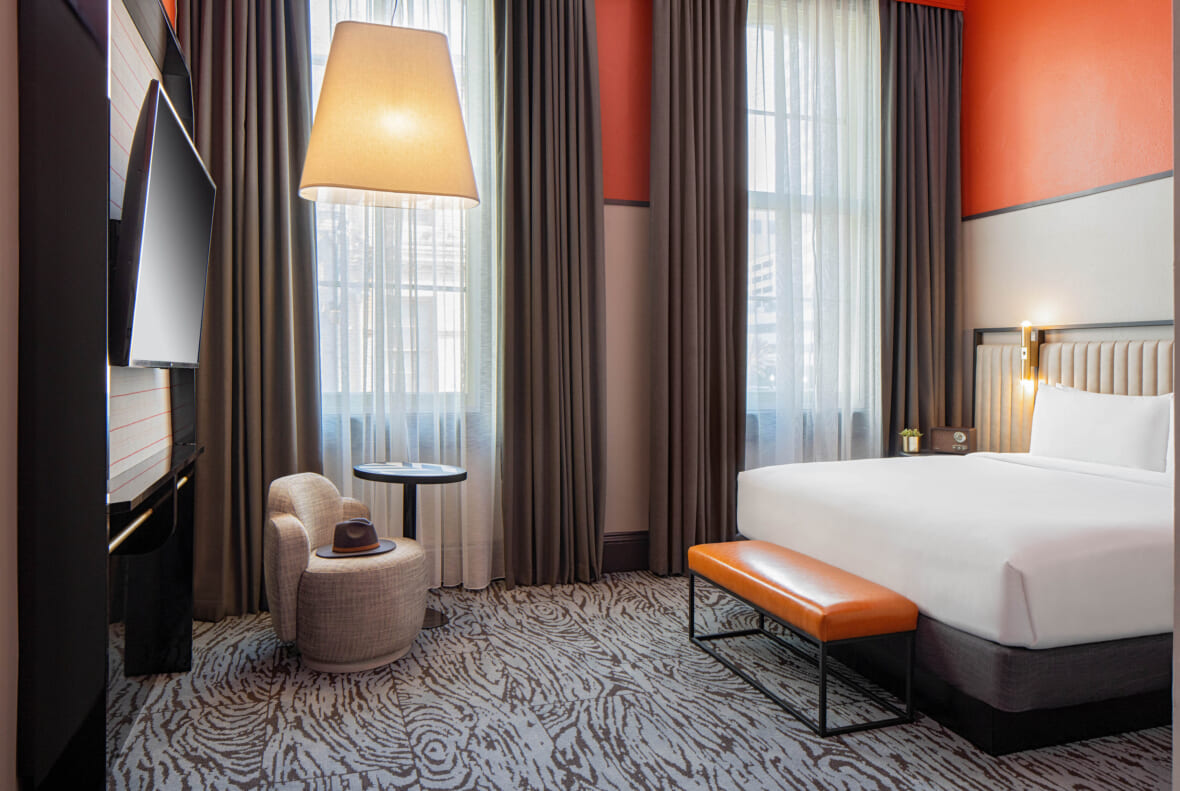 "Evoking the city's history of lavish parties and over-the-top events," the redesigned guest rooms contain oversized decorative mirrors, vintage accents like Victrola radios, and a palette composed of jewel tones mixed with high-contrast colors. "Tailored to the needs of travelers who prefer a balance of amusement and respite," the rooms' most impressive features are soaring 18-foot ceilings, original exposed brick and 10-foot-tall windows.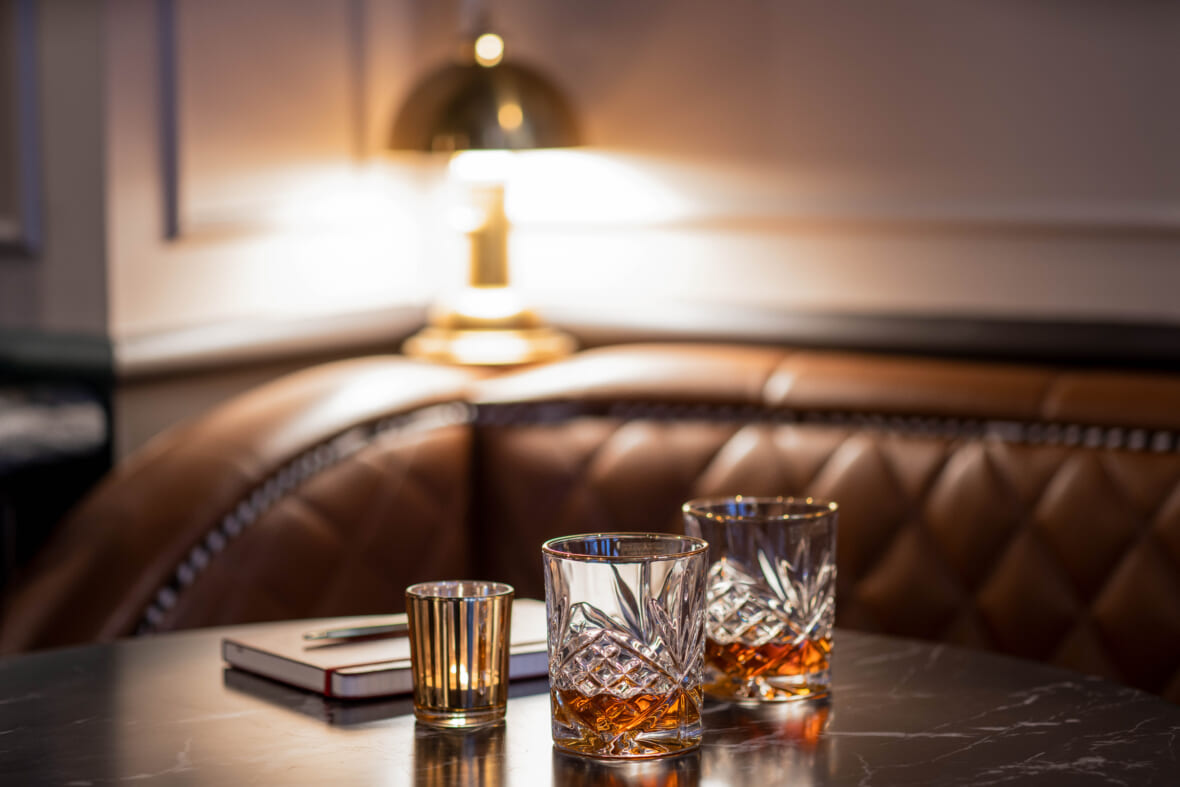 Previously a rabbit warren of small spaces, The Pelham's lobby has been transformed into a luxe lounge with gilded shelves filled with "hand-selected craft liquors, wines and treats reminiscent of the refined-and-eclectic tastes of a savvy world-traveler's personal bar."
Wainscoting, windows, a marble bar counter and quilted leather banquettes complete the look, with oversized windows looking onto the street. A perfect place for a bourbon or two before heading out on the town.
And when you do venture forth, we'd highly suggest making a beeline for the Elysian Bar, located in the Marigny's Hotel Peter and Paul, comprised of a collection of historic church buildings and run by the team behind famed NOLA watering hole Bacchanal Fine Wine & Spirits. It's an elevated experience but still uniquely Crescent City and unlike anything else in town, in the best way.
After they'd scarcely been open a year, the Elysian Bar scored a Best New Restaurant nomination by the James Beard Foundation in 2019 as well as a spot-on Bon Appetit's Hot 10 New Restaurant List, while the bar program won them a place on Esquire's Best Bars in America list in 2021. Even the pandemic did little to dampen their spirits, and now they're back in full swing and ready to collect more awards.
The cocktails are focused on European aperitivos, though the drinks list runs the gamut from low-ABV specialty cocktails, to classic New Orleans concoctions with an Elysian Bar spin, and niche wines exclusively selected by the Bacchanal Wine team; all making for a "refined and hyper-curated menu that brings the Old World and New World together and uses unique ingredients to create a one-of-a-kind cocktail experience for each guest," they note.
The food, served in a series of rooms that call to mind L.A.'s legendary Chateau Marmont with a New Orleans twist, is just as worthy of acclaim, comes courtesy of Executive Chef Kyle Focken, who "seamlessly blends European cuisine with local, seasonal ingredients to create a familiar yet elevated menu."
Standout items include crab and ricotta gnocchi with Calabrian chili peppers and bottarga breadcrumbs; and oven-roasted bone marrow with cashew, pickled Chioggia beet, and mint. Wash it down with whatever strikes your fancy, there are no wrong choices here.