Jack Daniel's Limited-Edition Small Batch Bottle Is Its Highest-Proof Whiskey Ever
The high-powered whiskey blends five batches ranging from 71.5 to 77.5 percent ABV — so high it requires a special cork.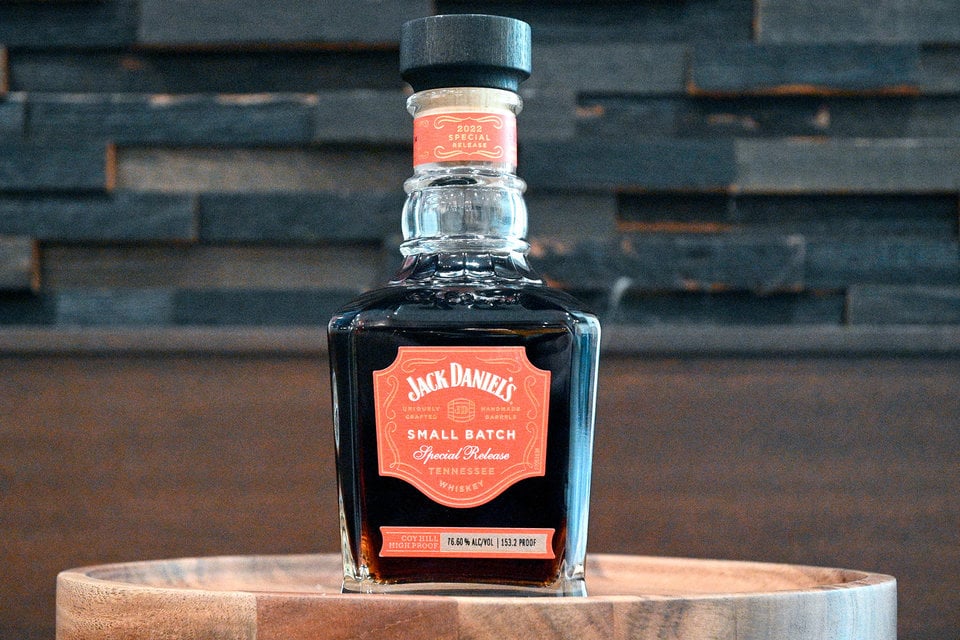 Dealing with slight imperfections in whiskey can be quite the roadblock to clear, but if you've got the right mindset, a course correction can yield impressive results. Such is the case with Jack Daniel's Small Batch Coy Hill High Proof Whiskey, a limited-edition run that turns a small number of barrels into something really special (and strong, at that).
The small-batch offering brings together the results of about 55 barrels of Jack Daniel's 2021 Small Batch Special Release Coy Hill High Proof — but the catch? Those barrels were found to have such a high Angel's Share (whiskey that's evaporated from the barrel) that they didn't pass muster as a Single Barrel product.
What did Jack Daniel's do? Master Distiller Chris Fletcher turned those barrels into five batches with exceptionally high proof points, ranging from about 71.5 percent ABV to about 77.5 percent ABV.
If you've been keeping score, that makes the new Small Batch Coy Hill High Proof the highest-proof whiskey in the history of Jack Daniel's, with an added touch of heritage, to boot (Coy Hill happens to be home to the highest-elevation barrel houses on the property).
It's the purest expression of Jack Daniel's on the market right now, with scarcity in spades.
The good stuff will only be available in 375ml bottles, understandably, throughout Tennessee and at the distillery for a price that's, quite frankly, incredibly low: Try just $55 for, again, the highest-proof whiskey in the history of the company.
If it's a high-voltage, high-proof whiskey you seek, we suggest you make your way down South to get your hands on some liquid that won't be around for long.