Keeper's Heart Is A Bold New 'Irish-American' Whiskey That Channels The Best Spirits Of Both Nations
The top-shelf "Irish-American" whiskey is being made in Minneapolis under the guidance of Master Distiller Brian Nation.
Perfecting the fine art of distilling whiskey is a difficult and never-ending quest in the best of times, but trying to dream up an innovative whiskey during the pandemic — while navigating a new country — isn't something for the faint of heart.
But when Brian Nation, former Master Distiller at whiskey giant Irish Distillers (the parent company of Jameson, Redbreast and more) got the call, he answered — literally and figuratively.
What would eventually become Keeper's Heart was dreamed up by cousins Patrick and Michael O'Shaughnessy (founders of O'Shaugnessy Distilling, along with their father Gerry). Patrick sought Nation's advice first over the phone, and then on a pre-pandemic visit to Ireland that evolved from a brief meeting into a family meal.
Connection and friendship, after all, is at the heart of great whiskey.
The idea? Start a company blending the best of Irish whiskey and American whiskey — but do so in Minnesota. Nation was admittedly intrigued.
"When we left that meeting, my wife said to me, 'I would move in the morning to Minneapolis if we had no kids,'" Nation told Maxim via Zoom in an exclusive chat.
First though, Nation and his wife had to scope out their future home and future plans for the distillery — the January 2020 visit got the ball rolling, but it was anything but simple for Nation to bring his family over.
Between visa issues and COVID travel restrictions, Nation's family didn't join him until last August — but Keeper's Heart's flagship Irish + American Whiskey had been in the works under Nation's watchful eye since the summer of 2020.
Triple-distilled pot still whiskey done in the traditional Irish way melds seamlessly with Irish grain whiskey and American rye for a lightly sweet, complex yet balanced whiskey with notes of floral and baking spices on the nose, giving way to a spiced caramel finish.
The process was an arduous, if exciting, one, Nation said, calling it a "big learning curve." Learning how to balance Irish whiskey with American rye proved tricky time and time again, but Irish grain whiskey provided the magic touch.
"To be involved in choosing American whiskies that would meld well with Irish whiskies was a very interesting and exciting process," he said. Eventually, Nation and co. figured it out — to say the least.
It's become a mainstay product for the distillery, one you can now find in 21 states via Reserve Bar, with plans to expand to other states by year's end — and internationally in 2023, Nation said.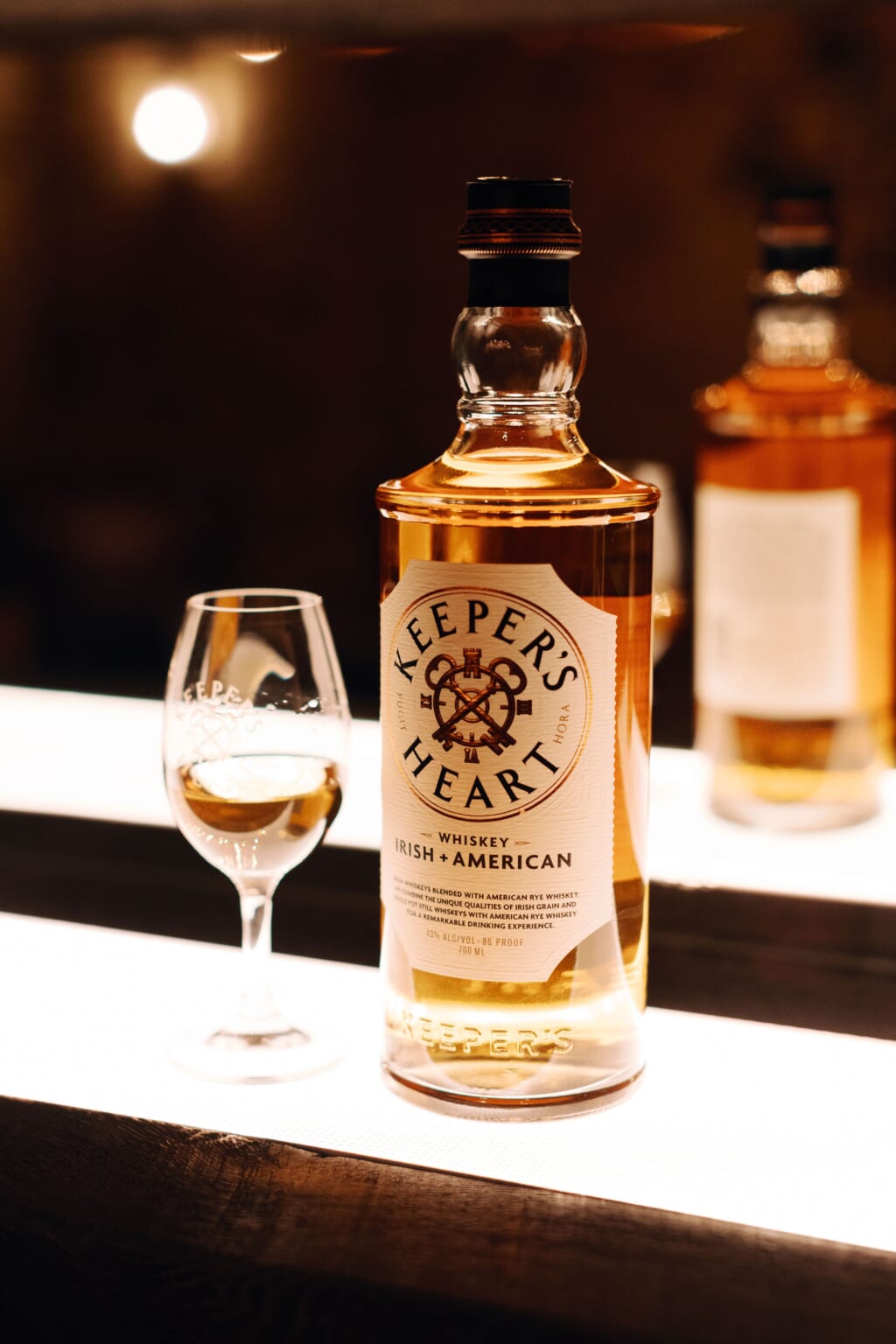 The team was also careful to approach the process with a few modern distinctions in mind — whiskey is no longer relegated to collectors and the super-wealthy; it's much more accessible, and notably, it's found in all sorts of cocktails.
"The way people enjoy whiskey today is completely different from the way people enjoyed it 10 or 15 years ago," Nation said. "We wanted a whiskey that when it was in a cocktail, to be the hero of the cocktail."
Nation is especially proud of the way Keeper's Heart shines through in an Old Fashioned, a recipe that's been a hit at the distillery itself (conveniently located not far from ever-popular Surly Brewing for a nice one-two punch of beer and whiskey).
"Everything has been — because it's all new — just fantastic to be involved in it from the start," Nation said.
Even the bold, distinctive bottle and elegant, old-world lettering and branding speak to the careful approach behind the scenes at Keeper's Heart. You might even say that the bottle itself — and the name — drive home the distillery's attempt to "Americanize Irish whiskey," as Nation says.
"Keeper" nods to several aspects of Irish whiskey and culture — Irish castles had a special room called the "keep" to store prized possessions, but barkeeps and bartenders are also an important part of whiskey's modern lifeblood. Nation says the process starts from the ground up, and the barkeep can be the biggest advocate for a quality whiskey.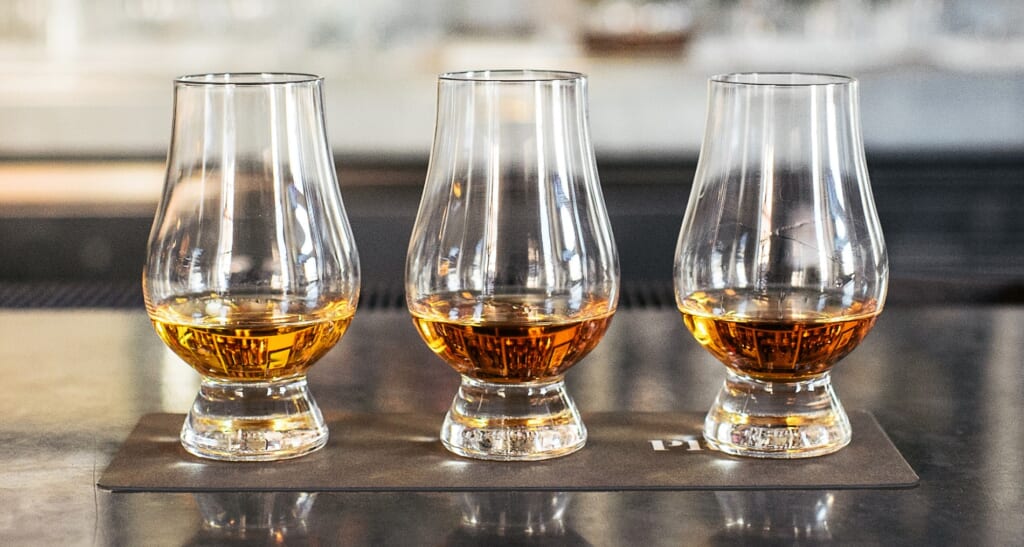 As bartenders and consumers get familiar with the brand, St. Patrick's Day is perhaps the best time to indulge in a new whiskey with classic roots and bold versatility at the forefront.
Keeper's Heart can be enjoyed neat or in an Old Fashioned, but Nation also recommends heading to the whiskey lounge itself if you find yourself in the area. There, you'll encounter a tasting that breaks down its flagship Irish + American blend into its three main components (triple distilled pot-stilled Irish whiskey, Irish grain whiskey and American rye).
Keeper's Heart also makes a 10-year single malt, finished in Malaga wine casks.
Nation said Keeper's Heart has lofty plans over the next three years and beyond, including the introduction of self-distilled whiskey, in addition to focusing on rye or bourbon made in the triple pot-distilled style.
"We really do want to put Minnesota on the whiskey map," Nation said. "We've lots of ideas and lots of ambition."
It sounds to us like it's a journey worth seeing and tasting for yourself. In the meantime, pick up Keeper's Heart for under $40 at Reserve Bar.