Legendary Chef Francis Mallman Taught Us How To Cook At An Epicurean Summit In Argentina
"I am always cooking in remote places in the wild with fires; so my message is get out of your chair, your sofa, your office, and go out."
I was headed to Argentina to cook with Francis Mallmann. The Francis Mallmann. The maverick chef who turned his back on decades of Michelin training to flip the culinary world on its head, winning the Grand Prix de l'Art de la Cuisine at age 40 with Argentine dishes described as "delicacies that were prepared by angels."
Intellectual. Foodie. Wine lover. Fire lover. Maverick. Maniac. TV guy. Restaurant guy. All-around character. Mention this type of opportunity to any chef you like and watch them melt in rapture. For Francis Mallmann is not just a chef, but a way of living.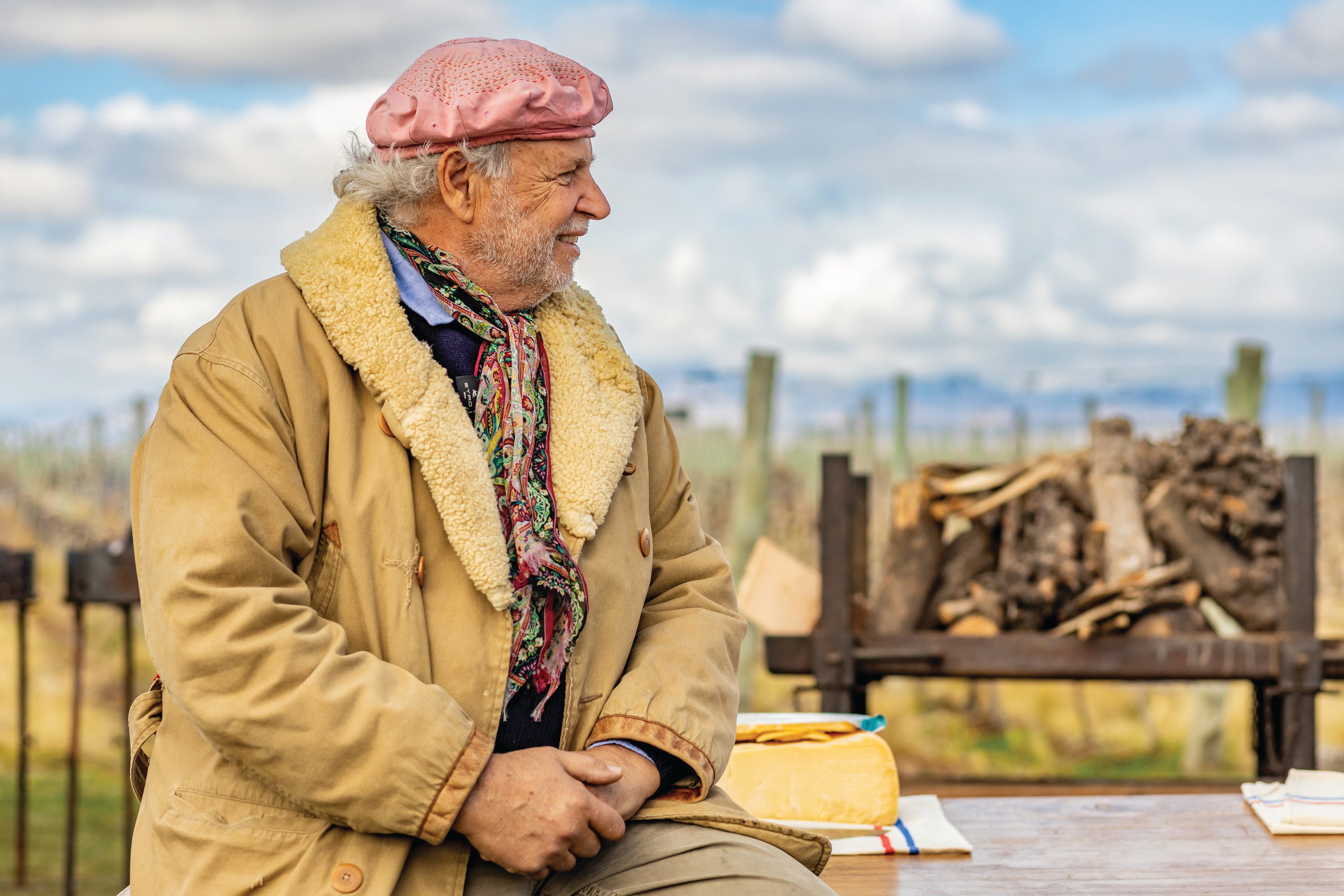 The inaugural Francis Mallmann cooking summit at the Siete Fuegos (seven fires) restaurant at The Vines Resort & Spa in Mendoza was my destination. The foodie equivalent of mind melding with Ayrton Senna at Monaco and learning how to really drive.
I cancelled my annual African pilgrimage, juggled plane tickets, and ducked out of a rock 'n roll wedding in New York City unfashionably early to go. My cerebral cortex salivating with Malbec, meat, and other Argentine memories.
Mallmann said, "I am a cook that uses cooking to send this message of a way of living. I am always cooking in remote places in the wild with fires; so my message is get out of your chair, your sofa, your office, and go out." I heard the message. And got out of my chair and went.
After 16 hours of jet planes and a 90-minute drive through the backwaters of Argentina from Mendoza airport, I arrived via muddy roads and vineyards to my basecamp for the week: the five-star Vines Resort & Spa.
The air smelled clean and fresh in a way only someone climbing out of the rat-infested garbage piles of Gotham City can appreciate, and the sheets were crisp and welcoming as I sank into an empanada-and-Malbec induced coma ready to meet the man, the myth, the legend, a few short hours later to see what the fuss was all about.
I awoke and donned what seemed to be appropriate gear for cooking outside in winter upon a magnificent vista at the base of the Andes: hiking pants and boots, army wool sweater, and a wool hat. It was a cool 40 degrees and my breath was steam.
I found caffeine and parked myself at the back of the outdoor kitchen. Just in time for a bit of blurry eyed, sleep deprived, jet lagged, caffeine-deficient butchery at nine a.m. to get my morning started. All it needed was prairie oysters and a couple of amber moon cocktails for the full wild west experience.
Mallmann waltzed in just as the international chefs drawn from the tentacles of his empire began their show. He was wearing his signature outfit: wide whale corduroy pants, fisherman's wool sweater, neckerchief and gaucho Tam-O-Shanter beret. A devil-may-care twinkle in his eye as he surveyed the room.
The attendees were a star-struck smorgasbord of foodies, wine heads, Michelin-star restaurant owners, seekers retired from tech looking for meaning on the other side of micro-dosing, and me. The Vines is also home to an exclusive winemakers collective and private club (with a six-figure buy in) that's expanding globally with invitation-only epicurean excursions around the planet, and they were all either members or guests.
Slowly but surely we were immersed into the magic that is Mallmann. Fine dining transports you through the alchemic skills of a chef turning simple ingredients into a journey for your taste buds. But this was more than that. For Mallmann cooking is not simply finding the best ingredients and transforming them on a stove. It is a sensual experience at one with nature that transports your soul.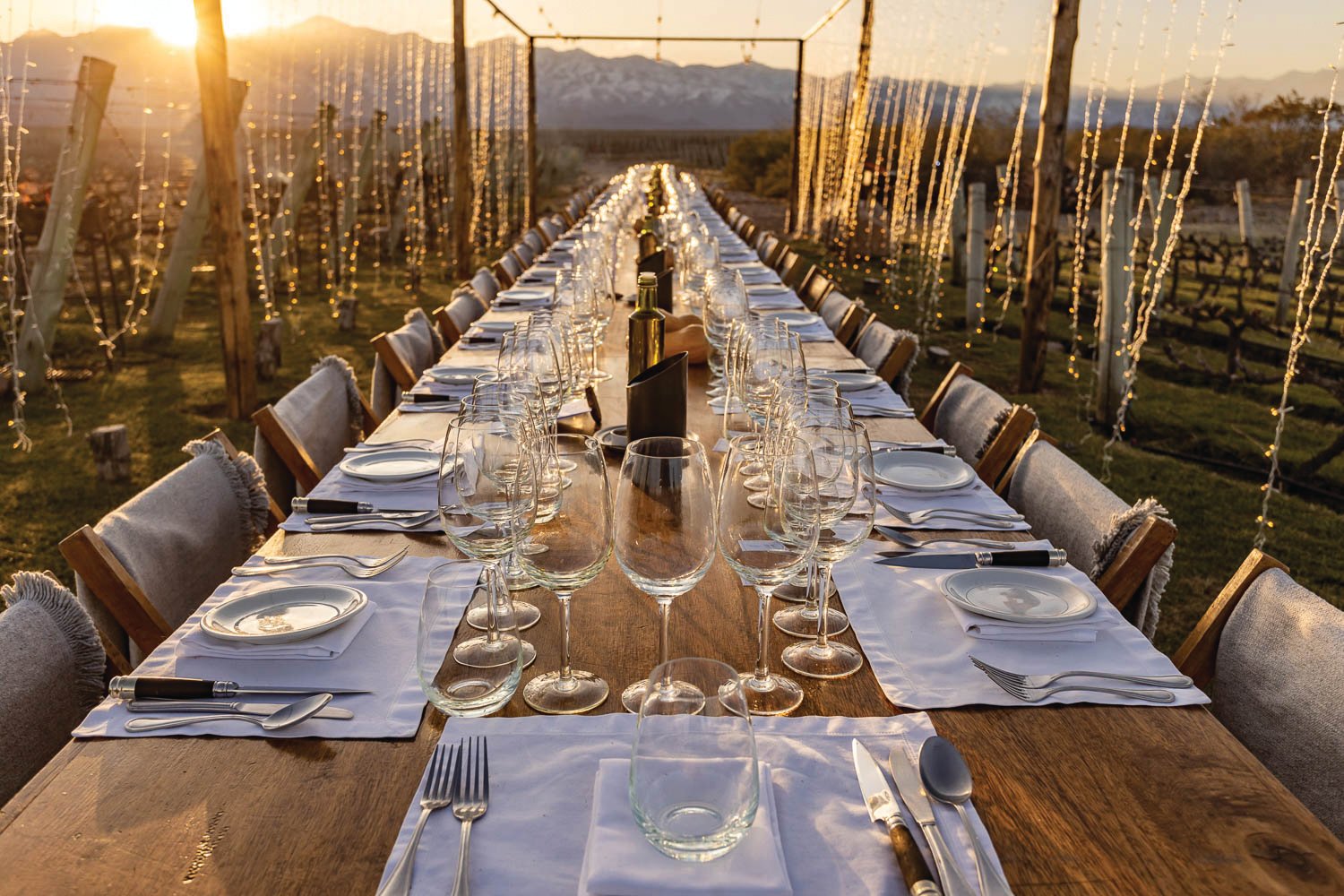 As he has said, "When you cook with fires, it's a bit like making love; it could be huge and strong, or it could go very slowly in ashes and little coals."
And you are responsible not only for sourcing and preparing your ingredients but lighting the fire and silently pondering life and its mysteries as what you have prepared is slowly transformed by nature. From the single match spark to first contact and the slow chemical transformation that creates his signature food and lifestyle experience. All at one with the beauty and magnificence of nature.
We wielded Damascus-steel knives, chopped, diced, paired, peeled and patted meats, vegetables, and sweets. We cooked on any number of fire-breathing devices mysterious to all those of European and North American extraction. And in between inhaled wines made from grapes grown within a short walk of where we sucked the marrow from life under the winter sun of the Uco Valley.
But the real secret of what we learned was to slow down and immerse ourselves in simple sensual pleasures. Preparing and sharing exceptional ingredients in the light of an ethereal vista whilst sharing the fruits of our labors and exchanging stories under the stars.
I left full of life. Ready to head back to Gotham and hold back the pressure cooker intensity of the greatest city on earth. Provisioned with knives, and spices, and the techniques of a man who has lived a life of freedom. Out there in the far reaches of the universe doing his own thing.