Matthew McConaughey On Longbranch Bourbon's New Texas Retreat And The Quest For Self-Improvement
The whiskey-loving actor talks Wild Turkey's new bourbon-themed getaway.
Scarcely a day goes by where Matthew McConaughey wears the same hat twice. One day, he's an Oscar-winning actor, the next an author or a University of Texas professor — and don't forget his ongoing turn as the creative director of Wild Turkey's Longbranch Bourbon.
To step inside the world of McConaughey — perhaps with an "alright, alright, alright" — is to be greeted with the unexpected, as Maxim found out when speaking with the jack of all trades last month.
His latest star turn? Taking consumers into the world of Longbranch Bourbon at the luxurious-yet-rugged Walden Retreats, where bourbon fans and explorers alike can book an exclusive Longbranch Ranch experience for a spring 2023 Texas Hill Country getaway (sadly, McConaughey himself won't be there, though).
And yet, if a recent sneak preview of the experience is to be believed, consider the retreat one worth booking ASAP.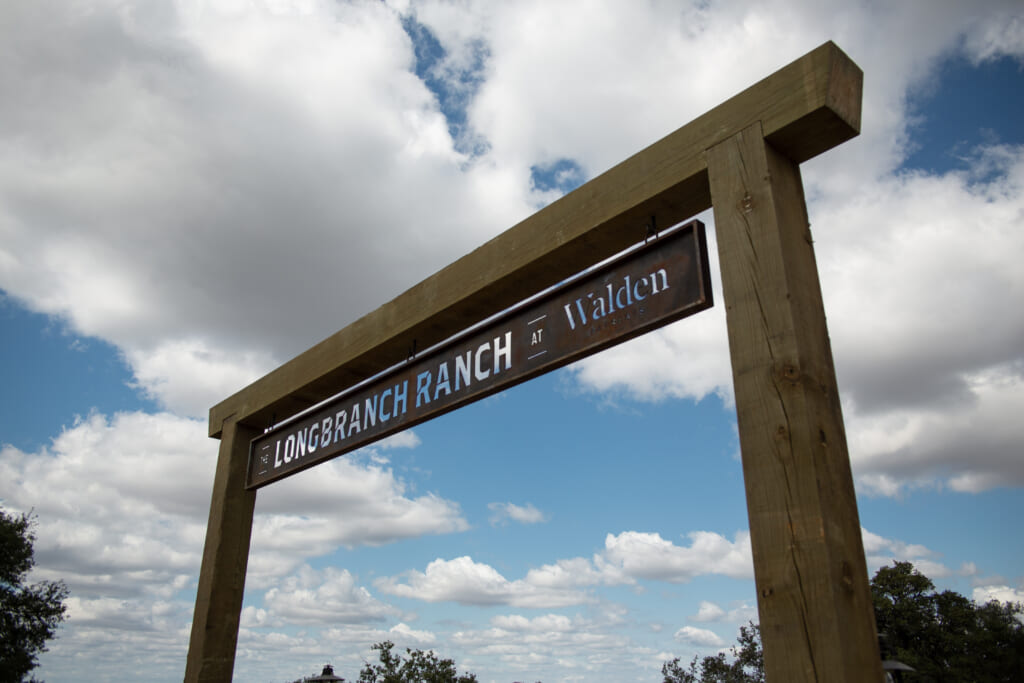 McConaughey was beamed into Walden Retreats via Zoom on a sunny, hot Texas Sunday, fresh off a playoff win for soccer club Austin FC — believe it or not, he's also a team co-owner.
Longbranch Bourbon and the ranch experience itself represent the culmination of a long journey for the award-winning actor — from bourbon fan to bourbon creative director, of course.
"I drank Wild Turkey before I partnered with the Russells," he said of working with Wild Turkey's famed family owners. "The values that we both have… the story came out of that."
McConaughey joined Wild Turkey as creative director in 2016, and Longbranch hit U.S. shelves in 2018 after years of close development and nearly 90 tastings by McConaughey and Wild Turkey Master Distiller Eddie Russell.
McConaughey naturally brought his Texas roots along for the ride: Longbranch uses a double-filtration process incorporating Texas mesquite charcoal for a sweet, ever-so-slightly smoky touch.
"What about mesquite? Bingo. That makes complete sense. Let's see if we can make that juice," McConaughey said.
As he tasted samples in various filming locales around the world, McConaughey left Russell late-night voicemails to dial in just the right notes, giving Russell instructions like "a little more bass line in the third act," the actor recalled with a laugh.
The next step — developing a rugged outdoor experience based on the bourbon itself — is actually another unexpected twist along the way ("Wonder What If" is, after all, Longbranch's new tagline).
McConaughey, who favors his Longbranch "a hair chilly," with a couple ice cubes "as a good exhale to the day," sees a fitting connection between the bourbon and Walden Retreats as the ultimate Longbranch destination.
"it's a luxurious comfortable place, but it's not insulated from the outdoors," he said. "It's engineered to say, 'No, get outdoors.'"
With any luck, Walden Retreats and the tailored Longbranch experience will encourage guests to unplug and reconnect, whether through a hike, a pour of campfire bourbon under a starry sky or a dash of the unexpected in nature.
"I love places that have a touch of bite to them. That's where the stories come from," McConaughey said. "We all remember those a lot more than we remember the ones where we had the perfect, five-star, insulated experience where we didn't have to engage with anything outside."
The experience surely receives the McConaughey seal of approval — each comes with a copy of his lauded book, Greenlights, not to mention rustic yet well-appointed accommodations adorned with Longbranch sundries.
"If we can offer a place for people to come that may be just down the road, or may be a full-on destination that they have to fly to, or drive to, or train to, or take a while to get to… Badass," McConaughey said with a nod of approval.
Along the way, guests can get a true taste of Longbranch through a private mixology cocktail hour, audio-guided hikes through rolling hills, or night sky fly-fishing.
Best of all might be the fact that with each experience booked, the brand will donate the equivalent cost of the stay to Austin non-profit The Trail Conservancy (accommodations start at $425 per night).
So, there's great bourbon for a good cause, along with a rustic, premium, memorable experience — where else will McConaughey go from here with Longbranch and indeed, in his career?
It's worth ruminating on for a bespectacled McConaughey, now about a decade on from his Best Actor win as trailblazing activist Ron Woodroof in Dallas Buyers Club.
In reaching that illustrious milestone, McConaughey mused "my hero's always 10 years away" — so, has the famed Texan gotten there just yet?
"I'm still 10 years out. That calendar just keeps rolling forward! I've never gotten within 10 years," he said with a laugh. "I've had moments where I thought I did. I've had moments where I'm like, 'No, I'm going to catch that hero' or I'm in a moment right now where I'm actually catching that hero, and maybe I did."
The quest for relentless self-improvement, for reinvention — as a creative director, as an actor, as a man — continues anew.
"The calendar always bumps forward… it still gives me an aspiration, a capacity potential to chase, knowing I'm never gonna get it. Knowing I'm never truly going to catch him," he said.
"And if I ever do completely catch him, or think I do, well, I probably got a little lazy."
With a smile and a final, cordial word of thanks, McConaughey signs off — he's still got to go chase his own hero.