Meet the Winemaker Who Made A Record-Breaking $1 Million Bottle Of California Cabernet
Wunderkind winemaker Jesse Katz breaks down the creation of the Golden State's best vintages.
In November, winemaker Jesse Katz of Aperture Cellars in Sonoma, California made headlines when a six-liter bottle of his award-winning The Setting Glass Slipper Cabernet Sauvignon from 2019 sold for a record-breaking $1 million.
The eye-popping event took place in New Orleans during the Carnivale du Vin, and benefited the Emeril Lagasse foundation children's charity established by the famous chef.
While the auction thrust Katz into the international spotlight, he was already well known in the wine world. The now-38-year-old Colorado native was the first-ever winemaker named to the Forbes 30 under 30 and was honored by Wine Enthusiast as a Top 40 under 40. Her serves as a consulting winemaker for several boldface names, including Von Miller, Tony Hawk and Justin Timberlake, who served Katz's wine at his 2012 wedding to Jessica Biel.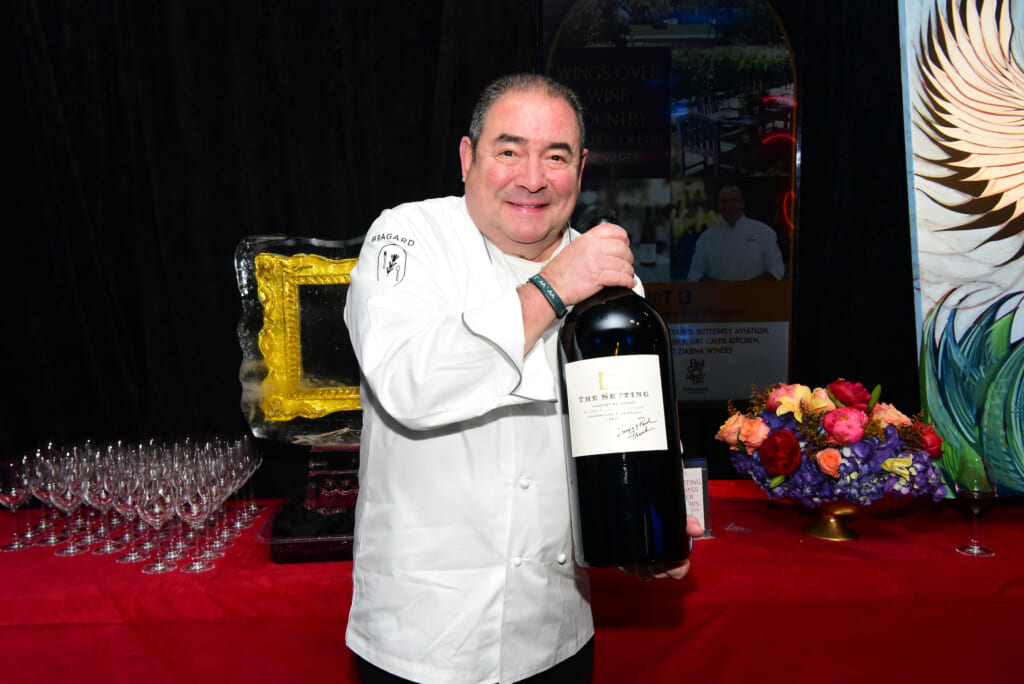 Katz is a veteran of some of the world's most famous wineries, including Château Petrus and Screaming Eagle, and his Bordeaux-style wines look set to play in their league one day.
He founded the Aperture Cellars label in 2009, and recently opened his own high-tech winery and tasting room in Sonoma's Healdsburg, where he now produces about 6,000 cases of wine per year. And he's at the forefront of a local movement that is rapidly growing to rival anything in Napa Valley.
"We have a unique style within [Sonoma's] Alexander Valley," Katz says. "We can certainly have the powerful, rich fruit characteristics that people associate with the best of Napa. But then there's very fine and silky tannins, with elegance and freshness with a bit higher natural acidity and lower alcohol."
His offerings are divided into Soil Series, "blends and single-origin wines crafted for their specific soil types;" and Site Series, "terroir-driven expressions from premier Sonoma County single-vineyard sites."
While Cabernet is Sauvignon Aperture's signature wine, the portfolio also includes a Red Bordeaux Blend, Sauvignon Blanc, Chenin Blanc, and an Estate Field Blend from old vines located on the Aperture Estate. He also creates Devil Proof, the cult 100-point Malbec rated California's best, and the only 100-point Malbec from the region, by the likes of Wine Advocate, Wine Enthusiast, and Wine Spectator. The work of Katz's father, renowned photographer Andy Katz, is featured on the labels of wines.
Aperture's winery and tasting room buildings were designed by Signum Architecture, the same team responsible for some of Napa's coolest wineries; this is their first project in Sonoma.
"With inspiration driven from the physical aperture of a camera, the estate's buildings showcase dramatic angles, clean lines and a focus on natural light," as Aperture puts it. Lead Juan Carlos Fernandez "took four pieces of a camera's shutter, dissected them and stacked them side by side…. to create these amazing angles of the winery," Katz says.
The sleek and modern new 4,000-sq.-ft. tasting room and hospitality space has a tasting bar and number of private rooms for custom-tailored experiences, with windows that can fold into the walls and a beautiful outdoor terrace overlooking the estate vineyards facing west towards the Russian River.
Katz's father's work, "centered around art and travel and global experience," adorns the walls. The whole scenic property including the grape vines, adds up to about 40 acres. "We wanted elements of the vineyard to be represented and have vineyard views from every seat in the house of the hospitality space," but be separated from the nuts and bolts of the winery, Katz says.
Katz conducted a tour on a recent visit to the new winery, which has an "industrial chic" vibe, discussing his methods along the way. Though the facility is not terribly large, the sheer amount of cutting-edge equipment, most of it custom-built, they have on hand allows them to do amazing things.
"There is no other winery [in the world] that has all this technology put together as we have it here," Katz told us. Some things are still done the old-school way, however; 100% of the grapes he uses are harvested by hand. Something that attracted Katz to the property he established his winery on are two blocks of ancient grapes "that were planted in 1912, some of the oldest vines in the region and some of the oldest vines in the world, for that matter," he says.
"And those are classic, true field vines…. We think that it's about 78% Zinfandel, but we've also been able to find Petite Syrah, Mourvedre, Cabernet Franc, Carignane, even some Sémillon and some mixed whites that were unidentifiable. So we make wines from each of those blocks, keep those separate and then put together our favorite blend."
He notes, "I think we've been able to make this level of wine, even before we had this amazing, world-class facility, is because our level of detail and precision in the vineyard has always been a very, very high level."
Katz calls Aperture's Cabernet blend and Bordeaux blend "the first two cornerstone wines" of his label. And while he was making great wines before the new facility opened, 2019 turned out to be a "spectacular" vintage. "We had this wonderful, cool end of the season and really gave us the ability to get that extra hang time without worrying about the sugar skyrocketing and really keeping that acidity in balance there," he says.
"And I think they're very young right now…. but you can see the level of purity, the floral-ness that you get in there, the aromatics and the level of structure and layers that they have, but it's still so silky and smooth. A lot of that is our wine-making techniques, the barrel regimes[and] our level of detail sorting [grapes] and the thousands and thousands of blends."
Katz has been acquiring and/or leasing blocks of grapes all over Sonoma since he launched Aperture in 2009, when he was still at Screaming Eagle in Napa. "I wanted to find sites that had spectacular soil types, spectacular aspects, different hillside types," he says.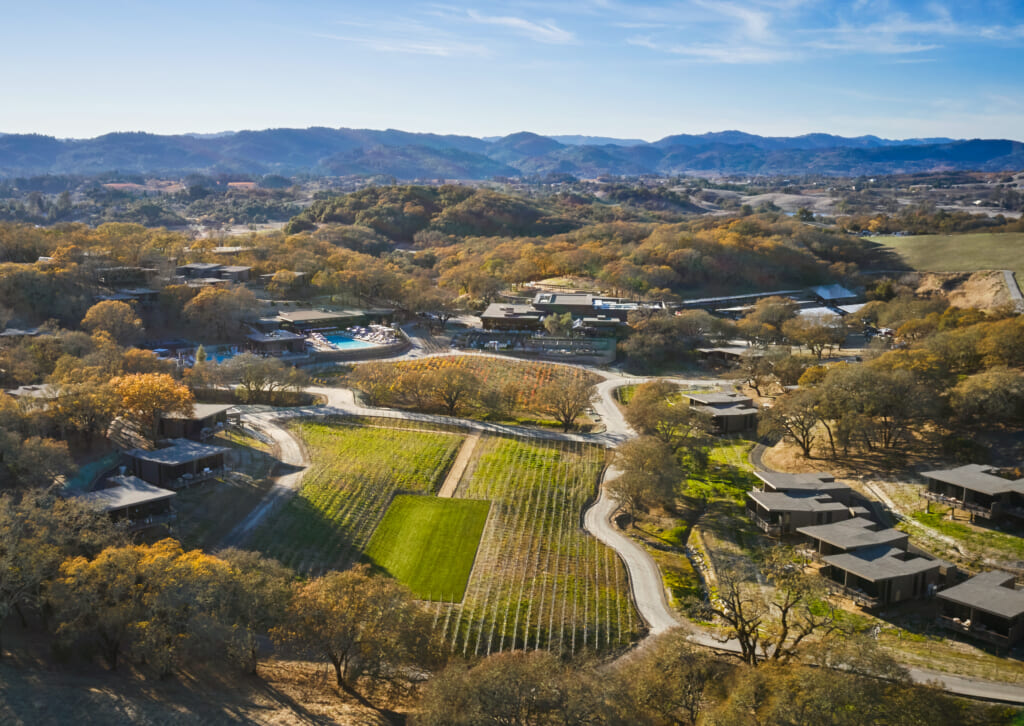 "And that's really what brought me over to Sonoma County and at first to Alexander Valley." The climate struck him as exactly right, with cooler zones more resistant to the climate change that is starting to affect Napa, but "still plenty of heat [needed] to ripen to get these beautiful lush, rich fruit characteristics that California is so famed for."
He was after "a little bit more natural acidity, a little bit more nuance, a little bit more elegance in our wines," than what most of Napa is known for.
"It really stemmed from some of my time in the Old World, and that's what brought me to Sonoma…. I use a lot of my knowledge that I've picked up over the years from Bordeaux, from Argentina, from Napa, from Santa Barbara and so on, to make the best wines, but I'm not trying to make any of those wines here—he's doing his own thing, and spectacularly well.
While prime vineyard blocks in Napa command astronomical prices, Sonoma plots can be had for far less. "There's not that diamond in the rough in Napa anymore, I don't believe, it's pretty planted out," Katz says.
"But here we're still finding these gems that either were farmed differently, or planted to something differently, like the Aperture property…. We've replanted to that to all new varietals, that I still think there's a lot of room for discovery here in Sonoma county, that I don't believe there's that opportunity in Napa. And it's really difficult to start a wine brand in Napa, unless it's in your bloodline or you come from money."
In Napa, "there will still always be great wines," Katz notes. "I don't want to diss on Napa, because I truly think it's one of the great wine-growing regions. The amount of uniqueness of soil types that they have specifically for great wine growing origins, it's really, really unique." The future, as he sees it however, is Sonoma.
"A key part of me being able to start my own brand, is I didn't start with owning any property, I started purchasing grapes by the ton, dedicated vineyards that we farmed by the ton," Katz says, something that would have been impossible in Napa without a huge investment. "Maybe I needed to come up with a certain amount of money that year, but I could slowly grow, and then finally, when I'm selling that first vintage, that would pay for the next vintage, and I slowly grew and grew."
The issue in the wine industry, Katz instructs, "is capital, especially when you don't have any money, but your inventory could be quite valuable. And so, how I was able to get the [Aperture] property, is I had grown the brand" into a formidable presence, from 2009 to 2016, by making great wine elsewhere. "And I was able to borrow off of all the inventory that I had to purchase the land. And I just used my day job, winemaking and consulting, to fund Aperture," initially. An inspiring tale.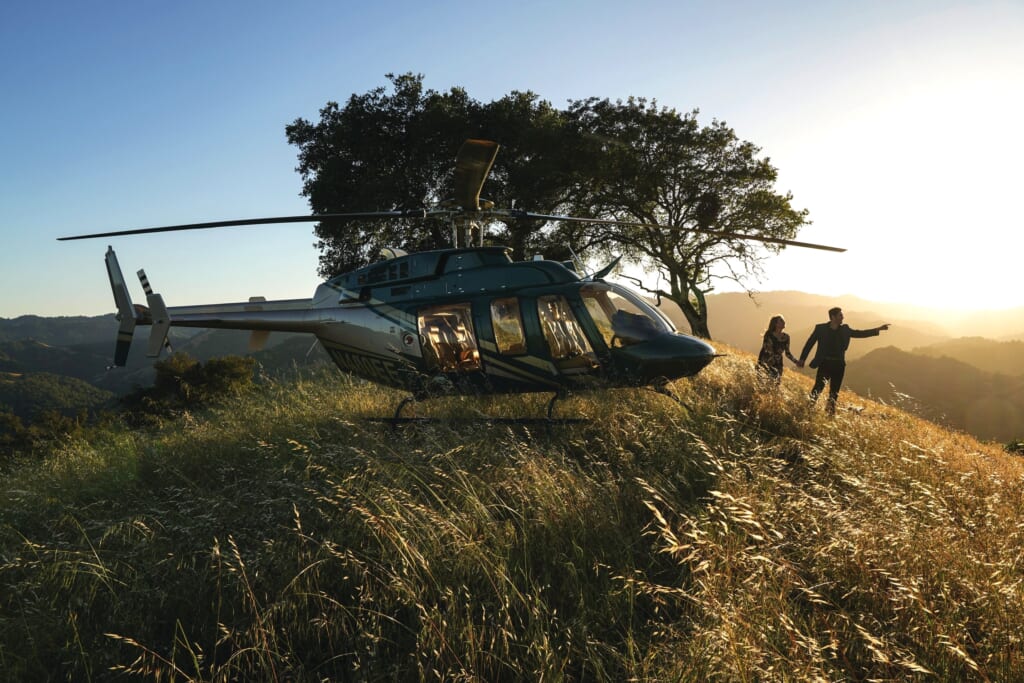 To illustrate just how much Katz's holdings have grown, we needed a helicopter to tour the patchwork quilt of vineyards, some of them quite far flung, that go into his award-winning wines. Butterfly Aviation based in Santa Rosa, CA provided one of the sleekest and most luxurious helis we've ever ridden in for an epic tour that also included a flyover of the Aperture Cellars property. We followed the scenic Russian River out to sea and the Sonoma coast, then did a bank and landed on one of Katz's more remote hilltop vineyards.
Paul Frank, owner of the Glass Slipper vineyard, origin of the grapes that went into the $1 million bottle of Cabernet, calls Katz "one of the biggest stars in the wine world." The 38-year-old remains extremely humble, even when surveying his domain from the window of a $3 million Bell 407.
On his wrist is a rare, limited-edition Audemars Piguet Royal Oak, a holy grail for watch collectors; he traded the original owner some wine for it.