The Best New Luxury Hotels Opening In 2019
Your guide to living the suite life in 2019.
Baglioni Hotels & Resorts
Every year, the world welcomes a new crop of luxury hotels, each vying to attract travelers from all corners of the map. Some are set in tried-and-true destinations, while others open their doors in far-flung destinations you've never heard of.
But each new high-end hotel offers something special, aiming to connect people and introduce them new experiences that will shape their worldview moving forward. 
From ultra-luxe five-star city suites to cozy boutique properties, here are some of the world's hottest new hotel openings slated for 2019.
Baglioni Resort Maldives
Maagau, the Maldives
Few places on earth evoke wanderlust like the Maldvies. Lush islands, world-famous diving sites, and a gloriously carefree lifestyle make it one of the most popular tropical destinations in the world. And that's exactly why Baglioni Hotels & Resorts is launching their brand new resort on this chain of islands in the middle of the Indian Ocean. 
The property will begin welcoming guests in April 2019, marking the hospitality brand's first endeavor beyond European borders. It will include 96 ultra-exclusive villas sprinkled throughout the island of Maggau in Dhaalu atoll. Of course, the resort's three gourmet restaurants, expertly appointed digs, and luxury spa will all include Baglioni's signature Italian touch. 
Nayara Tented Camp
Costa Rica
This fall, award-winning Nayara Resorts is set to open their newest property in the heart of Costa Rica's Arenal Volcano National Park. Nayara Tented Camp will feature 18 deluxe yet eco-friendly tents, and its debut marks the first luxury camp of its kind in Central America. 
The private tents will be perched high in the hills and nestled between treetop canopies, offering unparalleled views of Costa Rica's famed Arenal Volcano. A dream destination for adventurers, guests will be able to enjoy a range of outdoor activities, including whitewater rafting, canoeing, hiking, canopy tours, visits to the hot springs and more.
andBeyond Punakha River Lodge
Bhutan, Asia
Bhutan has been an exotic destination on the rise over the past couple of years, thanks to its impressive monasteries, imposing fortresses, and dramatic landscapes ranging from colossal mountain peaks to verdant valleys. But now there's even more for curious travelers to get excited about. 
A new luxury lodge is headed to the Asian hot spot, set in the stunning Serigang Village in Punakha. Overlooking the Mo Chu River and the Himalayas of Bhutan, the forthcoming property will mark andBeyond's first lodge in Asia as the brand continues to spread its wings around the world. Guests can also anticipate plenty of outdoor adventures, including kayaking, hiking, and catch-and-release fishing.
Four Seasons Resort and Residences Napa Valley
Calistoga, California
Napa Valley is gearing up to welcome its first Four Seasons property in mid-2019. This one-of-a-kind California wine country experience will combine innovative dining, decadent spa treatments, and the platinum service that travelers have come to expect from the Four Seasons brand. 
The property, set within a world-class winery, will offer 85 guest rooms and 20 private residence villas decked out with upscale accommodations and a farmhouse chic aesthetic. Private terraces will open to rolling vineyards framed by majestic mountain views. After a long day of wine tasting, guests can unwind beneath the Calistoga night sky in one of the property's two outdoor pools.
Shinola Hotel
Detroit, Michigan
The highly-anticipated Shinola Hotel is on the verge of its grand opening that's taking place right after the New Year. Two beloved Detroit-based brands; Shinola (the iconic luxury watchmaker) and Bedrock (a renowned real estate firm) join forces for the trendy hotel collaboration. 
Situated in the heart of the Motor City's historic Woodward Avenue shopping district, the hotel has 129 guest rooms boasting a bevy of Shinola products designed specifically for the property a Runwell Desk Clock, striped alpaca throw blanket and a signature candle. Plus, the staff all wear a Shinola watch that is only available at the Shinola store within the hotel. 
Food and beverage programming will be led by Chef Andrew Carmellini of NoHo Hospitality Group and features multiple dining venues, including San Morello (Southern Italian), Evening Bar (classic craft cocktails), The Brakeman (an American beer hall), Penny Red's (fried chicken), and more in addition retail spaces occupied by brands like Madewell and Good Neighbor. 
Magashi Camp
Rwanda, Africa
In the past few years, Akagera in Rwanda has undergone a phenomenal transformation. Although long a destination for travelers looking for an authentic African adventure, poaching in the region has been essentially eliminated, which has given rise to thriving wildlife populations. 
In March 2019, Wilderness Safaris will debut their brand new Magashi Camp; a six-tented camp boasting a lavish lounge, dining and bar area, wine cellar, and pool. The camp will sit in the northeastern portion of Akagera National Park and overlook Lake Rwanyakazinga (home to one of the continent's largest hippo populations). 
Guests will also have the chance to spot other coveted wildlife during expert-guided game drives, walks, and boating experiences, including buffalo, leopards, elephants, giraffes, and the recently-reintroduced lions and black rhinos.
Selina Lisbon
Lisbon, Portugal
Lisbon is another destination that has been luring intrepid holidaymakers for quite some time because of its gothic grit, ancient ruins, and world-class cuisine. Cradled within seven picturesque hills and surrounded by cinematic oceanfront views, the city is expected to welcome a new Selina property in late April 2019. 
While still in the early stages, it's estimated that the property will have approximately 90 beds, as well as a dedicated co-working space, a cinema, on-site bar and restaurant, library, and more. The Selina brand launched a few years ago before quickly expanding throughout the Americas, and is now stepping out into European territory. 
The company excels at bringing together design-centric accommodation (both shared and private) and the co-working, digital nomad lifestyle, which has made it one of the fastest-growing hospitality brands in the world.
W Dubai – The Palm
Dubai, United Arab Emirates
The shimmering city of Dubai has long been a playground for the rich and famous, known for its wild nightlife and ultramodern architecture. And now, a new hotel is about to burst onto the scene as one of the region's most anticipated launches. W Dubai – The Palm will open its doors in January 2019 on the iconic Palm Jumeirah. 
The larger-than-life property marks the first W Escape in the Middle East, and will feature 350 guest rooms and suites with views of the Arabian Gulf or the ever-changing city skyline. The hotel will also offer six different restaurants and bars, 2,000 square feet of event space, the WET Deck, an AWAY spa, and more.
Live! By Loews
Arlington, Texas
The Cordish Companies, Texas Rangers, and Loews Hotels & Co have teamed up to introduce a brand new $150 million flagship to the Arlington Entertainment District. The Live! By Loews hotel and convention center at Texas Live! will bring the very first upscale hospitality experience of its kind to the region, blending sports and entertainment with superior amenities perfect for meetings, events, conventions, sports fans, travelers, and locals alike. 
The hotel will climb 14 stories and include 300 rooms in total. Other perks include an outdoor infinity pool, an on-site brewery, and a two-story, 35,000-square-foot Grand Event Center. The venue is on track to open in August of 2019, but will be accepting reservations in early 2019.
Hyatt Zilara and Hyatt Ziva Cap Cana
Punta Cana, Dominican Republic
In 2019, the Dominican Republic will see the addition of a major oceanfront resort complex situated along the shores of Cap Cana's Juanillo Beach. The Hyatt Zilara Cap Cana will be comprised of two all-inclusive properties: the adults-only Hyatt Zilara and the family-friendly Hyatt Ziva. 
Slated to open in the third quarter, the expansive complex will include a total of 750 sophisticated rooms and suites, as well as diverse culinary offerings, rejuvenating spa, theater, waterpark, and nearly 14,000 square feet of stunning white sand beaches.  
Domio Baronne St.
New Orleans, Louisiana
If you haven't heard of Domio yet, pay attention because the New York-based company is working hard to shake things up in the travel industry. The hospitality company is revolutionizing the apartment hotel space by unrolling trendy properties catered to group travelers. Their units are five times larger than the typical U.S. hotel room, but on average cost 25 percent less than similarly sized hotels. 
Their first upscale apartment-hotel will open January 2019 in New Orleans' historic French Quarter. A slew of modern facilities can be found inside the renovated Warehouse District building, including a game room, business center, state-of-the-art fitness center, and 24-hour concierge. Plus, a team of in-house designers has created custom interiors, complete with curated artwork, handpicked furniture, branded wallpaper, and even cultural city guides.
The Hoxton, Chicago
Chicago, Illinois
Spring 2019 starts the next chapter in The Hoxton's exciting expansion across America with the addition of The Hoxton, Chicago. The Windy City's new hotel will be the brand's third property in the U.S., following in the footsteps of The Hoxton, Williamsburg and The Hoxton, Portland. 
Located in the West Loop/Fulton Market neighborhood, the newcomer will boast 182 rooms that pay homage to Chicago's industrial past. Think sleek concrete ceilings, warehouse-style windows, and a welcoming vintage vibe thanks to locally sourced artwork and mid-century furniture. Don't miss Cabra, its open-air, rooftop eatery helmed by chef Stephanie Izard, which will serve Peruvian-inspired cuisine and cocktails.
Hotel Bennett
Charleston, South Carolina
Charleston is considered to be one of the most charming cities in North America, amassing a countless collection of awards and accolades in recent years. It provides the perfect mix of innovative culinary concepts, incredible hotels, premier shopping, friendly locals, and myriad cultural experiences.
But its newest opening is aiming to become the grandest new hotel in the South. Enter Hotel Bennett, officially launching in mid-January. Centrally located in Charleston's storied Marion Square, the property blends unparalleled Southern hospitality with sumptuous accommodations, including 179 stylish guest rooms and suites. The property will also be home to a rooftop pool and bar, a two-tiered signature restaurant, and a multitude of event and meeting spaces.
Aonoza
Hokkaido, Japan
Hokkaido is Japan's second largest island, known for its premier skiing, breathtaking landscapes, and for being the birthplace of Sapporo beer. And in May, intrepid jetsetters will have a new home-away-from-home at Aonoza, perched above the sparkling crystal waters of Lake Shikotsu. 
The upcoming property's design was inspired by a traditional Japanese Ryokan, but will weave in noticeably up-to-date touches throughout. Modern art will adorn the lobby walls and its on-site dining spaces will remind visitors of Tokyo's exciting culinary scene. The hotel will feature 25 lakefront suites and six different room types, each with a private garden space and onsen (or open-air bath) for the full Japanese experience.
Origin Hotel
Lexington, Kentucky
Lexington is gearing up to introduce its newest boutique property, which will make its official debut in May 2019. The Origin Hotel will be located within The Summit at Fritz Farm, a new retail and lifestyle center tucked away in the city center. Its neighbors will include trendy destinations like Bonobos, Warby Parker, and Honeywood (a new restaurant by James Beard nominated chef Ouita Michel). 
The 120-room hotel will combine the best of Southern hospitality, including local art and the region's best bourbon. Stop by The Still Restaurant for creative cocktails and local fare inspired the freshest ingredients and traditional specialties.
ESPACIO
Honolulu, Hawaii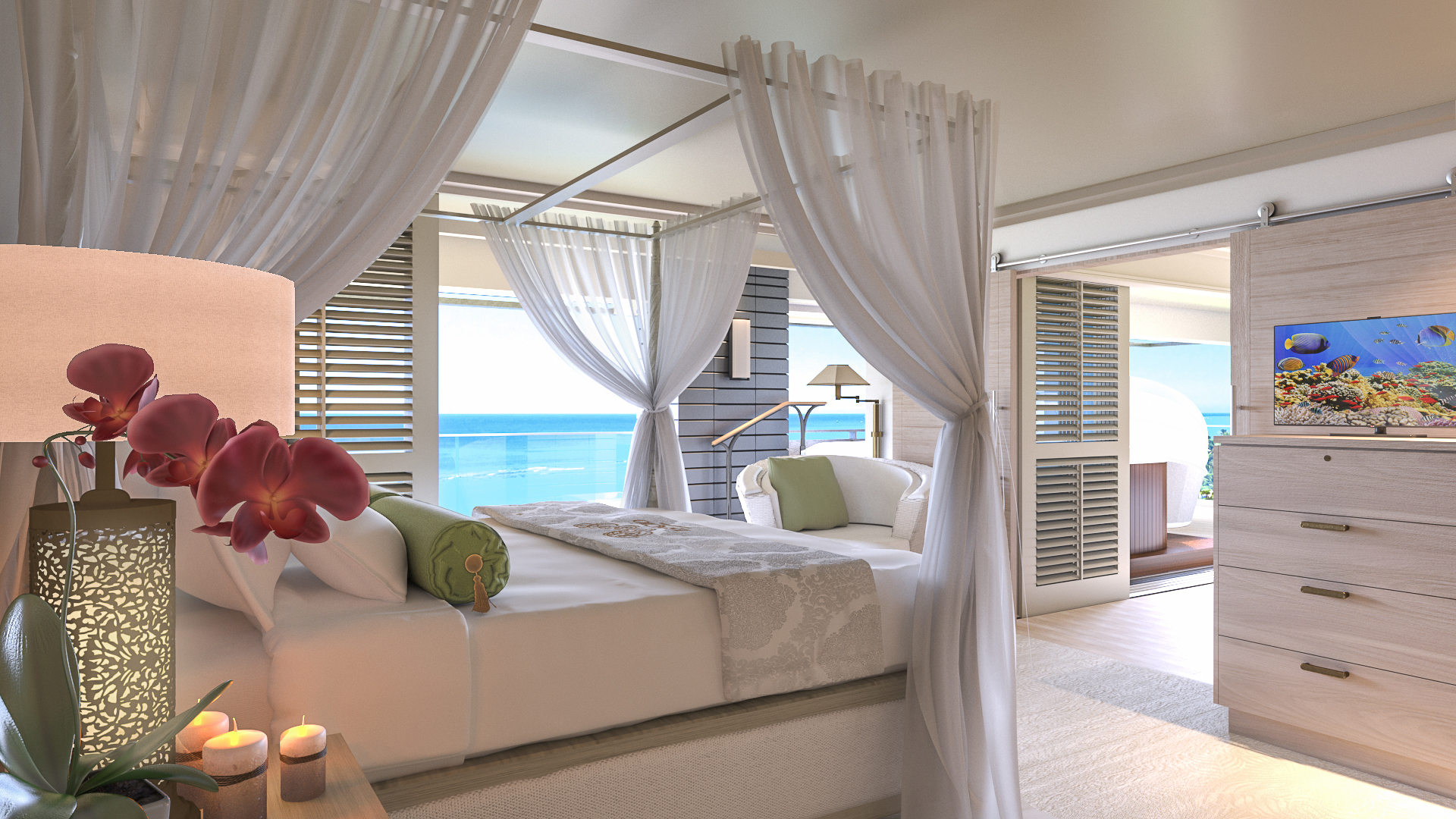 Hidden within a vibrant neighborhood in Hawaii's capital city, ESPACIO is poised to become Honolulu's newest extravagant retreat. Featuring just nine rooms, the ESPACIO experience will offer an ultra-exclusive escape in the cosmopolitan Waikiki district. 
Each of the hotel's nine floors will showcase a three-bedroom suite that comes with personalized service (including a dedicated butler), Italian marble bathrooms, dry sauna, full kitchen, complementary luxury car rental, and a secluded lanai with private Jacuzzi. The Aqua-Aston Hospitality project is planned to launch in July 2019, and will redefine Oahu's luxury hospitality scene. Guests should be sure to check out the rooftop infinity pool, restaurant, and spa.