Patrón Is Selling Less Than 300 Bottles Of This High-End Tequila
Patron teamed up with French crystal brand Lalique for the $7,500,limited-edition tequila.
The difference is certainly in the details when considering the fine art of crafting tequila — and the fine art of crafting an eye-catching decanter to take your bar cart to the next level. Patrón took both into account with its latest tequila offering, the third in a collaborative partnership with French crystal maker Lalique.
The real kicker, though? The new liquid arrives just in time for National Tequila Day (July 24th), and it only gets more exclusive from there: Just 299 bottles of the ultra-premium Extra Añejo tequila are available globally, with only 105 up for grabs in the U.S. of A. via NFT marketplace BlockBar.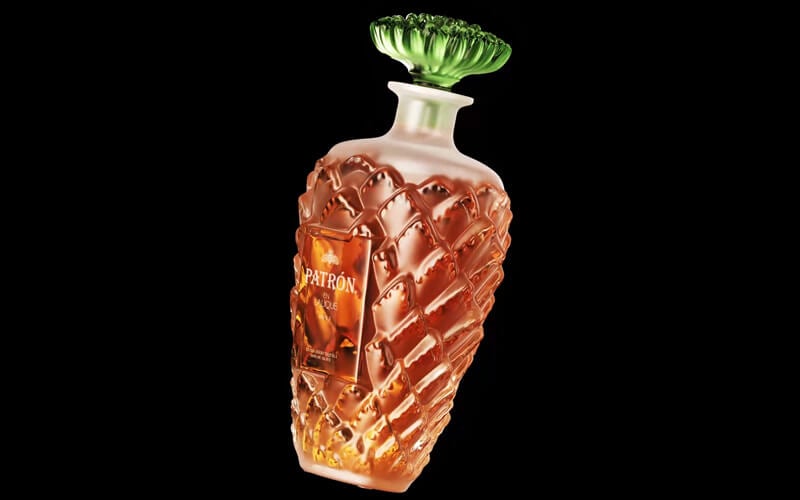 The revered distiller is always pushing boundaries beyond just what's in the bottle, including a footwear collaboration with John Geiger, and the latest offering goes above and beyond in another way: The bottle itself.
Lalique handmade and hand-numbered each decanter at its French factory, topping off the illustrious tequila with a stopper featuring an eye-catching agave pina design detail.
The blend itself is impressive and expressive in its own right, derived from a blend of 14 Extra Añejo tequilas, boasting a medium amber color and smooth, toasted. sweet notes once you finally taste the coveted final product.
Intense finishing notes of dried wood and sherry wine reflect the depth and care of the aging process, too.
"Our familia of talented craftsmen are constantly experimenting to create bold innovations that stay true to the Patrón commitment to handcrafted perfection," Master Distiller David Rodriguez said in a statement.
It's an approach that's reflected in both the rare bottle and the rare spirit contained within, so if you want to upgrade your bar cart in a major way, you'll have to step up to the plate: The newest Patrón retails for a suggested price of $7,500.
That's a spirit worth toasting and savoring, if you ask us. Cheers to National Tequila Day — and what better way to celebrate it than with a new bottle of ultra-rare Patrón?