Patrón Launches New Prestige 'El Alto' Tequila
The latest top-shelf release from the legendary distiller was aged in 11 different types of barrels over four years.
Patience is but one key ingredient in the spirits world, and the more patience behind the process, the better the yield–especially when the goal at hand is an ultra-premium tequila that looks to take the category to new heights.
Patrón doubled down and put more than 300 tastings and four years of craftsmanship into its first-ever prestige tequila, the new Patrón El Alto, crafted from 100% Weber Blue agave and delivered in a fittingly luxe bottle.
The new expression put Master Distiller David Rodriguez and his team to the test as they looked to find the perfect balance of finely aged Extra Añejo with a blend of classic Añejo and Reposado tequilas.
Rodriguez said the meticulous process "achieves the best blended, aged tequila profile possible," thanks to a special focus on selecting Weber Blue agave from the hills high above Jalisco, Mexico.
The carefully crafted approach harnesses the best of the old world and the new through Patrón's use of two-ton volcanic stones to crush the baked agave, known as the tahona process–one that requires an extra measure of attention to detail and an appreciation for doing things the hard way.
From there, 11 types of barrels were used to age El Alto, mostly American oak body and French oak heads.
The result is a superstar of a prestige tequila expression, one that was recently launched at a glamorous Las Vegas event featuring a performance by longtime Patrón fan Missy Elliott.
The evening marked her first time onstage in three years–talk about a toast-worthy celebration.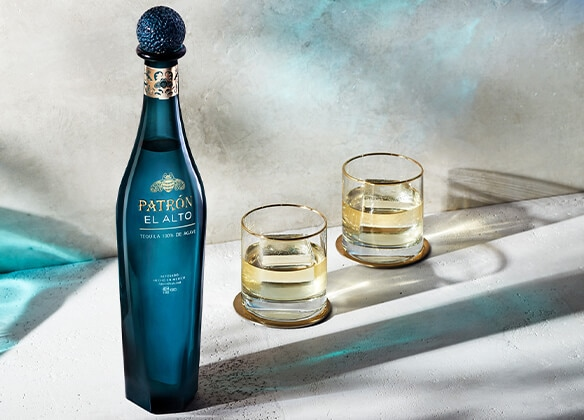 Beyond its impressive launch and its illustrious presentation, the tequila contained therein is enough to wow a legion of devoted and newfound fans of Patrón.
Smooth and sweet tasting notes hit on everything from figs to honey, caramel, dried fruit and vanilla.
For good measure, Patrón El Alto is only available right now in select markets that are lauded for "being the pinnacle of celebrating momentous occasions"–so, look for it at an SRP of $179 in Miami, New York, Los Angeles and Las Vegas.