Here's Why Port Wine Is Experiencing a Full-Fledged Revival
These delicious fortified wines aren't just for after steak house dinners anymore.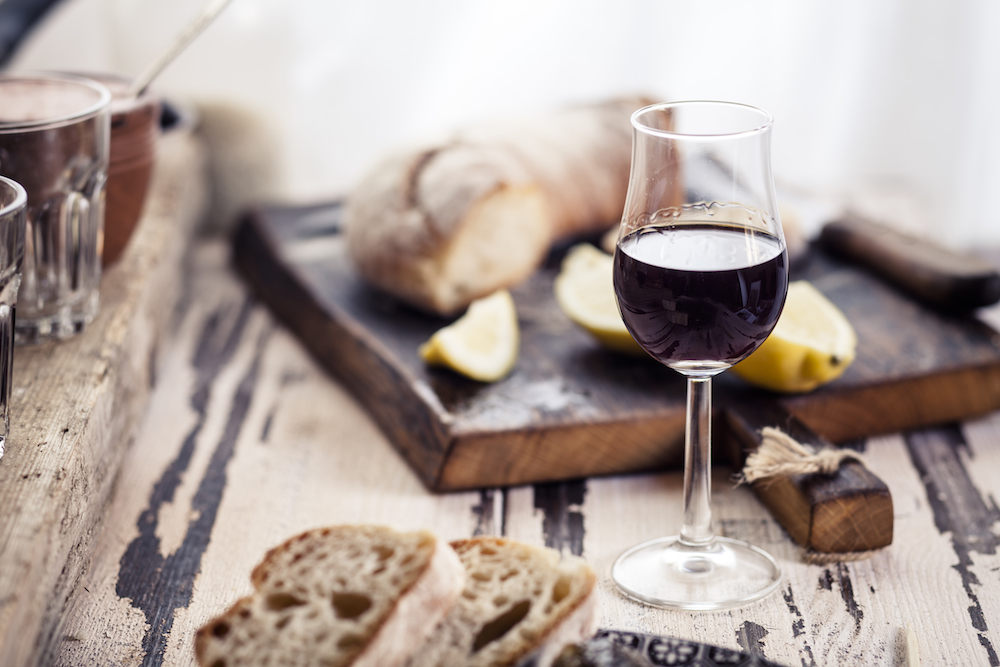 Welcome, port, back into the spotlight after so long a sojourn in the shadows. While the fortified wine hailing from Portugal's Douro Valley is appearing as a trendy ingredient at cocktail bars, the best stuff is meant for sipping. So while port may be "new" once more, let's be thankful that some exceedingly old stock has survived long enough for its current revival, offering a perfect opportunity to begin exploring.
"Port has an amazing array of nuances," says Cristiano van Zeller, whose family has been in the trade since 1620. His company, Van Zellers & Co., sourced the casks for what would become the Centenario Port Duo, 1870 and 1970, for the Last Drop Distillers. The duo consists of two choice colheitas, or single-harvest tawny ports, from the same cellar along the Douro River.
Tawny ports mature via an oxidative process in wooden casks and take on similar flavors to the aged spirits you already enjoy, as opposed to the maturation in bottles or nonreactive tanks often used for other varieties, like ruby port. "Tawny takes on more of the characteristics of the old cognac," says Ben Howkins, a director with the Last Drop and a renowned authority on port.
The Centenario Port Duo is the 11th one-off release from the Last Drop, which has heretofore largely focused on rare scotch. "There were really interesting stories to share beyond the scotch world," says Beanie Espey, the Last Drop's sales and marketing director, on the impetus for the release. "The port is the realization of a dream."
Espey, the daughter of cofounder James Espey, is helping to guide the Last Drop along with Rebecca Jago, the daughter of cofounder Tom Jago. Perhaps it shouldn't come as a surprise that father-daughter bonds are strong with Van Zellers & Co., too: Cristiano's daughter Francisca now plays a prominent role in that family company as well. "Our relationships and our friendships are our best assets," Espey says.
That paid off here, as van Zeller was able to pounce and acquire these prized casks. "I had access to a lot of friends who had these outstanding old ports," he says. Van Zeller found the ports, Howkins approached him, and from there it was love at first sip. "These ports hold up to any of the best aged scotch or cognac, or most prized old wines," Howkins says.
And the 100-year gap between the duo was actually an unplanned outcome from rounds of intensive blind taste tests. "The years were pretty much a coincidence," Howkins says. Stories are great, but it's the booze that matters most. "We will never ever, ever compromise on quality or let a good story get in the way of a decision," Espey says. "It's all about the quality of the liquid."
As for that liquid, the 1970 is shockingly bright and vibrant, mixing orange peel and candied orange with raisins, figs, walnuts, and dark chocolate. And its older sibling? "The 1870 is multiplied by ten. It's pure delicacy in the mouth," van Zeller says.
https://vimeo.com/227767292″ tml-render-layout="inline
Only 770 pairs will be released this February and March, and if the bottles seem too precious to open at approximately $5,250 for the set, fear not. Enclosed in the green, leather-bound presentation case is a set of 50 ml samples. Knock 'em back and keep the full bottles intact. Or vice-versa. Empty bottles still look good on the shelf, after all. 
This article appears in Maxim's January/February issue. Be sure to subscribe so you never miss an issue.