Spirit Of The Week: Bushmills 29-Year-Old Single Malt Irish Whiskey Finished In Pedro Ximinez Sherry Casks
One of the rarest and most expensive Bushmills bottles yet boasts signature notes of fruit and flowers with layers of praline, orange peel and malt vanilla.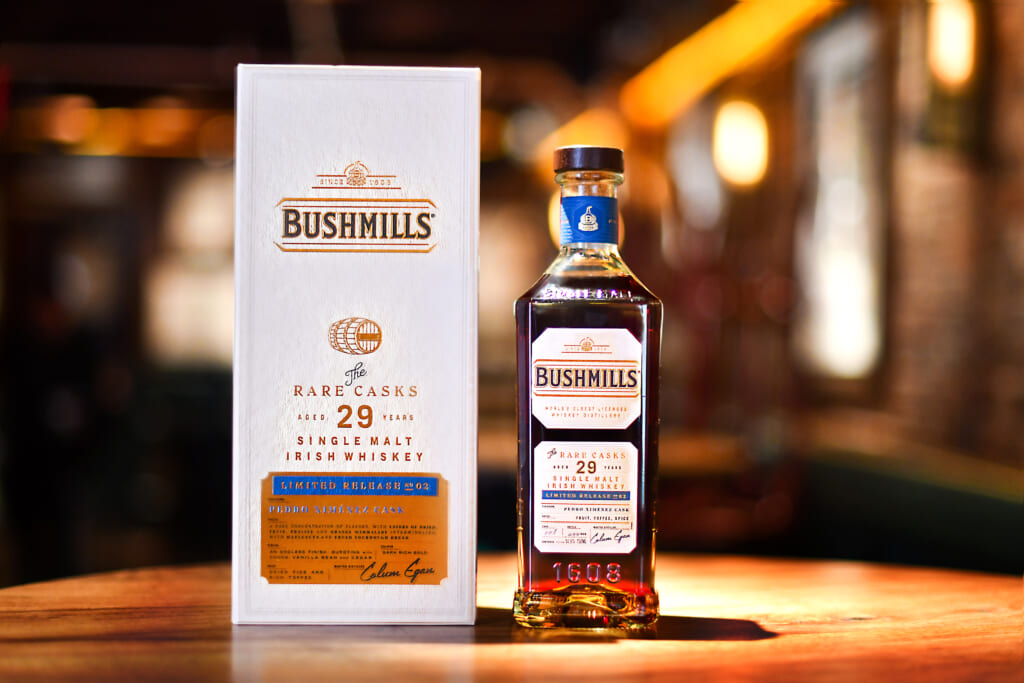 Last year the world's oldest whiskey distillery, Old Bushmills in County Antrim, released the first in its ultra-premium Rare Casks series. Bushmills 28-Year-Old Single Malt Cognac Cask Whiskey let the world know the 400-plus-year-old Irish distillery is capable of crafting whiskies on par with the best from their brethren across the Straits of Moyle.
And now for 2022 Master Blender Alex Thomas takes the rein for The Rare Casks No. 2: a 29-Year-Old Single Malt Irish Whiskey finished in Pedro Ximenez Sherry casks.
The expression was distilled on April 6, 1992, after a dozen years the juice was emptied and poured into second casks that held Pedro Ximenez Sherry on July 12, 2004. This extremely rare stock (accounting for less than .01% of the whiskey distilled at Old Bushmills in 1992) was handpicked by Colum Egan, Bushmills' Master Distiller at the time, for its unique flavor profile to match with the sweet, dried fruit influence the Pedro Ximenez Sherry would impart.
And now 17 years after that this liquid gold has been bottled to be shared and experienced by whiskey enthusiasts across the planet—although only 500 bottles of Bushmills Rare Casks 29-Year-Old Single Malt Finished in Pedro Ximenez Sherry casks will make it into their hands.
"As a Master Blender, careful attentiveness and patience must be demonstrated in every stage of the maturation process. For this whiskey to reach its most perfect taste profile, it has required countless samplings, barrel adaptations, and 29 years," notes Master Blender Alex Thomas.
"It took 12 years in ex-bourbon casks for the desired foundation of this unique malt to be complete. An additional 17 years in sweet Pedro Ximenez casks prompted the liquid to grow more textured and nuanced with each year until the flavors had fully matured, ultimately achieving a spirit of incomparable complexity.
"Our signature style is evident in every sip," continues Thomas, heaping high praise for a distillery that dates back to 1608. "This exclusive expression is a showcase of the quality and versatility of our single malts and is one of finest whiskeys ever sealed under the Bushmills name."
This rare elixir promises an intense bouquet on the nose of freshly roasted cashews and hazelnuts combined with redolent aromas of figs, dates and dried apricots compliments of its years in the Pedro Ximenez casks. For flavor notes, Thomas describes layers of dried fruit, praline and orange peel intermingling with the malt vanilla, fruity and floral signature of Bushmills' centuries old whiskey. $750
Follow our Contributing Spirits Editor on Instagram at @nickstecher and @boozeoftheday.