Spirit Of The Week: Distillery 291 All Rye Colorado Whiskey Batch #1
One of Colorado's best distilleries blends German and local grains for their first 100% malted rye.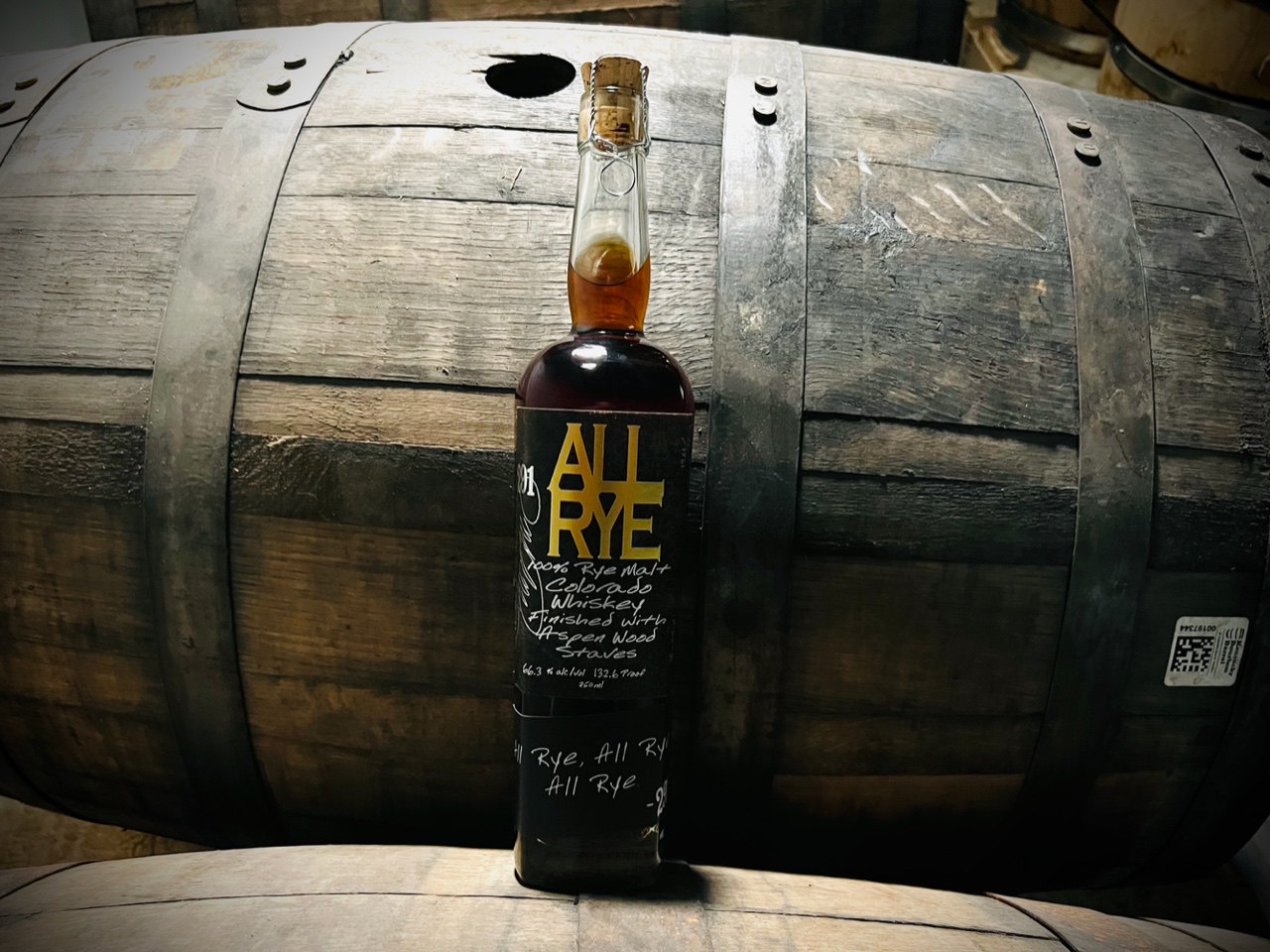 (Distillery 291)
Michael Myers grew up off a dirt road in rural Georgia, but somehow managed to amble his way from that 70-acre horse farm to New York City. There he hustled his way to prominence as a professional photographer specializing in fashion and fine art, shooting for powerhouses like Ralph Lauren, Tiffany & Co. and Estée Lauder. However the call of the wild pulled him back to his rustic roots, this time Colorado, where Myers decided to test his skills at another great American art form: bourbon. 
Manifesting his new whiskey-making art from his old, Myers literally banged out the enormous copper backing plates from his old photogravures prints and converted them into his first still—a 45-gallon pot that to this day distills every drop of 291 Colorado Whiskey. 
His very first recipe yielded a bourbon (80% corn / 19% malted rye / 1% malted barley) that anchored numerous accolades, including the 2022 Icons of Whisky "American Craft Distillery of the Year." But Myers still desires to plumb new territories in spirit making. Inspired by Buffalo Trace's Experimental Series, Myers created a playground called the "E" line, under which he fools around with small volume hijinks to figure out what works and what doesn't.
"When I started the distillery the bourbon was my very first recipe, and the rye (39% corn / 61% malted rye) was second, so I never had the chance to really experiment," Myers tells Maxim.  
"But I want to experiment, that's the fun of this," he continues. "I don't want to be sitting there singing the same song over and over every night."
One such amusement, E Batch #3, was 291's first 100% malted rye recipe. Using all German grains from Weyermann Specialty Malting the rye was a hit—the expression earned Distillery 291 a runner-up position for US Micro Whiskey of the Year when it dropped in 2017.
But Myers aims to increase the Centennial State's influence in his spirits. He already exclusively uses water from nearby Pikes Peak and throws staves of toasted aspen into casks like tea bags. The goal is to eventually craft all of 291's whiskey from 100% Colorado grains, so he started playing with malted rye sourced from a local interest called Root Shoot. While Myers found the flavor profiles intriguing, they were far too different from the Weyermann ryes he'd grown accustomed to in their mashbills. 
So they idea pivoted: Why not see how the two malted ryes grown on different continents played together? So he and Head Distiller Eric Jett distilled and aged each of the ryes separately so they could isolate each grain's unique flavor profiles, discern what each brought to the table, and then carefully leverage portions to settle down with a blend for a new expression they would dub All Rye.
The duo discovered the Colorado Rye Malt offered aromas of hazelnut butter, brown banana peel, cinnamon and rye bread, with flavors of hay, nut butter and black pepper. Meanwhile the German Rye Malt offered whiffs of cinnamon roll dough, caramel and honeydew melon rind, with even more cinnamon, oak and white pepper flavors.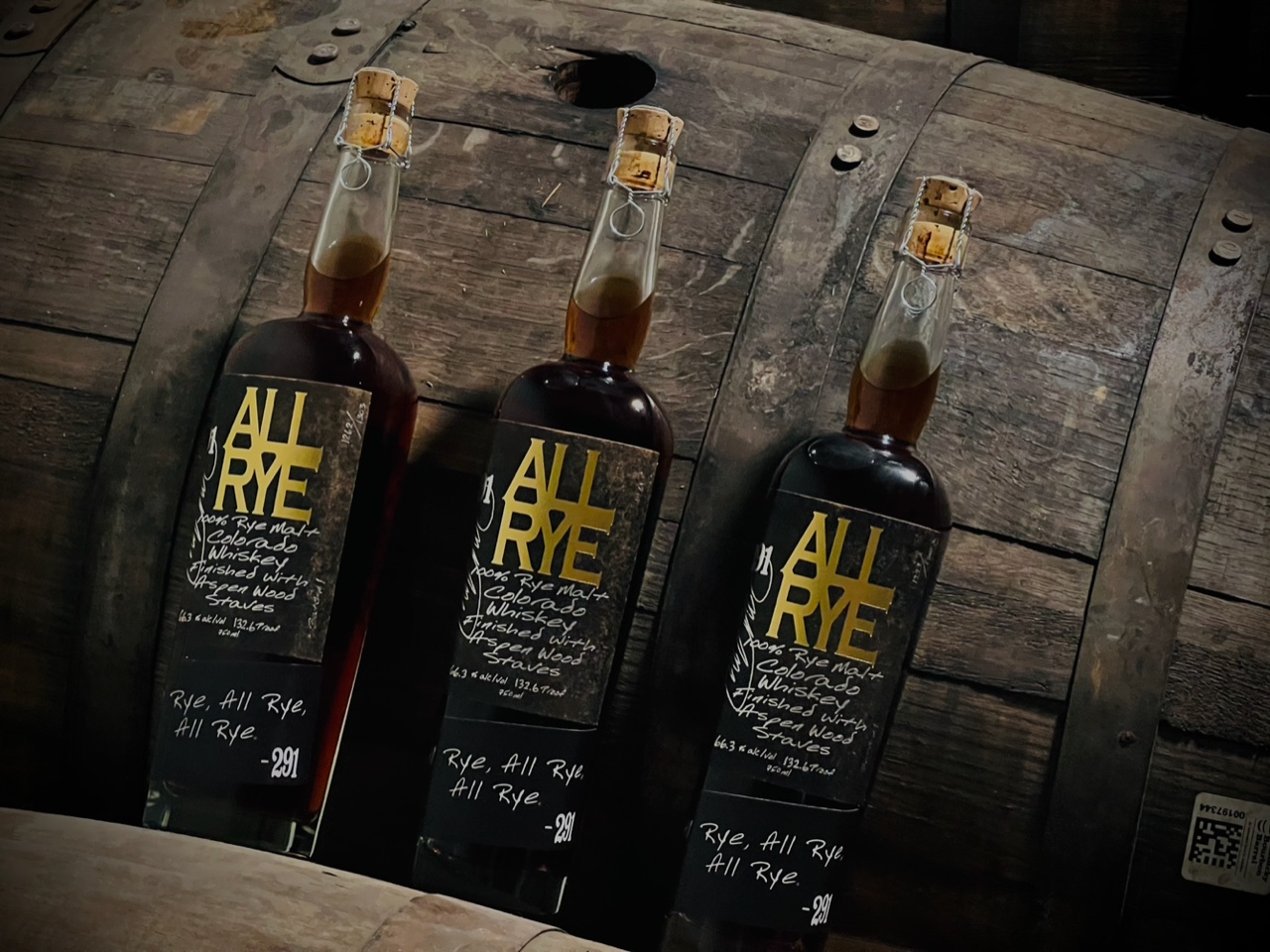 "We married them together and they actually made each other better," says Myers, describing one of those magical Reese's "chocolate meets peanut butter" moments when they started blending. After extensively playing with different proportions, Myers and Jett discovered their favorite results came with a perfectly even 50/50 split.
"Each had a different character, and some of the notes that weren't my favorite on the Colorado rye malt married really well with the German malt and made really beautiful notes," continues Myers. "It made a very nice 100% rye whiskey."
"The hazelnut butter note from the Colorado rye carries over directly into the All Rye, while its hay and earthy qualities seem to morph into tea, sawdust, and peppery notes," Jett explains of the alchemy at work on the final flavor profile. "Meanwhile the honeydew rind from the German marries with the Colorado's brown banana peel to transform their fruity qualities into what I'd call a dried apricot fruit leather."
The results are a deeply satisfying exploration of rye, with an unctuous mouthfeel that delivers the above flavor notes in rich waves. Bottled in their signature Old West saloon-style glass with cork stopper, Batch #1 of Distillery 291 All Rye comes bottled at 66.3% ABV and fetches an SRP of $115.
Follow Contributing Spirits Editor Nicolas Stecher at @nickstecher and @boozeoftheday.