Spirit Of The Week: Garrison Brothers 'Laguna Madre' 8-Year-Old Texas Bourbon
Aged in Limousin oak casks, this $350 straight bourbon is the most coveted bottle in Texas whiskey history.
Back in February, Garrison Brothers Texas bourbon founder Dan Garrison and his Master Distiller Donnis Todd hosted a swanky dinner in Brentwood, Cali to introduce Angelenos to the excellent bourbon they've been handcrafting barrel-by-barrel in Hye for about 17 years. 
We sampled many of their liquid wares, starting with Garrison Brothers famed Small Batch and moving on to rarer bottles like Balmorhea, a 2020 San Francisco World Spirits Competition double-gold medal winner. The evening ended with a dram of an incredibly rare bottle: a single barrel, cask strength version of their HoneyDew Bourbon finished for a second aging in a tiny 15-gallon Cognac cask. With only 22 bottles in existence, their HoneyDew Cognac Cask was the thing of wistful #whiskeynerd dreams.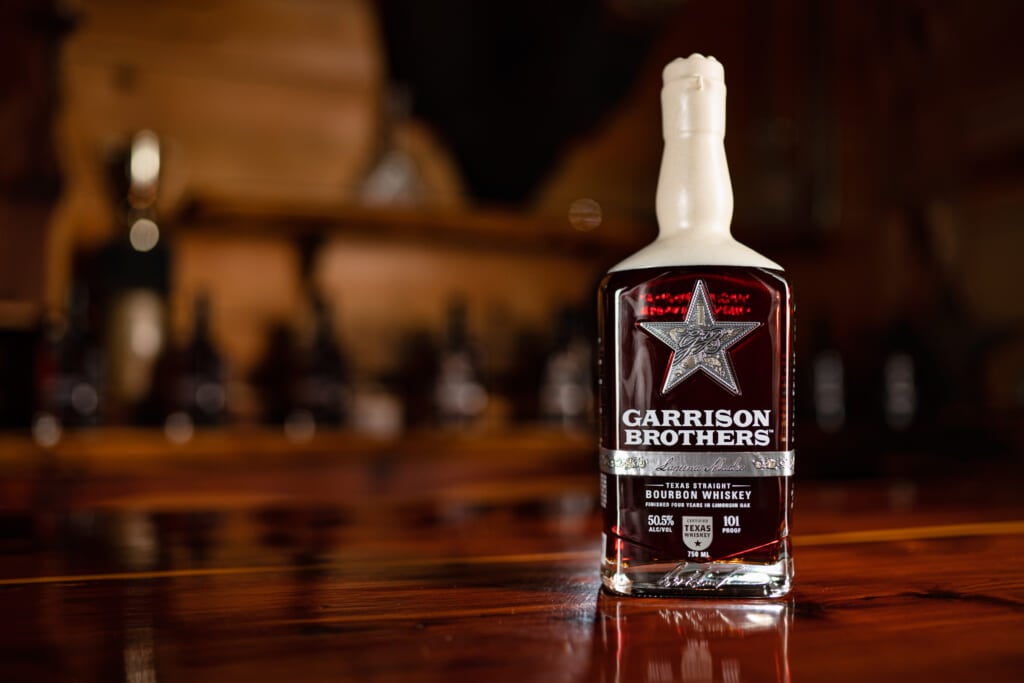 Now for summer 2022 Garrison Brothers release Laguna Madre, the rarest and most coveted straight bourbon in Texas whiskey-making history. As the Lone Star state's first legal bourbon distillery, Garrison can proudly make this claim. Named after the azure waters off the Texas Gulf Coast, the concept is a spirit that eases away life's stresses as well as a day lounging at the beach.
The inaugural Laguna Madre in 2020 raised over $400,000 for Garrison Brothers' Operation Crush COVID-19 initiative to help the local hospitality community rebuild their lives. For the 2022 expression, Dan and Donnis crafted a special whiskey starting with their traditional four-year-old Garrison Brothers bourbon — a sweet mash of No. 1 food-grade corn, locally grown soft red winter wheat and two-row barley — and then finished it for another four years in new oak culled from the Limousin forest.
"Well worth the wait," implores Master Distiller Donnis of this special whiskey. "Enjoy!"
Highly coveted—never mind pricey—French barrels toasted to Garrison's exacting specs imbue notes of woody vanilla, sweet cacao and white chocolate to the steady bourbon, resulting in a rich whiskey with creamy finish.
Critics agree with Donnis, as Laguna Madre was recently awarded Double Gold at the 2021 World Spirits Competition and Gold in the 2021 USA Spirits Ratings, earning 90 points. It also took home Double Platinum at the 2021 ASCOT Awards and Bronze at the 2021 Melbourne International Spirits Competition.
Laguna Madre is only be available at limited select bars, restaurants and retailers nationwide. The SRP for Laguna Madre is $350, but it may be hard to find with that pricetag.
If you can't find the very rare Laguna Madre, we suggest sampling Garrison Brothers' Small Batch for $80.
Follow our Contributing Spirits Editor on Instagram at @nickstecher and @boozeoftheday.