Spirit of the Week: Jefferson's 'Tropics Aged in Humidity' Bourbon
Jefferson's rests its acclaimed Kentucky straight bourbon for 18 months in Singapore's torrid climate.
You could say Jefferson's is a family affair, launched in 1997 by proud Kentuckian Trey Zoeller and his dad Chet, a noted bourbon enthusiast and author of Bourbon in Kentucky, a detailed catalog and history of every single distillery that ever crafted a drop of bourbon in the Bluegrass State.
But the whiskey DNA in the Zoeller blood actually reaches back even further, all the way to the late 1700's to Zoeller's eight-generation grandmother who was infamously arrested for moonshining and bootlegging.
"That arrest record makes her the first documented woman in the American whiskey business," Zoeller tells us with noticeable pride, noting how the bootlegging was born of necessity as she had to learn the craft in order to support her five kids after the Revolutionary War claimed the life of her husband.
Immediately out of the gate Jefferson's made a splash with their first bourbon—born from the alleged last barrels poured in the famed Stitzel-Weller Distillery. Since then the label has innovated aging and barreling concepts, now boasting over 30 expressions including their Presidential Selects, double barrels, and Ocean Aged at Sea Voyage series.
This latter Ocean series is one of the most creative in the field, launched when Zoeller had the idea of experimenting with dynamic aging (i.e. artificially introduced movement and climate swings) to see how it could affect a whiskey's flavor profile. So he stashed some barrels in the Ocearch—a research ship which went on to dock in 25 ports across five continents, crossing the equator twice in its long journey.
At the time we were able to try both the pre- and post-voyage whiskey back-to-back, and realized these experimentations were more than just gimmicks. The months of wild temperature swings, profound climate changes, violent at-sea-sloshing of whiskey against wood and other factors had a significant impact on the finished product.
A New York Voyage followed soon after—replicating the traditional voyage that bourbon followed centuries ago, starting in barrels filled in Louisville, traveling down the Mississippi, around the tip of Florida and up the Eastern seaboard until it docked in New York City.
With our Spirit of the Week we help unveil the latest in Jefferson's innovation: the Climate Series. The inaugural offering dubbed "Jefferson's Tropics Aged in Humidity"—a fully matured Kentucky straight bourbon finished in the singular air of Singapore.
"Everything we've do is more than just distilling, aging, cutting and proofing—it's the blending, finishing, changing the environment and agitation," Zoeller tells us over cocktails at Singapore's famous Jigger & Pony bar, which recently claimed recognition as Asia's second-best bar for the third year in a row (deferring only to Hong Kong's Coa).
The Zoellers flew us all the way to the famed Asian financial capital to feel this climate for ourselves, so we can grasp firsthand what Singapore's extreme heat and humidity could have on their already delicious base straight bourbon.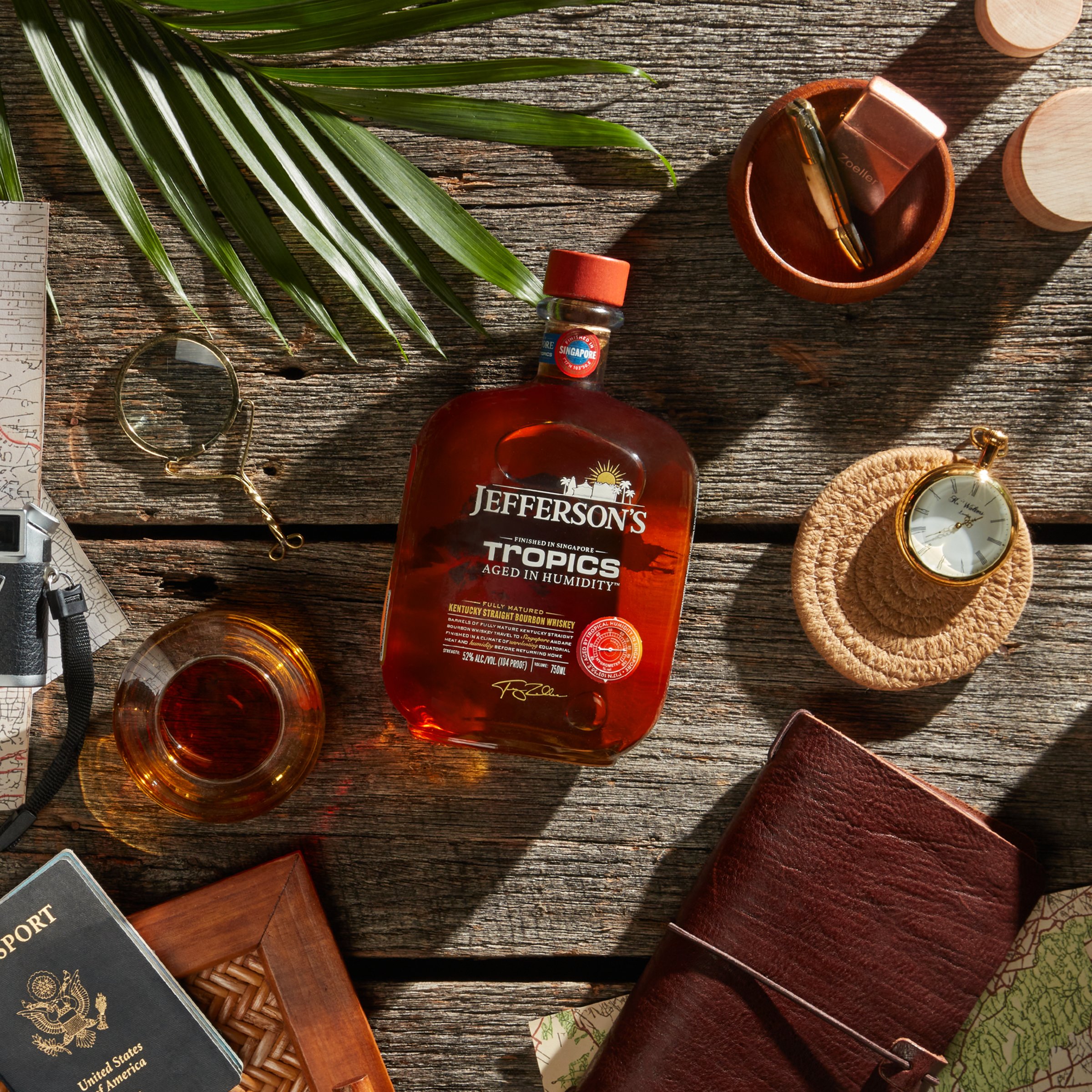 "The result is a remarkable bourbon," says Zoeller, "one that further reinforces my belief that terroir for whiskey comes from the environment that the bourbon matures in rather than the ground from which the grains are grown."
For this new Climate series, which looks to focus on how a destination's particular weather can influence the aging of a Kentucky whiskey, Zoeller wanted a city near the equator, one boasting year-round intensity. So he selected Singapore, an admitted "bucket-list travel destination" for the whiskey maker.
So the idea was born to sail in July of 2019 nine containers brimming with 720 barrels of fully matured Kentucky straight bourbon—the youngest in the blend aged for eight years—to Singapore.
Upon arrival half the barrels were left to age an additional 18 months in a non-climate-controlled warehouse, and half in shipping containers out in the port. For reference Zoeller mentions Kavalan, a nearby Taiwanese distillery that's racked up awards in its relatively short lifespan. Sharing a similarly torrid, sticky wet climate, Zoeller suspected the Singapore atmosphere could cast a similar spell on his whiskeys.
"Amplified with the heat and humidity here," Zoeller predicted, "it's just going to be on steroids."
And indeed it was. Explaining how the extreme heat essentially slow cooks and caramelizes the sugars in the wood, the resulting Tropics Aged in Humidity bourbon offers a supple and thick mouthfeel, boasting rich molasses toffee, ripe strawberry, black cherry and sea salt notes. Bottled at 52% ABV, Jefferson's latest limited edition experiment sells for an SRP of $99.
Follow Contributing Spirits Editor Nicolas Stecher at @nickstecher and @boozeoftheday.