Stay In A Giant Tequila Barrel Hotel During Your Next Mexican Vacation
You've never checked into a tequila-themed suite quite like this before.
Matices de Barricas
Located in the Jalisco lowlands, at the center of Agave farms and distilleries, the town of Tequila, Mexico is equal parts historic pueblo and boozy theme park. When not in the fields cutting Agave, farmhands on horseback—and motorcycles—traverse narrow cobblestone streets filled with stray cats and dogs. 
By afternoon its main plaza is thick with partying locals, food vendors, Mariachi bands and the Danza de los Voladores (daredevil acrobats spinning atop a 30-foot pole.) Then the tequila-themed buses–retrofitted to resemble oak barrels, steel distillation containers, 1.5-liter bottles and even jalapeno peppers–begin jostling into the town center until they're piled against each other bumper-to-bumper.
Whether their first stop in town is a swanky new "tasting room" to sip "anejos" from a fluted wine glass, or they come in on a barrel-shaped bus to check out distilleries, tourists are dispensed quick how-tos on the "Mexican way" to drink tequila without wincing, which boils down to numbing your taste buds by swishing the liquor around in your mouth and not smelling it before you swallow.
"One-two-three, put the tequila in your mouth, don't sip it, breathe in, drink it, then breathe out," says Omar Lopez, greeter at the Matices de Barricas Hotel. "You see? It's not so bad and you don't need the lemon and salt." Lopez has known this method for as long as he can remember, he says, adding, "it was passed down from my grandfather to my father, then to me. Something like that."
The Matices, which opened last year, outshines local competitors in creating an all-encompassing tequila-theme for its guests. Established on the grounds of the two-decade old Coffreides distillery and Agave farm, its rooms consists of 40 freestanding "tequila-barrels." While these structures are in fact made of concrete and stained wood fibers, they easily pass for huge wood barrels even at short distances.
Except for their cylindrical shape and small windows, the 300-square-foot "barrels" are laid out like most midrange modern hotel rooms. They all have A/C, several light-fixtures, a king-sized bed (or two doubles), TV, minibar, a desk, a wardrobe compartment and spacious bathroom. Late during my first night staying at Matices, just as I was about to drift off inside my barrel a long hard thunderstorm hit, and while sheets of rain loudly pummeled the structure not a drop got in.
Seen in midday the fifteen foot high barrels dwarf the surrounding blue-flecked Agave fields, which creates a sharp psychedelic scene. Then as the sun sets behind the hills, the tableau softens to technicolor. With the barrels all the same specs and placed on no discernible grid–locating your particular by nothing but starlight and a map after a long night drinking tequila takes a little patience.
"There are some big tequila barrels, but they're not that big," says Jay Schroeder, an Agave spirit expert, before clarifying that steel cylinders used to distill blanco, unaged clear tequila are significantly larger.
 "So you might be able to lay down inside of those bad boys, but you couldn't fit the king-sized bed of course," he adds. (The wooden casks used to age Anejo and Reposado tequilas are imported from the USA, essentially the same oak containers made for whiskey production.) 
Located a couple of blocks away from the plaza behind a mundane stucco façade famed dive La Capilla has an interior preserved in amber (minus the large TV) since sometime in the 1940s.
Its signature drink, the Batanga, consists of equal parts tequila, coke, and a dash of lime juice in a pint glass. When I was there, on a recent broiling hot Friday afternoon, the place was packed with locals downing these concoctions. To keep pace with the rush, the owner's tenish year-old grandson mixed drinks and waited on tables
Along with CheapCaribbean travel, Schroeder has designed a special one-time-only "Te Amo Tequila Tour," which takes place from December fifth through the eleventh. Beginning in the Pacific Coast town of Puerto Vallarta, which is well known for its white sand beaches, hard-partying and multitude of time-share complexes, the tour eventually moves inland via bus to Tequila.
"I had an advantage in choosing places to eat, and distilleries to see because I had spent a substantial amount of time in Tequila," Schroeder says of his itinerary. "Then I thought our guests could check out the resort [Secrets] too so they can rest."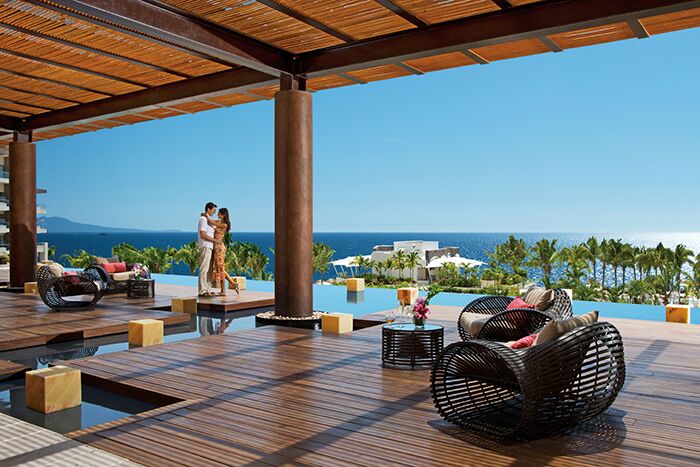 Matices' activities include a well lubricated visit to the mid-sized distillery and a morning horseback excursion through the property's Agave fields and parts of the town. At some point, your Caballero guide will unfurl a flask from his bag and pass out shots of Blanco (unaged tequila) to be swallowed while in the saddle.
While in Puerto Vallarta, those taking the "Te Amo" tour are put up at Secrets Vallarta Bay, a sparkling modern all-inclusive resort set along a pristine strip of beach. Schroeder's Puerto Vallarta itinerary includes a guided "Mex-ology" walking tour, which focuses on the traditional cultural nooks of the boomtown.
The highlight is probably Mariscos Cisneros, a 50-year-old Sinoalan-style seafood diner which serves a memorable soft-shell crab enchilada. The joint also serves up Raicilla, a clear 120-proof Agave moonshine, which the waiters pour out from 357 Magnum shaped bottles, leaving no doubt that you're about to choke down some seriously hard shit.
In the late evening walk a few blocks to the El Dorado Beach Club and grab an outside table. Order a Carajillo cocktail made of espresso and Liquor 43 over ice and watch the sun setting into the Pacific Ocean horizon as you plan your next move.
"We drink these here when we want to keep the night going," says Amanda Selitzer, "Mex-ology" tour guide, "and in Mexico we always want to keep the night going."