Suntory Just Launched A Limited-Edition Hibiki 21-Year-Old Whisky 
Japanese whisky goals.
It might not ever be a bad decision to make your next dram of whisky a nod to "Suntory time," and there's now an even more covetable expression to seek out from the famed Japanese whisky producer.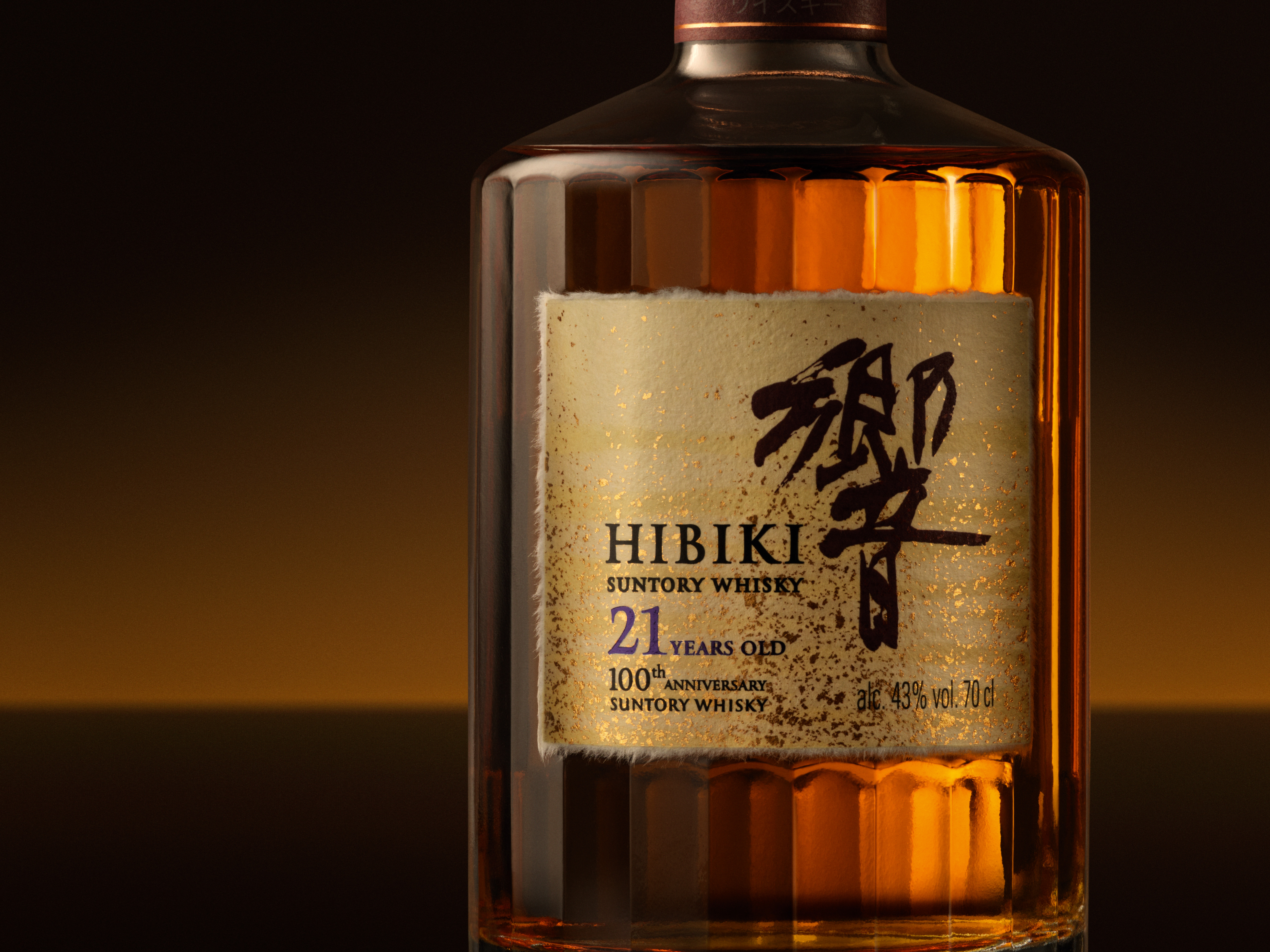 The House of Suntory, which debuted a "world" whisky earlier this year, is in the midst of celebrating 100 years, and the covetable introduction of the new Hibiki 21-Year-Old Whisky is cause for a toast.
Suntory also debuted a Sofia Coppola-directed short film starring Suntory ambassador Keanu Reeves earlier this year, but it's likely this Japanese whisky that'll turn even more heads.
Hibiki, which debuted in 1989, is described by Suntory as a "harmonious blend of various malt and grain whiskies from Suntory's Yamazaki, Hakushu and Chita distilleries," each of which lends its own unique characteristics to the finished (and again, covetable) product.
Rare Japanese Mizunara Oak sits at the forefront of this release, Suntory notes, with a rich gold color and floral, sweet palate notes complemented by the likes of agarwood and spiced sandalwood.
"With meticulous precision, we managed to harness the challenging-yet-rewarding characteristics of Japanese Mizunara oak to accentuate the unique flavor profile for which our Hibiki whiskies are known," said Chief Blender of Suntory Shinji Fukuyo. "This special whisky showcases our continued dedication to craftsmanship at the House of Suntory."
Such an effort comes with a requisite price tag: It's available for a suggested retail price $5,000 in select global markets, with an ABV of 43 percent.
The 21-year-old Hibiki is joined by the release of Hibiki Japanese Harmony, which departs from the older expression, featuring an amber color, a lower suggested price tag ($200), and a finish that Suntory notes is "subtle and tender with a hint of Mizunara."
Both releases feature gorgeous, distinctive bottle designs celebrating Japanese culture, nature and craftsmanship, and either (for the right price) could certainly add plenty of character (and flavor) to your bar cart.