The Best Irish Whiskeys For St. Patrick's Day (Or Anytime)
These Irish whiskeys are the perfect picks for St. Paddy's Day.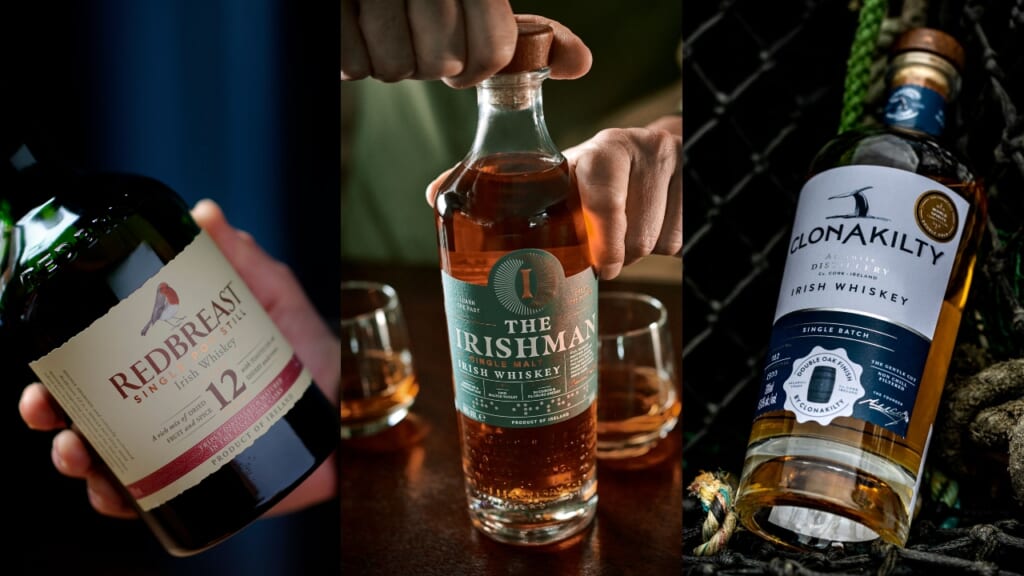 The history of Irish whiskey is a classic comeback story, with a boom over the last decade and a bright future.
"In 2010 there were three distilleries in Ireland, and by 2020 there were over 40 distilleries," says George Vial, an Irish whiskey educator at Browne's Irish Market in Kansas City, the oldest Irish business in the world outside of Ireland.
They're expecting thousands of guests at their St. Patrick's Day party this year—the circa 1887 market is celebrating their 135th year in operation. If you're passing through Kansas City any time soon, "We're gonna celebrate [our anniversary] all year," says Vial––a Donegal, Ireland native who also runs the Irish whiskey Facebook group, 1887 Club.
Vial explains that in the late 19th century, Irish whiskey was the most popular distillate in the world, but by the 1950's the industry was on the verge of collapse.
In 1960s, grain whiskey became an important part of rebuilding, and Irish whiskey started embracing the column still over the traditional copper pot still. Styles we think of as definitive for Irish whiskey, like Jameson, were created as blends of malt and grain whiskey to help the industry survive by emulating successful blended Scotch.
"Without Jameson, the industry may never have come back," says Vial, "But now, we're a fully-fledged industry not dependent on one or two brands."
"The way forward for Americans is learning about Pot Still," says Vial, "That's what they were drinking during the golden era of the late 1800s and those are the ones Scotch and Bourbon guys fall in love with."
Vial explains the term Single Pot Still does not mean simply that it was distilled using a pot still (even though it is). Single Pot Still is actually a legal designation requiring a minimum of 30% malted barley and 30% un-malted barley from a single distillery.
Vial recommends drinking Irish whiskey with a whiskey cube or a little water in a tumbler, and offers a trick of freezing a twist of orange inside the whiskey cube so that as the ice melts, you get citrus notes subtly in the whiskey.
To really "geek out" for a proper tasting, Vial recommends a Glencairn or an Irish Tuath Glass. For connoisseurs, Vial recommends Single Pot Still, Irish Single Malt, and Cask Strength.
Here are 11 different Irish whiskeys to start exploring the nectar of the Emerald Isle:
Wild Rover
Wyoming-based blender High N' Wicked creates rare limited-release whiskeys, and their second release is this cask-strength single malt Irish whiskey. It's triple-distilled, then matured in ex-bourbon barrels and finished in ex-Pedro Jimenez sherry casks. The delicate flavor is deceptive, considering it's 58.7% abv. $140
Two Stacks Dram In A Can
Two Stacks' blend of grain, malt, and pot still whiskey is lovely in any format, but the fact that you can get it in a four pack of cans makes this 43% alcohol dram absolutely perfect as a disposable flask to share with a friend.
The cans are extremely sturdy, far thicker than your typical aluminum can, so they'll hold up well on your adventures. This is what you take with you on a freezing sunrise duck hunt or mountain trail. $23
Redbreast 12
An iconic Single Pot Still whiskey. This was the first truly exceptional Irish whiskey I ever tasted, and it remains a great starting point for anyone wanting to experience the flavor of the golden age of Irish whiskey. $77
Glendalough Double Barrel
This single grain whiskey is aged in ex-bourbon barrels and finished in ex-sherry casks. Easy-drinking, with a touch spiced vanilla and brought to barrel strength with water from Ireland's Wicklow mountains. $29
Clonakilty Double Oak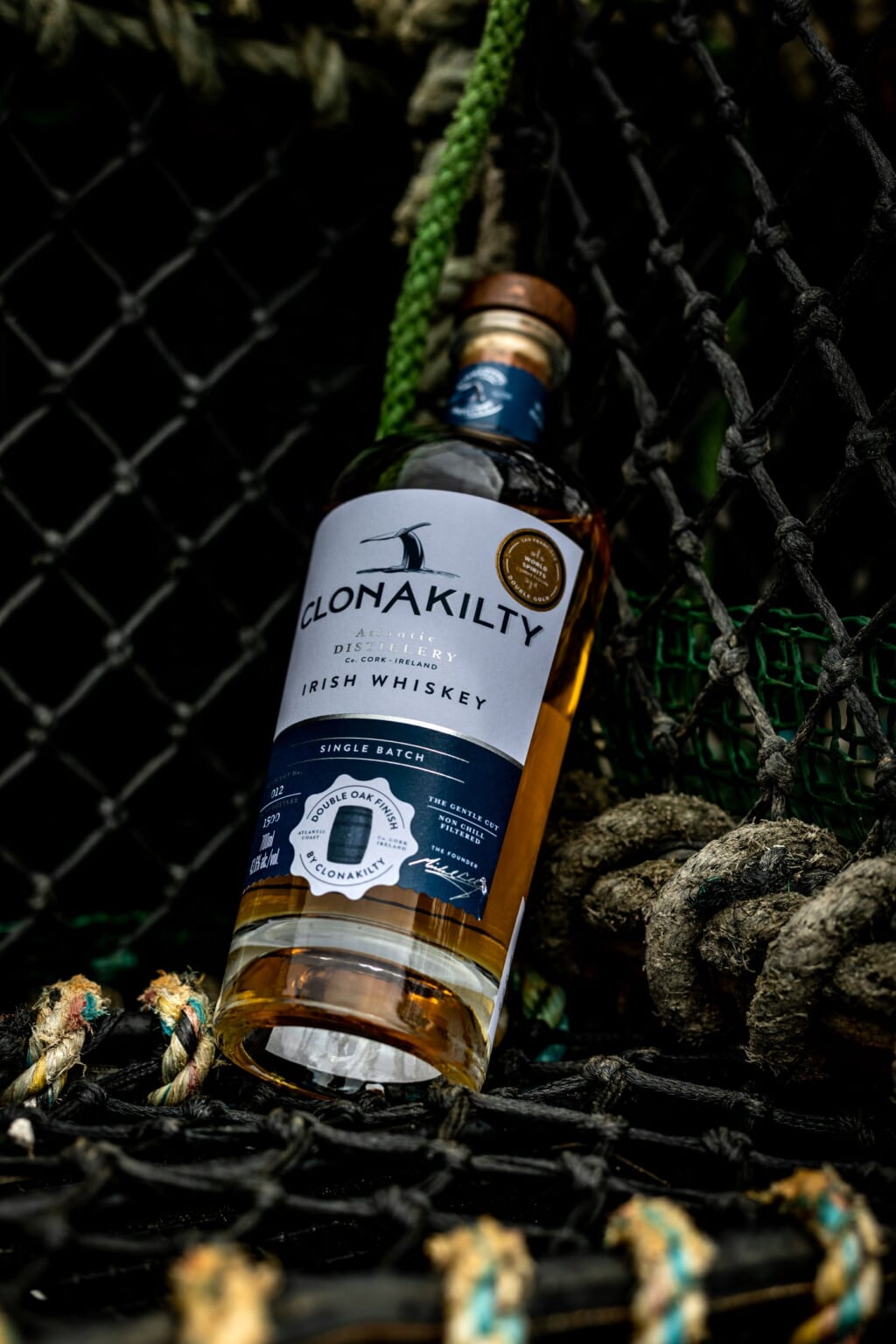 A blend of an 8-year-old grain whiskey and a 10-year-old malt whiskey, finished in virgin American oak and shaved, toasted, and re-charred in ex-red wine European oak casks—a world's-first finishing process for Irish whiskey. On the water in Cork, it picks up saline notes while aging in the cask. I loved this extremely balanced expression from the first sip, neat. $49
The Sexton
A sherried single malt that is also remarkably affordable given how nuanced and delicate it is. There is a pear quality that reminds me of Japanese whisky. The hexagonal bottle is striking, and as something to drink for pleasure more than intellect, I would never hesitate to reach for this. Frankly, I think it's a steal for under $25. $24
Proper Twelve
Conor McGregor clearly has a soft side, and he bottled it. This is the first celebrity Irish whiskey, and it's a blend of spirits distilled at Bushmills, which "doesn't make a bad whiskey," said George Vial. Proper Twelve brought a lot of attention to Irish whiskey, and McGregor recently sold his majority share in the company for a staggering sum. I'd consider it a perfect smooth pairing alongside a Guinness. $24
Bushmills 12
This single malt has recently become available for the first time in the US. Triple-distilled from 100% malted barley, then matured in former bourbon and sherry casks and finished in Marsala wine casks. I found it to have a nose of bananas Foster before the booze is burned off, and a well-rounded flavor. $70
Lost Irish
Whoever designed the bottle for Lost Irish knew what they were doing. The thick and heavy green bottle seems indestructible, something that could drift across an ocean with a message inside, which is perfect for a spirit meant to evoke the far-flung Irish diaspora throughout the world.
There are so many layers of flavor here from seven cask types spanning six continents: South African brandy casks, Japanese Mizunara oak casks, European sherry casks, North American bourbon and rum casks, Australian tawny casks, and Columbian rum casks––blended into a balanced dram with plenty of complexity. $40
Teeling Small Batch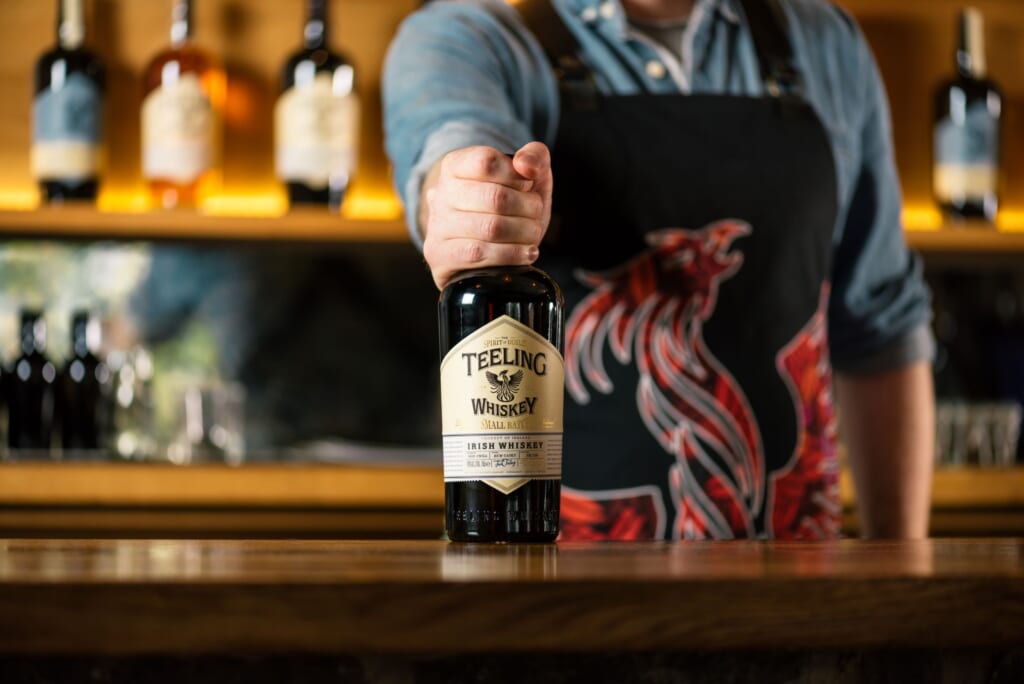 Teeling's classic flagship whisky is made from a mix of malt, corn, and grain whiskeys. It's non-chill-filtered, aged in ex-bourbon casks and then finished in rum casks for a touch of sweetness. "But the sweetness isn't cloying," says Vial. We served this as a sipper at a cigar bar at my wedding, so I'm partial to it. $40
The Irishman Single Malt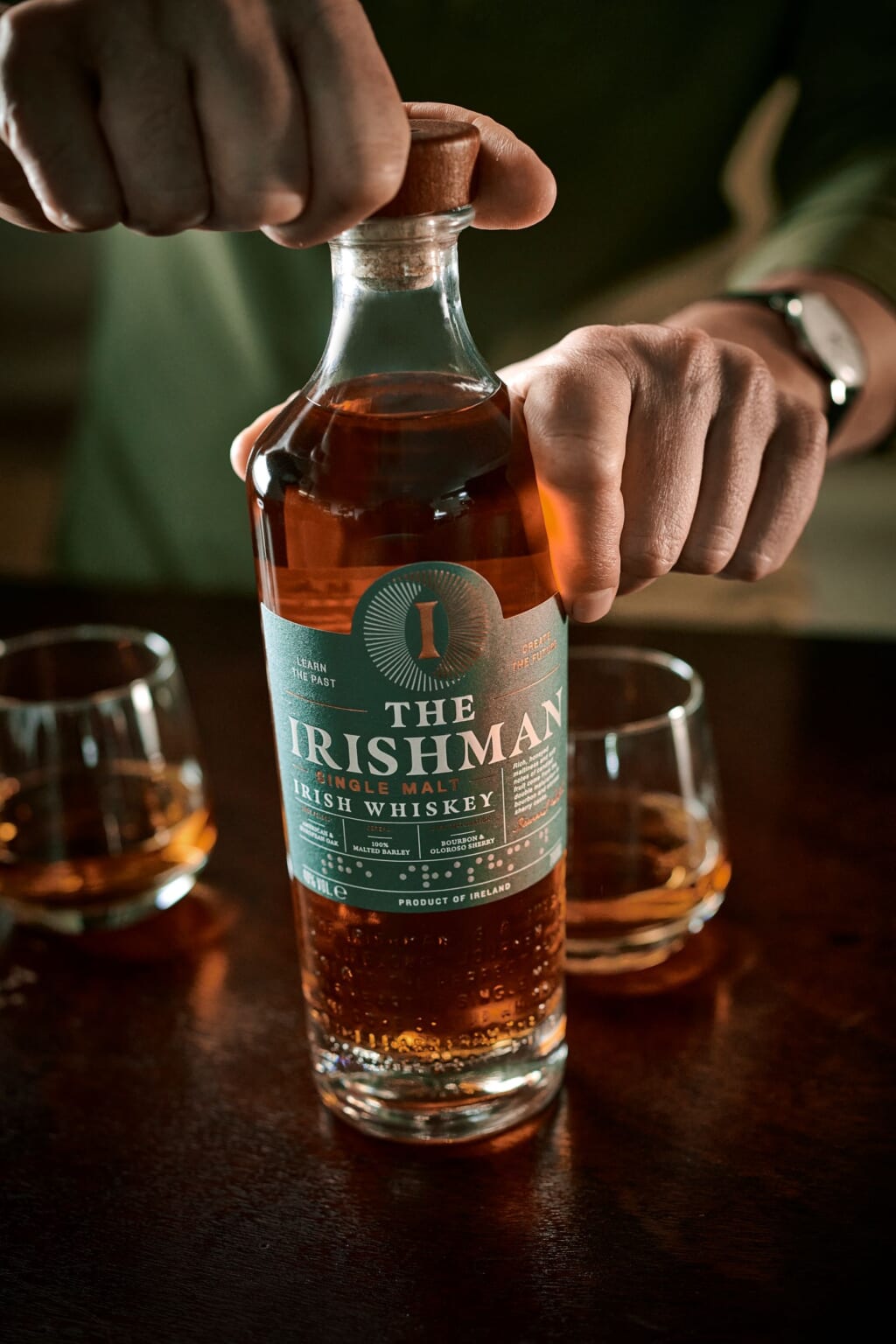 This expression of The Irishman––a brand focused on Irish Single Malt––is triple-distilled, aged in ex-bourbon and ex-Oloroso Sherry casks, and made from 100% Irish-grown barley. I found this to be delicate but rich, something I'd love to sip on the rocks on a cool spring night. The Irishman is made by Walsh Whiskey, producers of the excellent copper pot Irish whiskey, Writers' Tears. $50