The Best New American Rye Whiskeys Of 2022
From WhistlePig to Michter's, whiskey brands released standout versions of the spicy spirit.
As the world looks to flip the calendar, Maxim continues what's become a celebrated annual tradition: a year-end Best In New American Whiskey compendium. What started as a simple list in 2019 expanded to a five-part series last year and continues as such for 2022.
With an explosion of thousands of craft distilleries opening across America in recent years—from Vermont to Washington, Nantucket to San Luis Obispo—there are a lot of bottles to consider. Great diligence went into sampling every bottle and delivering to you the best and most relevant American whiskey in each category.
The first roundup of 2022 is best new American Ryes, arguably one of the most exciting spaces across all spirits. The entire class is prospering with seemingly every label under the sun releasing their own version of the spicy spirit. Here are some favorites.
Blue Run 'Golden Rye' Whiskey Batch 2
Always a wondrous day when a gleaming new bottle of Blue Run reveals itself from an unmarked cardboard box. Especially when its Batch 2 of their Blue Run Golden Rye Whiskey—the follow-up to their first Rye Whiskey, the 2021 San Francisco World Spirits Competition Gold Medal-winning Batch 1. Slightly larger in volume (102 barrels for Batch 2 versus 91 barrels for Batch 1), it offers the same graham cracker fragrances, with tasting notes of honey, sweet pear and a hint of ginger.
Blue Run Golden Rye Whiskey Batch 2 features the same oxidized butterfly emblem as Batch 1, and can only be distinguished from the inaugural Golden Rye by reading the necker strip: for Batch 2 it reads "Summer," while Batch 1 writes "Fall." Bottled at the same proof (95) and priced at $100.
Cascade Moon 13-Year-Old Rye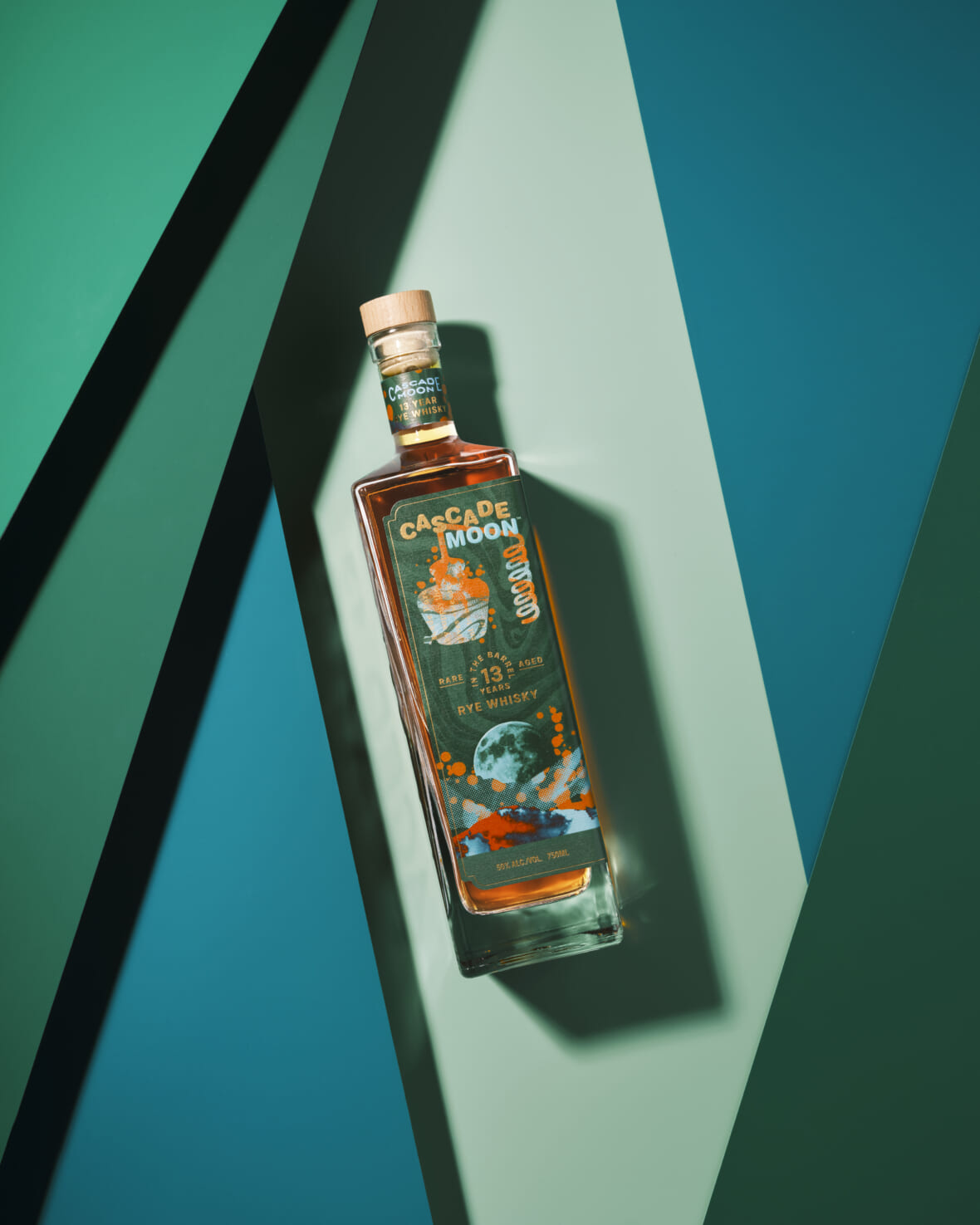 Plopped by a babbling brook in remote Tullahoma, Tennessee, the Cascade Hollow Distillery has been making the world-famous George Dickel brand since 2003. To celebrate the 150th anniversary of George A. Dickel and Co. (established in 1870), they released two expressions under the new Cascade Moon label—a reference to their spirit being "as mellow as moonlight." While those twin spirits were Tennessee whiskey taken from the first barrels filled after the distillery returned from shutdown, this new 13-Year-Old is a Rye—like their George Dickel Rye introduced in 2012, the only Dickel product not produced at the Cascade Hollow Distillery.
This juice was among that first batch brought to Tennessee—aged four years in Indiana then brought to Cascade Hollow and stashed in their temperate single-story rickhouses to spend another nine years matriculating. "With this release I'm excited to offer drinkers a beautifully aged rye whiskey that's unlike anything else we've created in the series," shares Cascade Hollow Distilling General Manager and Distiller Nicole Austin who selected the barrels. Cascade Moon 13-Year-Old Rye features notes of toffee, vanilla, leather and nutmeg with an oaky finish. $300
Kiamichi Whiskey 8-Year Rye
We're big fans of any Willet juice, be it their collab with the Wolves crew or their own Bardstown, Kentucky bourbons and ryes. Last month a new partnership hit our mailbox—this time with Kings of Leon. The much loved Nashville, Tennessee band is comprised of brothers Caleb, Nathan and Jared Followill, with their cousin Matthew playing guitar. They also make a helluva whiskey with the Willet family.
Their new limited edition Kiamichi Whiskey collection includes a 5-Year Rye ($149), 8-Year Rye ($249) and a 19-Year Bourbon ($1,499) all crafted at the Willett Distillery—but we only got to try the 5-Year and 8-Year ryes, and as with anything Willet related this was some delicious whiskey. Like Kings of Leon themselves this is a true family affair—the collection itself named after the local river where the Followill boys grew up near, going to family reunions, etc. Willet's latest Kiamichi 8-Year Rye comes bottled at 54% ABV. $150
WhistlePig 'Boss Hog IX: Siren's Song' 13-Year Old Rye
Earlier this year WhistlePig Head Blender Meghan Ireland shared with Maxim the origins of the latest iteration in their halo Boss Hog series. The ancient theme of Greece and the Muses was suggested, so the WhistlePig brain trust started researching Hellenic spirits, foods and gastronomic oddities to discover what kind of culinary delights would work well with their whiskey.
For research the team headed to Greece, stopping at the Peloponnesian city of Patras where the Greek liqueur tentura was born. There they studied with local distillers to learn its secrets, returning home to Vermont to brew their own batch—rich in cinnamon, clove, nutmeg, orange peels and honey notes—fresh from scratch. They also made a non-alcoholic fig nectar, and barreled that.
Boss Hog IX: Siren's Song starts with a Canadian rye that spent 13 years maturing in new American Oak. From all the barrels aging on their 500-acre Vermont farm, Ireland cherrypicked one single barrel as the ideal to pair with the expected flavor notes of fig, cinnamon and clove from the Greek inspiration. So they poured the rye single-barrel into a fig nectar cask for one week, then into the tentura cask for another.
Because of this, Ireland reveals the latest Boss Hog's aroma is heavily influenced by the tentura: "You're gonna immediately get those nutmeg and citrus orange notes first thing when you nose the glass," she says. "As you take a sip you really do get that rye spice, followed by some really nice dried fruit notes. And when you get towards the end, there's just a nice long delicious finish." $850
Thomas H. Handy 'Antique Collection Fall 2022' Straight Rye Whiskey
Mark this one down as delivery on the hype. Every year Buffalo Trace's vaunted Antique Collection is by far the most discussed and anticipated American whiskey release, and 2022 is no different. With two rye offerings in the mix, one could easily prefer the 18-year-old Sazerac.
However we lean towards this year's Thomas H. Handy offering — a voluptuous rye distilled in the spring of 2016, this year's Handy is the most potent in a decade (65.45% ABV). And while you can feel the high proof in the extravagant flavors (dark chocolate, Sicilian blood orange, cinnamon and rye) and thick, almost indulgent mouthfeel it comes without the bracing heat you'd expect. Perhaps you can thank the temperate Kentucky aging (maturing in Buffalo Trace warehouses I, L, and M for true whiskey nerds). This one's a find. One you likely never will at the SRP of $99. $1,500
Catoctin Creek 'Rabble Rouser' 2022 Bottled-in-Bond Rye Whisky
Fans of Virginia rye whisky celebrate every time Catoctin Creek Distilling Co. releases its annual Rabble Rouser Bottle-In-Bond Rye. Distilled from 100% rye whisky, the limited edition release is aged for 4 years and bottled at 100 proof as required by any BIB offering. Catoctin Creek "Rabble Rouser" 2022 Bottled-in-Bond Rye Whisky features sweet notes of nectarines, white peaches and honey balanced with earthy notes of forest, sandalwood and peanuts. (100 proof/50% ABV). $95
Blackened 'Rye the Lightning'
Fade to… Blackened with Metallica's latest whiskey opus. The surprisingly killer label—no doubt many questioned whether Metallica could make a great whiskey—releases their first rye ever. On second thought, the excellence of Blackened's original bourbon shouldn't be that shocking given the contributions of David Pickerell, the "Johnny Appleseed" of craft distilling, so the excellence of their debut rye should be somewhat expected.
The cheekily named Rye the Lightning starts with straight rye whiskeys aged between 5 to 8 years hand-selected by Master Distiller and Blender Rob Dietrich, all vatted and poured into 2 different casks—Madeira wine and Caribbean rum—for another set of finishing, for 2 to 14 weeks each. While in the finishing stage the HOF Bay Area metal maestros blast their wood with a carefully curated playlist of Metallica songs—a proprietary sonic-enhancement process they dub 'Black Noise.' Clickbaity gimmick or legit dynamic aging technique? Who knows, but the results speak for themselves. Blackened Rye the Lightning features sweet notes of honey, walnut and fig, balanced with spices of cinnamon and mint. It comes bottled at 45% ABV. $70
Uncle Nearest Straight Rye Whiskey
Born in 2017 to honor Nearest Green, Jack Daniel's first Master Distiller and the first known African American Master Distiller, Uncle Nearest has from Day One been lauded for its bourbons. At first sourced, now crafted in their Shelbyville, Tennessee distillery under the watchful eye of Nearest's great-great granddaughter Victoria Eady Butler, herself a 5th-generation Master Distiller. This summer Uncle Nearest released their first ever Rye—but unfortunately for most, Uncle Nearest Uncut/Unfiltered Straight Rye Whiskey (59.8% ABV) was only available to purchase at their shop in Shelbyville.
Thankfully this autumn they released a slightly proofed version aptly dubbed Straight Rye Whiskey so fans across America can enjoy. Although the white dog was originally sourced from Canada and aged in New York for four years, the juice was brought back to Tennessee to rest and finish in Uncle Nearest barrels before being blended by Butler, then proofed at 50% ABV and bottled. $52
Filmland Spirits 'Ryes of the Robots'
Filmland Spirits' concept is something that's easy to step behind, uniting whiskey and movies. Via their trilogy of award-winning core expressions—Ryes of the Robots, Moonlight Mayhem! Bourbon and Moonlight Mayhem! Extended Cut (bottled at Cask Strength (57.5% ABV)) — Filmland aims for the hearts (and palates) of anyone who ever adorned their bedroom walls with Kurosawa, Tarantino and/or Schwarzenegger film posters.
Well, sort of—because Filmland is a bit cheekier with a humorous B-movie aesthetic, each expression bearing unique label artwork in classic pulp movie poster style aligning with each whiskey's story synopsis on the back of the bottle. Film/whiskey nerds who want to know more about each "movie" can head to Filmland to read bits of the script, peruse storyboards and even watch animated trailers.
Sure it's a cool concept, but Filmland back it up with quality juice born in Kentucky—their Moonlight Mayhem! scored a Silver at the 2022 San Francisco World Spirits Competition, while its Extended Cut and Ryes of the Robots Rye were both awarded Gold medals. Each of the trilogy were aged in white American Oak casks for at least 4 years to create a Story You Can Drink. $60
High West 'A Midwinter Night's Dram' Act 10 + The Encore Rye
High West long ago established its place in American craft distilling lore. Shocking doubters everywhere that quality whiskey could come from a teetotaling state like Utah, the upstart label even earned the Whisky Advocate's prestigious 'Distiller of the Year' award in 2016. And of all High West's most beloved and anticipated stock has to be their annual A Midwinter Night's Dram – of which they just released Act 10.
To celebrate a full decade in crafting delicious versions of this rye-based expression, this year High West adds to their annual release by introducing a complementary bottle: A Midwinter Night's Dram: The Encore. Like Act 10 the tenth anniversary limited release The Encore blend also starts off with the famed Rendezvous Rye, but instead of second finishing in Portuguese ruby and tawny port barrels The Encore opts for wood that aged white port. The results are more subtle compared to the bolder notes of Act 10, leaning towards white peach, meringue and mint chocolate.
Both Act 10 (98.6 Proof) and The Encore (101.6 Proof) went on sale in October for $150—the former in highly allocated shops across the US, while the latter can only be found at the Distillery in Wanship or the DrinkHighWest General Store in Park City. Act 10: $300, The Encore: $500
Castle and Key 'Restoration Rye Batch 2' 2022
Last year the first of Castle and Key's homemade ryes born at their resurrected Old Taylor distillery hit shelves, and it was one of our favorite ryes ever. The crew from Castle and Key continue the rye superiority complex with their 2022 Castle and Key Restoration Rye Batch 2. Apparently Co-Founder Will Arvin, Research and Development Manager Jon Brown and Head Blender Brett Connors all choose the best barrels every year, and then break them up in batches that amplify a certain flavor profile. In this case Batch 2 comes in light, with a marmalade and brown sugar sweetness that then gives into wisps of rye peppermint… and then the heat comes in. Perhaps more than you'd expect, even for a 51.5% ABV whiskey. $43
Jack Daniel's Toasted Maple Barrel Rye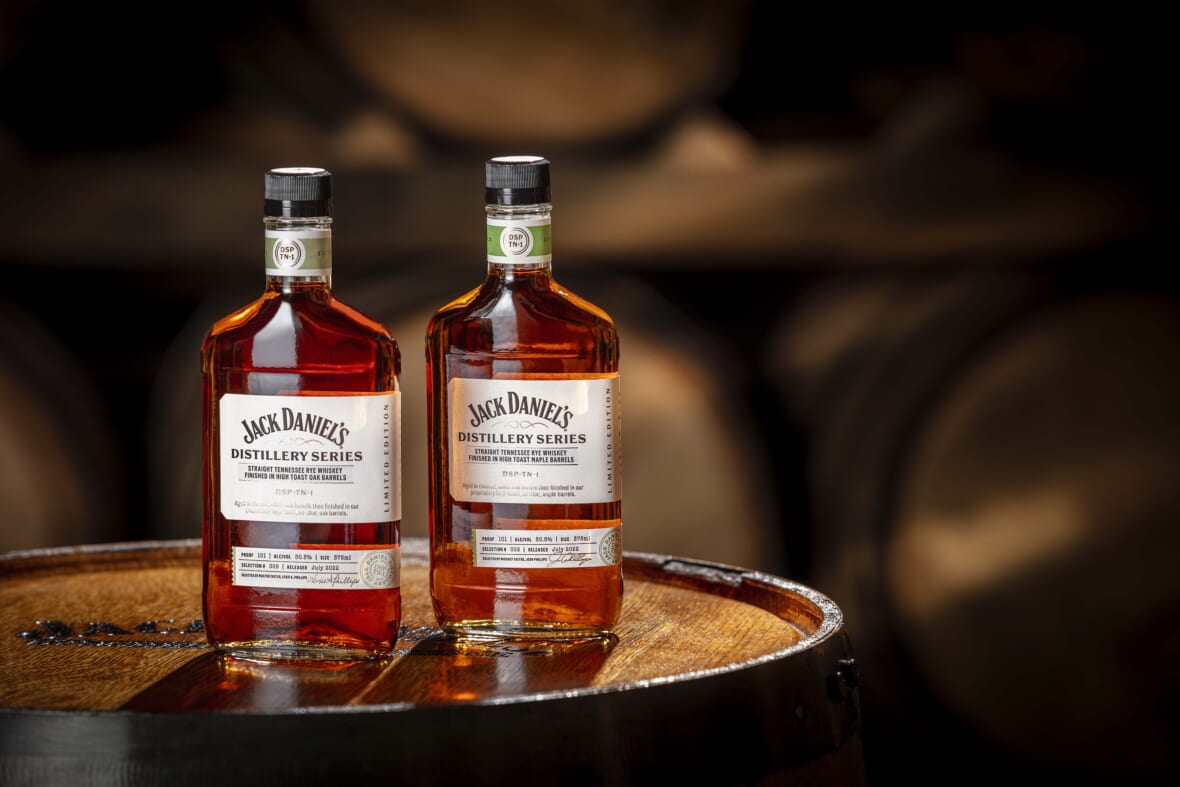 This month Jack Daniel's reveals not one but two new whiskies in their ongoing Distillery Series—an experimental line of whiskeys formerly dubbed the Tennessee Tasters' Selection. The highly limited production duo are a pair of Barrel Finished Rye Whiskeys selected by Assistant Distiller Lexie Phillips and husband Josh Phillips. Originally barreled in summer 2014, Toasted Barrel Finished Rye was then re-barreled in high-toast, no-char oak barrels in October 2019. The Toasted Barrel offers notes of caramel and toasted oak with layers of rye spice, molasses and dark chocolate.
Meanwhile Toasted Maple Barrel Rye was originally barreled in March 2017 then finished in high-toast, no-char maple barrels in September 2021. The Toasted Maple Barrel Rye features an aroma of honey and vanilla with notes of maple, raisins, pralines and butterscotch with a lasting finish of toasted marshmallow. Of the two this was our preferred option.
Both come bottled at 101 proof (50.5% ABV) in 375ml bottles with a SRP of $42, available only at the distillery and select shops in Tennessee.
Few Spirits Bottled-In-Bond Rye
The pride of Evanston, Illinois, Few Spirits just dropped a new Bottled In Bond Rye. Paul Hletko's team released a #BIB bourbon before, but this marks Few Spirits' first dip into the BIB Rye pool—although he promises more innovation and unexpected treasures await. $45
Still Austin Whiskey Co 'The Artist' Rye
Launched in 2015, only two years ago Texas startup Still Austin Whiskey Co released their flagship offering: "The Musician" Straight Bourbon. To say they hit the street running is an understatement: The Musician went on to win in sales and medals — becoming one of the fastest-selling spirits in Texas history, while also scoring a Double Gold at the 2020 San Francisco World Spirits Competition.
Now at the tail end of 2022 Still Austin release a companion offering — this time a 100% Straight Rye dubbed "The Artist." The idea of the series being to highlight "archetypical" Austinites you might see sipping 512 IPA on a rickety stool at Nickel City, busking at a coffee shop or slaying some tunes at The White Horse. Head Distiller John Schrepel and Master Distiller Mike Delevante helped design the independent craft distillery from the ground-up to make every drop of their whiskey in-house using "Nancy" (a 42-foot custom-made column still) and her sister "The Queen" (a copper pot still). Still Austin vows to sustainably craft great Texas whiskey using only local (heritage) grains, water and other resources.
Still Austin "The Artist" features a palate of spicy chocolate, cinnamon, apricot and molasses. The two year-aged The Artist rye is a value proposition, comes bottled at 99.6 proof (49.8% ABV) and features a handsome label painted by artist Marc Burckhardt. $55
Redwood Empire 'Emerald Giant Rye' Cask Strength Whiskey
Deep from the northern forests of California comes Redwood Empire, which this year released a trilogy of Cask Strength offerings, our favorite being their Emerald Giant Rye. Named after the world's fastest growing redwood, this bottle features a rye (94% rye / 5% malted barley / 1% wheat) aged at least 4 years in Level 3 Char American oak, with the addition of 6-year old rye for added density and kicks. Redwood Empire credits the area's cool air, fog and temperate climate for the slow aging effect on their juice—creating balance and smoothness without sacrificing too much complexity. It also explains the relatively low ABV (116.4 proof) for an uncut whiskey pulled straight from the barrel, unfiltered. The Cask Strength Emerald Giant Rye is a light, enjoyable rye with subtle notes of orange zest, maple and a touch of cinnamon. $100
Michter's 10-Year Rye For 2022
This summer Michter's released its one and only 10-Year Rye for 2022. And given the Louisville, Kentucky crew (i.e. Master Distiller Dan McKee and Master of Maturation Andrea Wilson) elected not to release their 10-Year Bourbon this year deeming it not quite ready, the news is joyous for incurable Michterheads. "Given that we're holding back our 10 Year Bourbon until 2023, I'm especially happy to be releasing our 10 Year Rye this summer," says Master Distiller McKee. "It's one of my very favorite releases."
Why is Michter's Whiskey so beloved? Some credit the balance their rye pulls from the American Oak—in addition the barley adding complexity to the rye's spice and sugar sweetness from the corn. Master of Maturation Andrea Wilson picks out notes of "citrus surrounded by decadent chocolate, caramel and fruit." As with all Michter's products, the 2022 10-Year Rye will be allocated thanks to heavy global praise—such as the distillery being named "Most Admired American Whiskey" last autumn via a survey of 25 countries. Pick up Michter's 10-Year Rye if you can find it. $205
Follow Contributing Spirits Editor Nicolas Stecher on Instagram at @nickstecher and @boozeoftheday.