The Best New American Single Malt Whiskeys of 2021
These single-malt stunners are an excellent addition to any whiskey connoisseur's collection.
The second installment of this year's Best New American Whiskey for 2021 (after the Rye edition) highlights another blossoming segment, American Single Malts.
Although not an official category protected by Appellation of Origin (AOC) laws, the purveyors of American Single Malt are making some of the best whiskey in the United States. Spread across this great nation of ours, these distilleries are not so much defined by location as they are to a code of excellence, and terroir.
The rules are simple: the whiskey must be made from 100% malted barley; distilled entirely at one single distillery; and mashed, distilled (to no more than 160 proof) and matured (in oak casks not exceeding 700 liters) entirely in America. While strict, that platform leaves plenty of room to play and experiment — and that's what these distilleries are doing.
If you've got some last minute shopping to do for some discriminating whiskey heads, here are our favorite American Single Malts from 2021 for thoughtful gifting… or for yourself.
Virginia Distillery Co. Courage & Conviction Cuvée American Single Malt
In late spring the Virginia Distillery Co. dropped a trio of new whiskies in its Courage & Conviction portfolio, all distilled on-site using 100% North American malted barley and Blue Ridge Mountains spring-fed water.
Aged a minimum of three years, the American Single Malt is then divided and finished in one of three secondary casks: Bourbon, Sherry (Fino, Oloroso and Pedro Ximénez) or Cuvée. The latter, European red wine casks, were developed by the late Dr. Jim Swan and re-coopered to energize wood sugars via shaving, re-toasting and re-charring.
As the Virginia distillers were mentored by Scottish whiskey veterans its unsurprising that these Courage & Conviction bottles land closest towards traditional scotch single malt, with that renowned "leather shoe," somewhat musty profile.
All three are excellent, but we lean towards the Cuvée which offers a unique finish of ripe strawberries and toasted pecan. $85 each / 46% ABV
Balcones Pilgrimage American Single Malt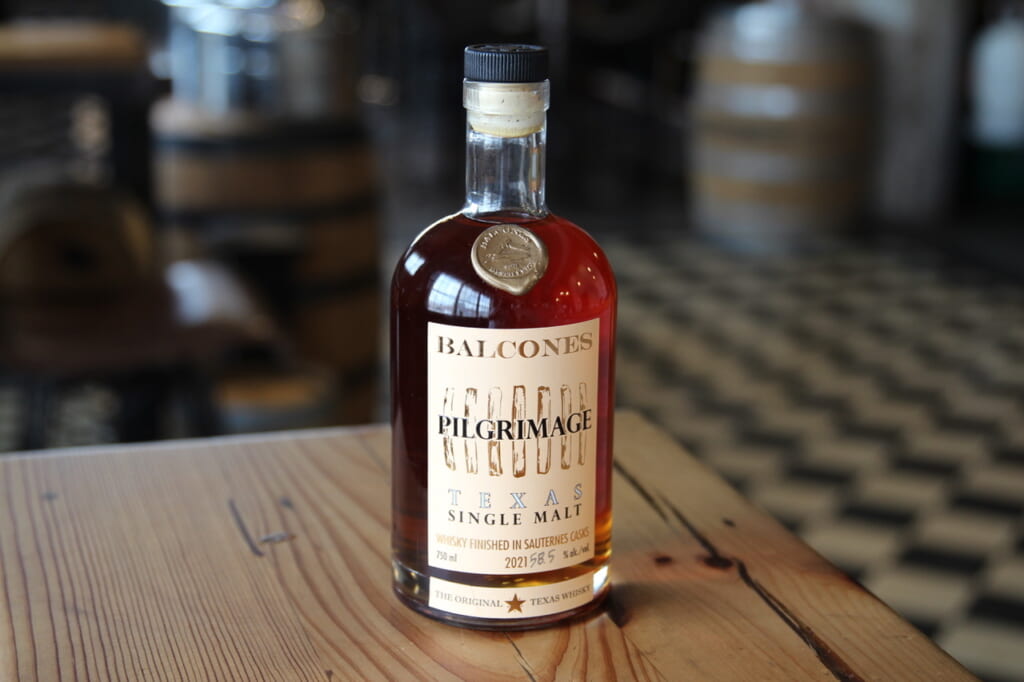 Over the summer Balcones introduced the latest addition to award-winning portfolio of American single malts, adding Pilgrimage to a permanent lineup which included Balcones No. 1 Texas Single Malt, Lineage, Mirador and more.
Proving the Texas distillery's penchant for getting freaky in the lab, every year of Pilgrimage will be different from the last — a whiskey embodiment of Head Distiller Jared Himstedt's exploration. This first iteration is crafted with Golden Promise malted barley, aged in used casks and finished in Sauternes dessert wine barrels — picking up complex notes of honeyed fruit and canned peaches to golden raisin and Baklava.
"We take great pride in our American single malts and the meticulous effort it takes to make each and every one of them unique," Himstedt explains. "Pilgrimage is an ode to the whisky journey we've been on, and we look forward to seeing where the journey takes us from here." $80 / 58.5% ABV
Westward x Dobbes Family Estate Pinot Noir Rosé American Single Malt
Following the September announcement that the Westward Whiskey Club was expanding to 30 states in the USA, Westward announced its first national Club release: Westward American Single Malt x Dobbes Family Estate Pinot Noir Rosé.
The Oregon distillery helping pioneer the American Single Malt movement (along with several other great American distilleries included here), offers their Single Malt aged in tequila casks that most recently held Pinot Noir Dessert Rosé from Oregon's innovative Dobbes Family Estate in the nearby Willamette Valley.
As with many of Westward's offerings, this collaboration is a drinkable homage to their homestate's talent in winemaking and spirits. Sadly this unique single malt is exclusive to the Westward Whiskey Club — but since it's the first brand-owned direct-to-consumer whiskey club shipping to a majority of states it gives you a perfect excuse to join up ASAP. $90 / 45% ABV
Corsair Triple Smoke American Single Malt Whiskey
The Bowling Green, Kentucky distillery's Triple Smoke isn't just one of our favorite American Single Malts; it's one of our favorite whiskies, full stop.
We're not alone. The expression just notched Gold Medals at the 2021 New York International Spirits Competition and the 2021 San Francisco World Spirits Competition (both for American Single Malt), and 2021 Best American Single Malt at the John Barleycorn Awards.
What sets Corsair's ASM apart is their process of smoking their barley in a trio of different fuels: Scottish peat, Wisconsin cherrywood and German beechwood. Then pot distilled and aged in new American charred oak, Triple Smoke's smolder isn't a bum rush but rather a complex texture that adds to notes of cherry and stone fruit.
One of the best values in American whiskey. $50 / 40% ABV
Westland 'Outpost Range: Colere Edition 1' American Single Malt
Along with Westward, Seattle's Westland is another superb distillery anchoring the blossoming Pacific Northwest whiskey scene. This year they stopped producing their Core Range — American Oak, Sherry Wood and Peated — and in their place introduced the new flagship Westland American Single Malt Whiskey, a proud culmination of their decade pioneering the ASM movement.
But it is Westland's limited edition Outpost Range that claims our preference here. The second in three of their annual limited edition Outpost Range, Colere Edition 1 aims to underscore how important the particular strain of barley is to the final product. Meaning "to cultivate" in Latin, the first Colere uses a rare varietal called Alba bred and harvested only one hour north of the distillery in Skagit Valley.
As Westland Co-Founder Matt Hofmann explains, "The [Colere] project celebrates terroir in whiskey and takes a big step towards reconnecting our industry with agriculture, something that has been unfortunately lost over the past several decades."
Only 2,893 bottles of Outpost Range, Colere Edition 1 were released to the market at $150, so look out. $200 / 50% ABV
R6 Distillery Single Malt Whiskey
Los Angeles R6 Distillery has been crafting a portfolio of spirits since 2014 — but this year they started releasing a slew of new whiskey products, including their first bourbon, rye and single malt.
The R6 Single Malt Whiskey is made with 100% malted grain from a single distillery, utilizing a European-style grain bill with an R6 twist: peated malt, distiller's malt, chocolate malt and coffee malt to deliver a smoky, sweet palate with subtle chocolate undertones. $60 / 43% ABV
Westward Tempranillo Cask American Single Malt
For another Westward Whiskey Club release the Portland distillery brings back a classic — improved. (There are two tiers in the Club: Explorer Club gets you one bottle for $90 quarterly, and Cask Club gets you three bottles for $270 quarterly.)
In 2019 the Oregon distillery released its first Tempranillo Cask-finished whiskey to such eager demand they knew they had to revisit the finish. This time they return to the Tempranillo puncheon but age it nearly three times (21 months, after a couple years in American Oak) as long as the 2019 version.
Westward sees this 100% two-row barley single malt as yet another an homage to the "collaborative culture" of the Pacific Northwest, as they've tapped nearby Willamette Valley vintners Dominio IV from the who've made a name for themselves by using unexpected grape choices — like the Tempranillo found here. $100 / 45% ABV
Colkegan PX 'Sherry Cask Finished' American Single Malt
To celebrate the 10th anniversary of crafting the best whiskey New Mexico has ever seen, Colin Keegan gave his award-winning American Single Malt a spin. And what a Single Malt that is to begin with: subscribing to the dedicated sense of terroir inherent in the ethos of the Single Malt, Keegan smokes 1/3 of his barley with the American Southwest's most renown fuel: mesquite.
The famously aromatic wood lends Colkegan's whiskey a truly singular, intensely earthy profile. Hence why Keegan only smokes a portion of the barley, or the mesquite notes might be too pronounced — and it's also why he ages it in both new American White Oak (1/3) and used bourbon casks (2/3) casks for a minimum of 3 years, "to balance the smoke with the oak," he tells us.
For this Anniversary edition he then pours the single malt into Pedro Jimenez sherry casks and ages it for another full year, making it the oldest whiskey they've ever released.
"The additional year in sherry casks gives a deeper oaky, caramel, pecan finish," Keegan explains of the process. "It's sweeter than the original, and the smoke and sweeter sherry notes make a wonderful longer lasting finish. It tones down the smoke." $99 / 50% ABV
Follow @nickstecher + @boozeoftheday on Instagram for the latest gems in the spirits world.